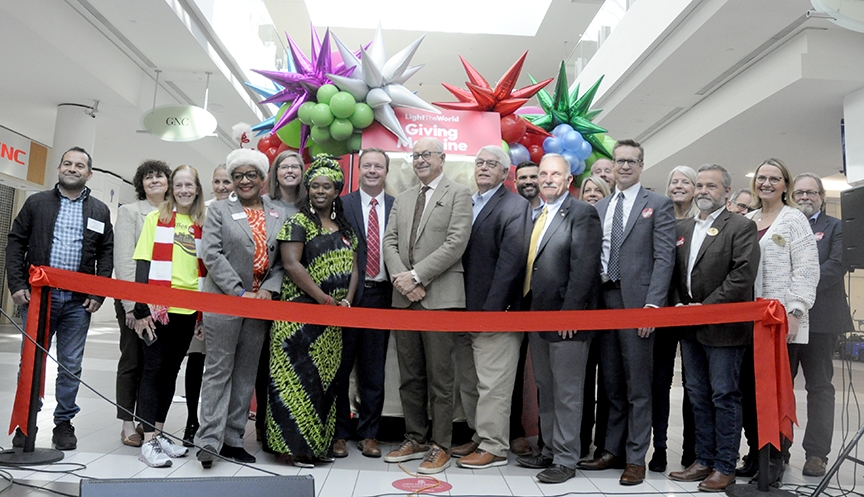 This holiday season, the people of Middle Tennessee can support Catholic Charities, Diocese of Nashville in a whole new way.
Catholic Charities is one of five local non-profits that patrons will be able to support when they visit the #LightTheWorld Giving Machines between Nov. 29 and Jan. 1, 2023, at CoolSprings Galleria, 1800 Galleria Blvd., in Franklin, near the Belk Department Store.
The Giving Machines are part of Light the World, a global Christmas initiative sponsored by the Church of Jesus Christ of Latter-day Saints, inviting people to celebrate the season by serving others in a unique way.
"The Giving Machines are essentially a vending machine, but instead of buying a snack or drink, you're donating to buy supplies or support an initiative to help those in need," explained Brad Schrade, Catholic Charities volunteer coordinator. For Catholic Charities' efforts, "in the machine, people can buy hot hands for the homeless or donate to buy coats or bedding, pay to provide meals to help fund our hunger relief initiatives.
"This is a nice opportunity for us to raise funds for activities and items that are more difficult for us to obtain through our means, like winter coats for the homeless," he added.
This year marks the second time the Giving Machines have appeared in Middle Tennessee, having been near Bridgestone Arena in downtown Nashville last year, where an average of $30,000 was raised for each of the seven organizations supported by the program.
"I heard about the Giving Machines and I'm familiar with a few organizations that were recipients last year," explained Tamara Ambar, program analyst manager for Catholic Charities. "One way or another, I learned of this year's deadline, and I applied on behalf of Catholic Charities for our work with refugees and families in need in our rural communities." Ambar submitted the application for consideration in July 2022.
"I knew the Church of Jesus Christ of Latter-day Saints had a real interest in feeding people. They have an amazing track record of that," Ambar said. "In recent years, they've also been a big supporter of refugee resettlement work, which I thought would be a great fit for us since refugee resettlement is our largest department."
Knowing that, when filling out the application, Ambar "focused on the needs of our new Afghan families who came here … last year," she said. "We've been providing short-term and long-term services to Afghan newcomers ever since, and I expressed a need for material items that would help."
And it worked, as the letter of acceptance came just one month later.
"When selecting the five local charities for this year's Giving Machines, Catholic Charities stood out in their effort to help recent refugees sent to Nashville," said Jeffery Goddard, interfaith specialist for the Nashville Stake Communication Council of the Church of Jesus Christ of Latter-day Saints. "Catholic Charities has experience working to support families that are suffering. From food to hand warmers to sleeping bags to hygiene kits to school supplies, we know Catholic Charities will get these requested items into the hands of those most in need."
As part of their participation in the Giving Machines, Catholic Charities personnel will be around for the day Tuesday, Dec. 20, to answer any questions the public may have about the services Catholic Charities offers. Additionally, there will be entertainment as well as artwork by refugee children on display.
The Giving Machines "are a wonderful way to grow awareness about our organization, especially during this season," Ambar said. "There is a misconception that Catholic Charities is only serving the Catholic community or that Catholic Charities programs are limited, but that's not the case.
"We're one of the largest social service providers in Middle Tennessee with multiple programs and a large staff of over 140 people, and we serve people from all faiths and all walks of life," she said. "We provide everything from emergency financial assistance to long-term case management support for refugees, to counseling for families and children to helping homeless families find stable housing to feeding the hungry, and much more."
Schrade said he hopes the Giving Machines will help remind people of what Christmas is all about.
"Christmastime is a season of giving," Schrade said. "It's about Christ; how he came to save us all and gave us the ultimate gift.
"This opportunity is a chance to think of others as we try to emulate Him," he continued. "Christmas has become so commercialized, so it's important to re-center yourself and think about those who might not have everything that you have. Donating to those in need is a humbling experience and a great way to keep yourself focused on the true meaning of the season."
The ribbon was cut on the Giving Machines during a ceremony which featured speeches and music Tuesday, Nov. 29. Judy Orr, Catholic Charities executive director, spoke on behalf of Catholic Charities.
"For us to be included in this remarkable giving opportunity is extraordinary," Orr said. "It's an opportunity for people to do something very significant for those in need.
"We help displaced people, and we help displaced people who are displaced in our hometown, in our city, and in our state, and they could be displaced by a family tragedy, an unfortunate pandemic, a bombing in our city, or a civil war in a foreign country, and they find their way to our community," she said. "Our motto of recognizing the dignity of all people, serving our neighbors means that every single small thing we do … provides hope, and hope is one of the best things we can give to those who have been displaced.
"The Giving Machines will help people realize the small things you can do for people make a huge difference."
Items available for "purchase" range from $5 to $100.
For more information, visit GivingMachinesNashville.org, and, according to the program's tagline, "Give someone you've never met … a gift they'll never forget."