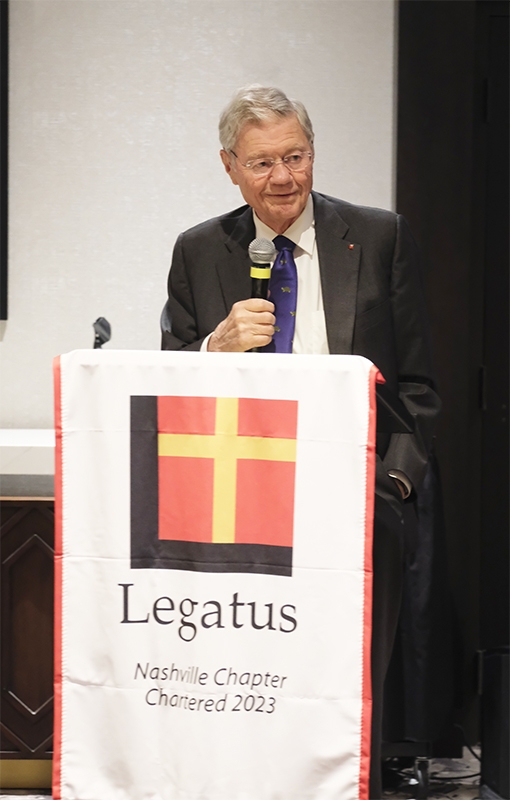 Bishop J. Mark Spalding commissioned 22 couples to "go forth and be ambassadors of Jesus Christ" as the Nashville chapter of Legatus was officially established during a special celebration on Wednesday, Sept. 6, after two-and-a-half years of development and recruiting of members.
The celebration began with a rosary, reconciliation, and Mass at St. Patrick Church in South Nashville, which was then followed by the chartering ceremony led by Bishop Spalding.
"In the love of our Lord Jesus Christ, His Church, and His Vicar on earth, Legatus is an organization of practicing Catholic laymen and laywomen, comprised of CEOs, presidents, and managing partners, with their spouses, from the business community and professional enterprises," Bishop Spalding began during the induction ceremony. "The members want to study, live, and spread the Catholic faith in their business, professional, and personal lives.
"We are assembled tonight for the chartering of the Nashville Chapter of Legatus, which is the Latin word for 'ambassador,'" he continued. "In his charge to Legatus in Rome in 1988, Pope St. John Paul II said, 'The world needs genuine witnesses to Christian ethics in the field of business, and the Church asks you to fulfill this role publicly with courage and perseverance.'"
The charter members of the Nashville chapter of Legatus are: Fran and Sandy Bedard, Gino and Kathy Bulso, David and Judy Burckel, Luke and Sarah Dalske, Keith and Cyndi Dickens, Nick and Ann Marie DiNapoli, Yaz and Jennifer Haasan, Steve and Adrienne Hayes, Travis and Jennifer King, Patrick and Allison Kopf, Charlie and Milanka Lachman, Philip and Nancy Mattingly, Wayne and Linda Overman, Ed and Molly Powell, Rick and Julie Prickett, Clay and Elizabeth Phillips, Laura and Kent Salveson, Patrick and Susan Shepherd, Bill and Shawn Sulak, Dale and Laura Tutt, Ryan and Erika Vinett, and Steve and Janet Wilgenbusch.
Father Andrew Bulso, pastor of St. Edward Church, is the chapter chaplain.
"May your faithful participation in Legatus strengthen you to study, live, and spread your faith as Christ's ambassadors," Bishop Spalding said before each member was called upon to receive their chapter pin from Legatus Chief Executive Officer and Founder Thomas Monaghan, their chartering certificate from Legatus President Stephen Henley, and a copy of the Catechism of the Catholic Church from Regional Vice President Amy Dillon.
Afterwards, the chartering officers were also recognized, including: Steve Wilgenbusch, president; Patrick Shepherd, vice president; Kathy Bulso, program chairperson; Patrick Kopf, treasurer; Philip Mattingly, membership chair; and Jennifer King, at-large officer.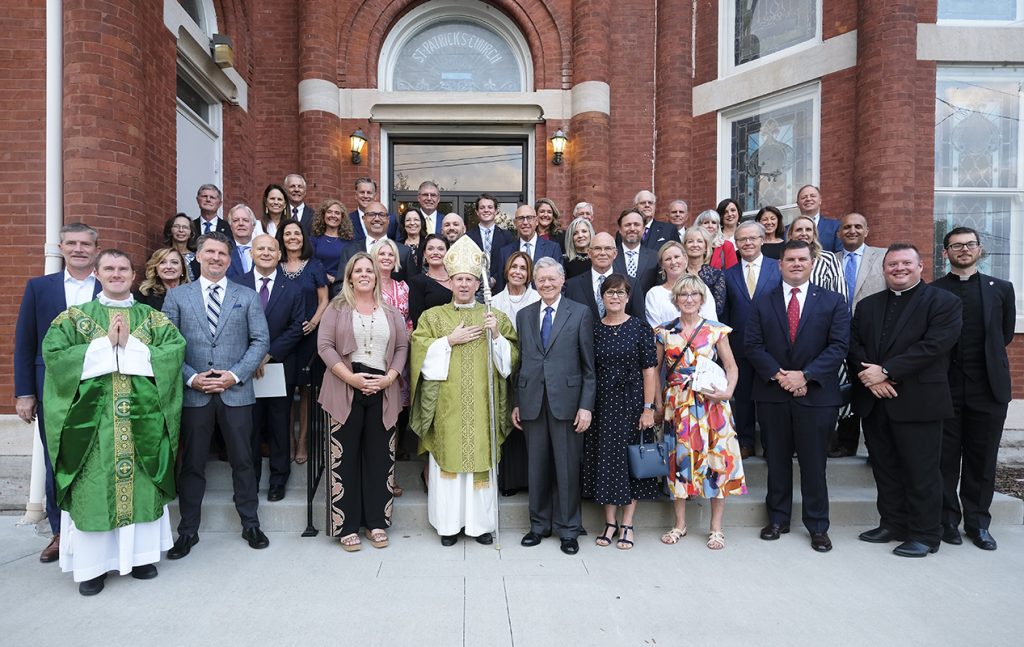 "You have been asked to fulfill the important duties of chapter leadership. We are grateful for your generosity and pray that the Lord's hand will guide you," Bishop Spalding said. "May the Lord give you strength to serve Him with vigor and perseverance. May the Lord increase your vision and faith to increase the scope and quality of the Nashville Chapter of Legatus.
"May the Lord grant you the wisdom to effectively serve the chapter so that you and the members you serve will be inspired to fulfill the Legatus Mission to know, live and spread the faith in the world of business, in our communities, and in our families," he concluded. "And may the Lord grant you unity of heart and mind, that you may be one in His service."
Following the chartering ceremony, the celebration continued at the Loews Vanderbilt Hotel where the chartering members and their guests heard from Wilgenbusch, Bishop Spalding, and Henley as they enjoyed dinner and fellowship.
"Getting to this chartering event has been a long and sometimes arduous journey for us, battling through COVID and other obstacles beyond our control. We struggled with this," Wilgenbusch said at the start of his remarks. "Yet, in Ecclesiastes 3:1, it says, 'There is an appointed time for everything.' In reflection, we're all here today, in this hall, and at this moment, because before time began, God, in his perfect wisdom, decided that our lives should meet. That our 'time' and the stories of our lives would join.
"And according to His divine providence, this group of people would come together tonight in this city because of what we now know God had planned for us," he continued. "This group of people would gather, at this appointed time, in this appointed place, wrapped in the friendship of Legatus membership."
During his remarks, Bishop Spalding said the ultimate goal of Legatus is to share the good news with all they meet.
"That good news, 'I love my faith. I know the Lord Jesus Christ. I've come to know Him in word and sacrament, in His preaching and teaching within His Church, and I share that to bring you closer,'" Bishop Spalding said. "That's what we're about. That's what every element of our Church needs to be about.
"Know I'm cheering you on," he said. "Go forth and be ambassadors of Christ."
Henley echoed this sentiment as he shared 2 Corinthians 5:20 with the group, the Biblical passage from which the name Legatus stems.
"We are sent, and often I think of my time in the Marine Corps and of us as being outposts," explained Henley. "When you come to a chapter event, you're coming together to the post to be rejuvenated, to be reinvigorated, to be with comrades to support you, but you're not meant to be on base. You're meant to go out and be ambassadors for Christ in the marketplace."
After dinner, the members also heard from Monaghan who offered some remarks before having a fireside chat with Henley, as he told his story of losing his father as a young man, growing up in an orphanage after his mother was unable to care for him and his brother, and serving in the military, before becoming the co-founder of Domino's Pizza in the 1960s. Then, in 1987, while in Rome, he began discerning the next phase of his life. That discernment eventually led to the creation of Legatus, which now has 90 chapters across the United States, with even more in development as they too seek to reach charter status.
David and Judy Burckel, who are parishioners of St. Philip the Apostle Church in Franklin, said they are excited to be able to be charter members of a new chapter of Legatus after previously being members of the Mobile Chapter for nearly 11 years.
"It's exciting to continue the tradition," David Burckel said. "It's always good to be part of a group who shares our Catholic beliefs and priorities. Having the monthly Legatus meetings with the Holy Mass, rosary, and confession is very helpful in living the faith."
"We enjoy meeting people from parishes throughout the diocese," Judy Burckel added. "And the excellent speakers always broaden and strengthen our faith."
For more information about Legatus International and the Nashville chapter, visit Legatus.org.