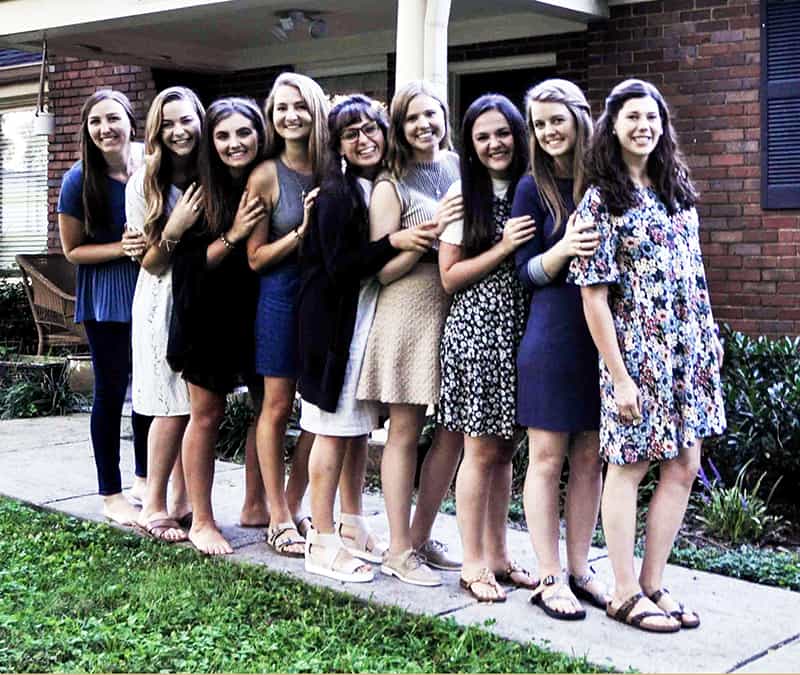 It's Wednesday night and things are busy at the Goretti House, a lay intentional community in Nashville for young adult Catholic women. It's the one night of the week that all nine members of this unique "sisterhood" commit to gathering for a household communal meal, later followed by night prayers.
The women in this community come from different states and backgrounds and have a variety of jobs, hobbies, parishes and friends, but they are united in a commitment to live a holy and communal life together.
"It's a radical thing" for many young adults today, said resident and house leader Marisol Alicea. Instead of pursuing an independent and materialistic lifestyle that the wider culture deems successful, "this is so much more beautiful," she said.
The house residents usually find their way here through word of mouth when they move to Nashville for different reasons – university, music business dreams, a new job – eager to live with other Catholic women who share their values.
But "it's not just a room you rent, it's a community you are a part of," said Alicea, who works for Love Good media company.
The House, named after St. Maria Goretti, the young Italian martyr-saint, is about "halfway between a sorority house and a convent," as Alicea describes it.
From the outside, with nine cars in the driveway, it may look like a party house, but the culture inside leans closer to a convent.
Its official mission is "to cultivate a culture of sanctity and prayer by holding each other accountable to faithful daily prayer and virtuous living, so that we might become saints and bring souls to Christ."
In fact, at least one former resident has gone on to join a religious order. Many others have left when they got married or were ready to move on with their own lives and goals. During their time at the house, usually between one and four years, "we call each other to holiness," said resident and house leader Gabrielle Nordone, a teacher at St. Edward School in Nashville.
'Simple origins'
Members of the Goretti House community form a tight bond that holds together long after they leave. The relationships she formed there "are still a huge part of my life," said Goretti House founder Hayley Robinson-Shovlin, a Nashville native and parishioner at St. Ann Church.
She and the other women she lived with for a total of four-and-a-half years have been each other's bridesmaids and are godmothers to each other's children.
"A lot of us are mothers now and we want the same things for our children," said Shovlin, a mother of two young boys with a third on the way.
With friendships forged in the Goretti House's rhythm of prayer and community, the relationships have lasted and evolved together, she said.
The Goretti House came about of "very simple origins," Shovlin said. When she was a student at Aquinas College about a decade ago, she had lived with roommates in a typical rental house, but it felt somewhat empty.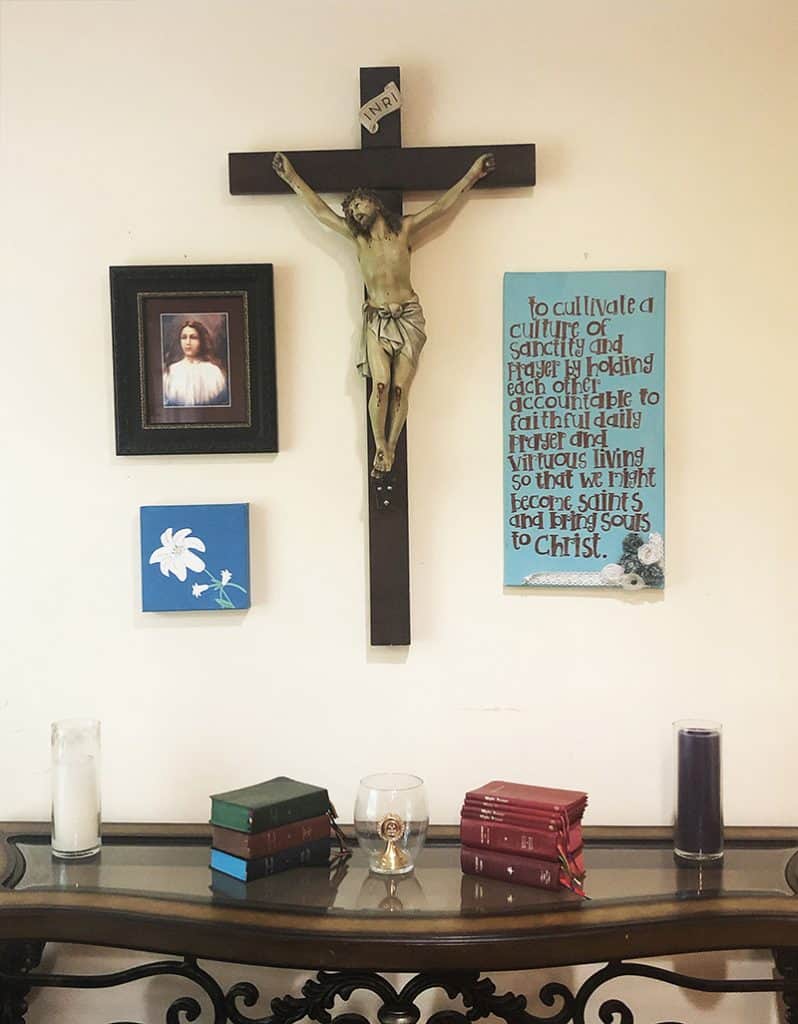 "I had a desire for a strong Christian community of women who lift each other up," she said. Shovlin started talking with friends about the idea, and she and four other women soon rented a house where they could "live out holiness together."
Shovlin named the house after her confirmation saint, St. Maria Goretti, a saint she always had a special affection for. As the patron saint of the house, "she's always been protective of us," Shovlin said. The house even has a first class relic of the saint.
Goretti House grew over the years with up to 10 women living together at a time and "became a bigger thing" than Sholvin originally envisioned. It was recognized by the late Bishop David Choby as an official lay ministry in the Diocese of Nashville, and for a time the women were able to have regular adoration and Masses in the house. They also have an official chaplain, the pastor of St. Edward Church, now Father Andrew Bulso.
The current Goretti House, located in Oak Hill, is the third actual house that the community has lived in, and "the most stable," Shovlin said, since it is owned by a local Catholic who bought it for the purpose of renting it to residents who are invested in the mission.
Spirit of selflessness
The current residents are grateful for "so many women who came before us," Alicea said. "They came up with amazing systems" for meals, chores, vetting applicants, and general communication guidelines to help the house run smoothly, she said.
Living with so many other women in one house requires a strong spirit of cooperation. "It's helped me become less selfish and more open," said Nordone. "It's helped me be a better listener," to really tune into to her housemates and try to understand each of them better, she said.
While most of the women are now back to working or studying outside the Goretti House, they were spending more time than ever together during Nashville's springtime "Safer at Home" shutdown to curb the spread of the coronavirus. It was a further lesson in patience and selflessness.
The pandemic forced the group to disrupt their busy routines, slow down and spend time together at home, which was a blessing, Alicea said. "I'm thankful because I feel like we got a lot closer."
You might think that many people living together, especially during stressful times, could be challenging, but "we don't have a ton of conflict," Nordone said. "We all have the same faith, morals, and values," and that includes a sacrificial mentality of resolving differences with love, she said.
While some women who join the Goretti House community become closer friends than others, everyone who chooses to live there understands and commits to the mission. "Vetting isn't too hard," Alicea said. "If anyone is selfish, they would run for the hills" rather than living in this environment, she said.
Ultimately, whether it's within the context of a lay intentional community or a family unit, relationships that matter "require a certain level of selflessness," Shovlin said. "I don't think we
achieve holiness on our own. We're made for one another," she said. "Iron sharpens iron, we will become like the people we're around."