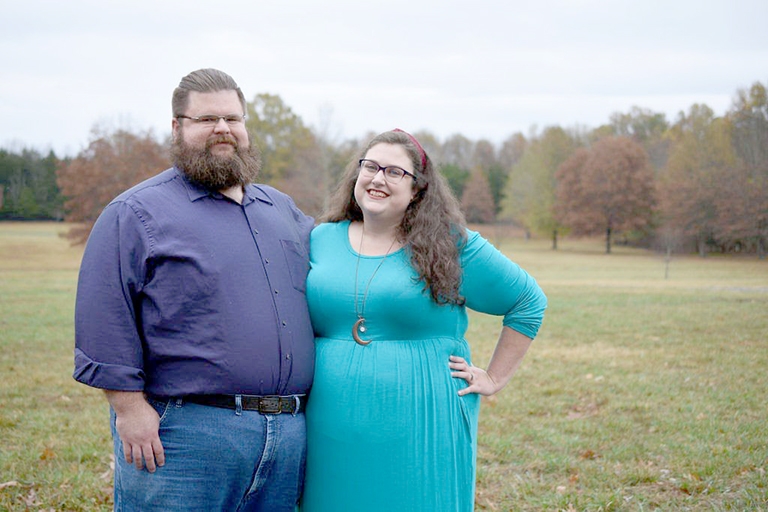 The Gift of a Child
During Advent, the Tennessee Register is publishing a series of guest editorials on the theme "The Gift of a Child: An Advent Celebration of the Family." This is the first of the series. Others will examine motherhood, fatherhood, family, and the gift of the Child, Jesus. Read them all here.
When we began dating, we knew this relationship would last. Neither was stressed by dreaming aloud about our future. Dates were often cuddling in Mandi's dorm, describing our future home, children, and traditions.
We married young at 24 and 25, choosing to delay starting a family. Four years into marriage, we wanted to make dreams realities! Close friends who had become pregnant happily passed on leftover ovulation predictor kits to hurry us along so we could raise our little ones together.
Three months in, Mandi was nervous. Each month the predictor signaled ovulation should come, but never registered ovulation. At Mandi's yearly Ob-Gyn appointment, her doctor ran tests and prescribed medication. When three months passed without success, the doctor referred us to a specialist.
Jordan's test results were great, but Mandi's weren't as promising. The fertility specialist diagnosed diminished ovarian reserve, where the ovaries contain below-normal quantities of the "raw material" of ovulation.
In waiting to start our family, we had unwittingly bypassed Mandi's peak fertility.
Jordan had recently joined the Church, also bringing Mandi closer to her childhood faith, so we knew we wouldn't do in-vitro fertilization.
We were devastated, but placed our hope in an expensive, invasive, and demoralizing series of medications, supplements, and shots in an effort to conceive. Eventually, we stopped treatment due to financial burdens.
In the years since, we've improved our finances and strengthened our relationship. Mandi works full-time for the Church in faith formation and Jordan is a teacher at a school for high-risk youth. We have worked individually with children who are receiving their sacraments and lead Confirmation classes and our parish Youth Group.
After each anniversary, we make a family yearbook filled with happy memories, including from our parish family. We have several goddaughters, nieces, and nephews who also fill those pages, and a nephew on the way. We've been able to love some of these children in a way that would have been unlikely with children of our own.
Embracing spiritual parenthood has allowed us to see hints of God's plan for our lives, but not without pain and frustration from our infertility journey.
We've prayed numerous novenas, implored the intercession of every saint who intercedes for pregnancies, and dedicated many post-Communion prayers and Holy Hours for the intention of conceiving. We've agonized over the decision to pursue adoption.
Family pregnancies, showers, births, and watching our younger siblings become parents have been painful in their own way, while still bringing incredible joy in celebrating with our families.
Christmases can be particularly hard with what feels like the entire world awaiting the arrival of a child. Mandi spent one midnight Mass despairing of God's plan for us. After Communion, she felt Him speak consolation to her heart, shocking her into peace. From that moment, she has found solace in the verse "and, if not, He is still good," a concise summary of Daniel 3.
Jordan found peace in a relationship with the Blessed Mother through Marian consecration. St. Catherine Labouré described Our Mother as having rays extending from her fingertips, symbolizing the graces she obtains for those who ask. Every step of this journey, we ask for those graces, even those we do not know we need.
The Advent and Christmas journey, like ours, is one of pain and joy. Waiting is hard. Confronting our hearts to make a place for Jesus is uncomfortable. Journeying on a donkey while pregnant, trying to find a room in an inn in the middle of a census, and giving birth in substandard lodging all seem impossible.
All of this is difficult, but the pain is overwhelmingly surpassed by the resulting joy, the birth of a baby, Love Incarnate in the world. Despite our pain, we continue with resolute hearts to trust in God's plan. With joy and hope, we embrace the gift of a child.
Dr. and Mrs. Jordan Reed are parishioners at St. Ann Catholic Church in Nashville. Mandi Pitt-Reed is also the Director of Faith Formation at St. Ann.