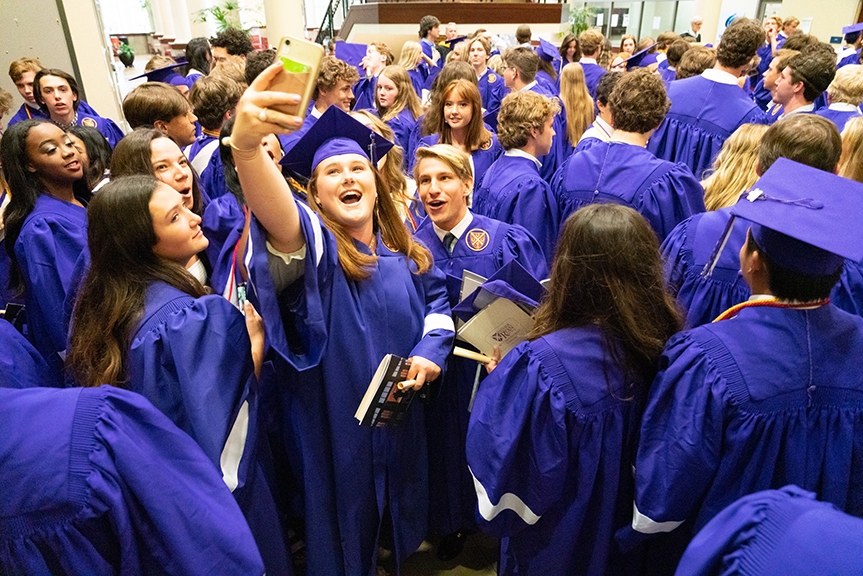 The Class of 2022 at the three Catholic High Schools in Nashville completed their high school years with commencement exercises.
Father Ryan High School awarded diplomas to 201 graduates in ceremonies on Saturday, May 14, at the Curb Center on the campus of Belmont University.
Clara Johnson was the class valedictorian and Catherine Scott the salutatorian. Johnson was also the woman winner of the school's top honor for a graduating senior, the General Excellence Award. Luca Daniels received the General Excellence Award for men.
At the Baccalaureate Mass held on Friday, May 13, the winners of the Bishop David Choby '65 Christian Service Awards were Catherine Scott, Wilson Ridenour, Maddie McDaniel, Alexandra Liberatore, Clara Johnson, Maria Derrick and Abby Jaskoski.
At the graduation for the 135 seniors at Pope John Paul II Preparatory School on Sunday, May 15, at the Jim Carell Athletic Complex on campus, Anelise Rentuza was honored as the valedictorian and Stephen Strickland as the salutatorian.
At the Baccalaureate Mass on Saturday, May 14, at Our Lady of the Lake Church in Hendersonville, Strickland and Kate Barber received the school's highest honor, the Bishop Kmiec Award, given to one male and one female student who best represent the mission of the school.
Sixty-four seniors at St. Cecilia Academy graduated in ceremonies on the Dominican Campus, home to the academy, on Friday, May 20. Eleanor Mary Rodgers was the class valedictorian and Rachel Elizabeth Smola was the salutatorian. Isabella Dizon Tiamson was named this year's St. Cecilia Girl, the highest honor the school bestows on a graduating senior each year.