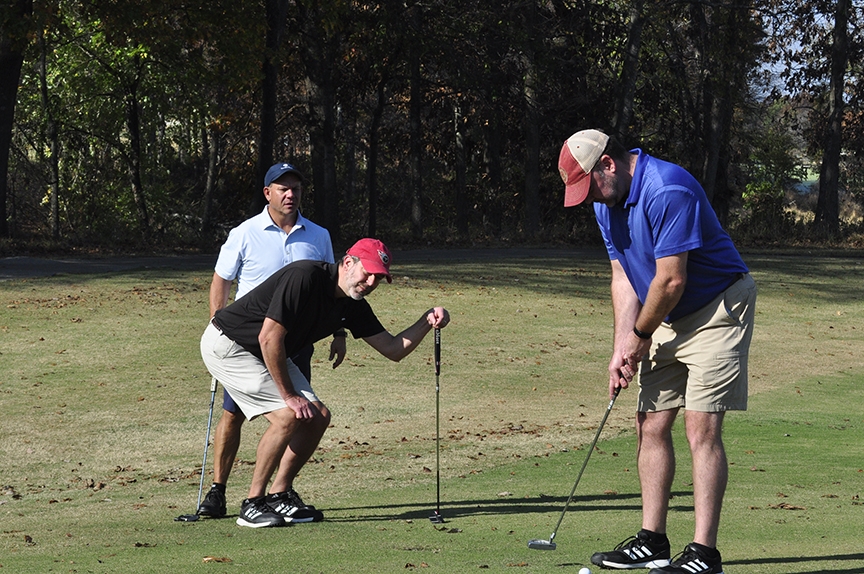 Before Adaline Hamlin started in the Hand In Hand Options Program at Pope John Paul II Preparatory School in Hendersonville three years ago, there was a feeling that there were limits to what she could do because she was born with Down syndrome, and teachers discouraged her from trying new things, recalled her mother, Toni Richards.
But at Pope Prep, "there's no longer a discussion of limitations," Richards said. "At Pope, if she wants to try it, it's 'let's try it.'"
"I cannot say enough wonderful things about how supportive they have been for Adaline and the family," Richards said. "The possibilities are so much more now that she's been a part of that program."
It is students like Adaline that will benefit from the HIHO Classic golf tournament on Thursday, Oct. 26, to raise funds for the Catholic Schools' Hand In Hand Options Program.
"We're raising money so we can support the Hand In Hand Options Program and all students with special needs in the diocese," said Pam Eatman, interim executive director of exceptional learning.
Three schools in the diocese have active Hand In Hand Options programs providing a Catholic education for students with intellectual disabilities: Pope Prep, St. Ann School, and St. Henry School, Eatman said. St. Matthew School in Franklin has served Hand In Hand Options students in the past and is looking to do so again in the future.
But the diocesan program also helps schools serve students with other learning differences, she said. "We do have programs supporting student support services at all 16 of our schools."
At Pope Prep, Adaline has been involved in a number of extracurricular activities, her mother said. She is on the bowling team, was in the choir, and is an altar server. "She's always been invited to try whatever club she wanted to try," Richards said. "She's always been included, she's not an afterthought."
As a freshman, Adaline joined the Pope Prep Genius Hour Club that met after school once a week to give students the opportunity to develop solutions to problems using the Design Thinking Process that calls for understanding users and their needs, challenging assumptions, redefining problems, and creating solutions to prototype and test.
When a friend's lunch slipped off her tray, Adaline decided to use the Genius Hour Club to find a way to help. She designed a lunch tray with guides to keep plates and cups from slipping. The design won the STEM for All Award given by the Tennessee STEM and Innovation Network.
"She has really stepped outside of even what she thought she could do," Richards said of her daughter.
Adaline has also made progress academically and is in several general education classes outside the Hand In Hand Options Program, Richards said. And she is considering enrolling in the Ideal Program for students with intellectual disabilities at Lipscomb University after graduating from Pope Prep. "I can actually say, 'Yes, my child is going to college,'" Richards said.
To help other students have the same opportunities Adaline has found, people can support the HIHO Classic by participating as either a sponsor or a player.
The Classic, in its second year, will return to The President's Reserve at The Hermitage Golf Club in Old Hickory. The day will begin at 11 a.m. with check-in and lunch, followed by the tee-off at 12:30 p.m. and a dinner and awards reception immediately following tournament play.
Several sponsorships are still available as well as playing spots.
If someone can't make it to the golf course, they can still support the program by participating in an online silent auction that will open on Oct. 22, or they can make a donation, Eatman said.
Information about registering to play, sponsorships, bidding in the silent auction, or making a donation is available at dioceseofnashville.com/golf.
"We're trying to build on last year's success," Eatman said, "to be even bigger and better."