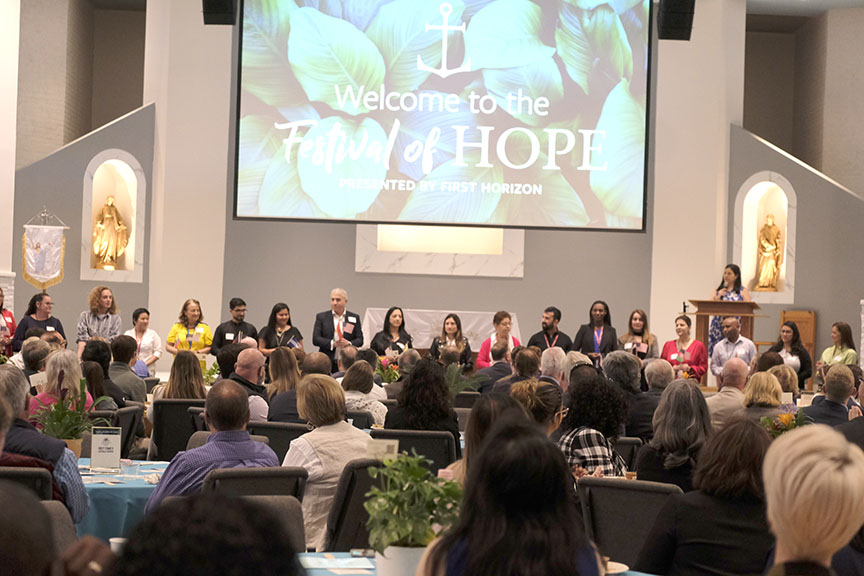 A green heart is a happy heart and is the strongest of them all.
That was the message the attendees of the Catholic Charities, Diocese of Nashville Festival of Hope, presented by First Horizon, left with after listening to the testimony of Noelle Rasmussen, a survivor of the December 2020 bombing in downtown Nashville.
The April 18 event, with its Cuban theme inspired by Catholic Charities' first program of resettling child refugees from Cuba in 1962, drew more than 300 people from around Middle Tennessee. They gathered in Ascension Hall in the Catholic Pastoral Center where they learned about the programs that Catholic Charities offers to serve those most in need.
"When we ask our clients, what's the best thing that we've done for you, inevitably they say, 'You gave us hope,' and that's really the best gift you can give anyone," said Judy Orr, Catholic Charities executive director, during her remarks as she explained why the name "Festival of Hope" was chosen.
"Our global Catholic Church has always been a beacon for migrating peoples, for families, for those down on their luck. Our faith gives us strength and hope – great gifts that God asks us to generously share," Orr said. "Our faith also gives us the moral imperative to love our neighbor and to be a good Samaritan.
"That centuries-old Catholic Church tradition was formalized over time and evolved into Catholic Charities. We are one of about 180 such organizations in the country," she said. "Many do not realize what a powerhouse our 150-person organization is in Middle Tennessee. Fueled by our faith-driven mission, we make a huge impact on this community."
Those impacts include providing resettlement in Nashville for refugees, counseling and mental health services, basic needs assistance, workforce development, emergency services, and more.
"In our Love, Hope, Healing paradigm, I think when healing is at its best, it is manifested in that desire to give back and pay it forward," Orr continued. "When our clients share their stories, it gives hope to others to reach out for help and inspires folks like you to share in their healing by supporting this agency."
Rasmussen's story is an example of that hope that Catholic Charities was able to provide.
During her keynote address, Rasmussen shared her families' experience working with Catholic Charities and how the organization's mental health services helped her 4-year-old son, Benjamin, deal with post-traumatic stress disorder following the bombing.
Upon sharing their experience early Christmas morning when the bombing occurred, how they got resettled, and the start of the effects on her son, Rasmussen told a story from one of the weekly counseling sessions that her family had with Catholic Charities. They were told by the counselor that they were going to do an art project.
The counselor "rolled out a giant sheet of paper and had Benji lay down on it. She then invited me to outline his entire body in black marker. She then set out a jar of colored markers, and asked Benji to pick a color that represents an emotion he feels when he thinks about the bombing, and to color on his paper body where he feels it," Rasmussen explained. "I thought this might be too hard for his 4-year-old mind to grasp, but I was amazed when he immediately sprung into action, grabbing a red and blue marker.
"On the area of his chest, he drew a red heart on the right, and a blue heart on the left. He explained, 'The red heart is my angry heart, and the blue heart is my sad heart,'" she continued. "He then took a green marker and drew a green heart in-between the other hearts. He said, 'The green heart is my happy heart.'"
After finishing his drawing, Rasmussen said her son continued in a solemn tone, saying, "'When I watched my house get crumpled down (from the explosion), the blue heart and the red heart were beating up against the green heart.'
"I tried to be perfectly silent and still as to not interrupt this important moment of discovery," Rasmussen explained, as she recalled the words of her son. "I knew I would soon lose the battle of keeping welling tears from pouring down my face. Then, said as if almost to rescue, and certainly to teach me, without ever looking up from his drawing, Benjamin said, 'But don't worry because the green heart is strongest of all.'"
"It is with humility and gratitude that we can say that even in the darkest times, there is a way out, there is help," Rasmussen concluded, "and we can overcome, because the green heart really is the strongest of all."
Many attendees of the event included representatives of organizations that Catholic Charities has partnered with for many years. They noted how important the work is that Catholic Charities does.
"We enjoy partnering with Catholic Charities. In particular, the Family Resource Centers are such a benefit to our communities," said Rachel Solava, Greater Nashville Regional Council outreach and advocacy coordinator. "I've been to (Catholic Charities at C.E. McGruder Family Resource Center) on multiple occasions and just appreciate the work that they've done to offer a variety of resources for folks at every age and life stage and socioeconomic status and just trying to be as inclusive as possible while also understanding the needs.
"What happens in North Nashville may look different than in South Nashville, so they're plugged into what each area of our city needs," she continued. "The work that they're doing speaks to a lot of different sectors, and I think it goes beyond religion. It's reaching a hand out and saying, 'We want to welcome you. If you're an immigrant, we want to help you.'
"It's really exciting work that speaks to for profits and nonprofits alike," Solava said.
Brian Hassett, president and chief executive officer of United Way, said Catholic Charities is one of the most important agencies in the greater Nashville area.
"Catholic Charities is one of the premier organizations because of their focus on their mission and never forgetting what it is that's most important," Hassett said. "They address so many different needs, like immigrant families who don't know where to turn. They address hunger and homelessness, and it's one of those agencies that really just focuses on the needs of the people who need a break, need a little help, and just need somebody to care.
"Catholic Charities is a very caring organization."
Along with First Horizon serving as the presenting sponsor, the event was also sponsored by Wenzler Properties, the Diocese of Nashville, Vanderbilt University, HCA Healthcare and TriStar Health, Greg and Rebekah Pope, Regions Bank, Father Ryan High School, Centric Architecture, Iroquois Capital Group, Kroger, Holy Family Church in Brentwood, St. Matthew Church in Franklin, Gresham Smith, Bradley Chamber of Commerce, the Lissa Renk family, and the Eleanor Warriner family.
The event also included a catered Cuban-style breakfast by the Clean Plate Club, and authentic Cuban music provided by the Dario Trio – Ruben Gomez of Colombia, and Melvin Macias and Vosvany Cordero of Cuba.
Rhori Johnston, a news anchor for Channel 5, served as the event MC.
For more information about Catholic Charities or to donate, visit cctenn.org.