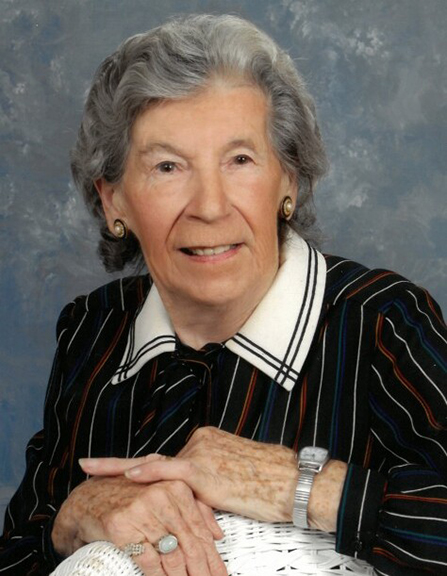 As a child living in Austria during World War II, Anna Etschmayer Doherty knew hunger and want. And as an adult, she spent 38 years as a volunteer feeding the hungry.
"She never wanted to see anybody go through what she did," which motivated her many volunteer efforts, said her son Patrick Doherty. "She was so happy when she served people … it was her joy."
Mrs. Doherty, a longtime parishioner at Immaculate Conception Church in Clarksville, died on March 3, 2022, at her home while her son held her hand. She was 92.
A funeral Mass was celebrated on Thursday, March 10, at the Immaculate Conception Catholic Church Chapel. Burial followed at Riverview Cemetery in Clarksville.
She was born June 22, 1929, in Vienna, Austria, the middle sibling of five children born to Alois and Louisa Etschmayer. "Anna enjoyed a fairytale childhood in the mountains spending time with family, picking blackberries, playing her accordion and frolicking with her friends," remembered her family. "Her idyllic childhood ended abruptly on March 12, 1938, when Hitler invaded Vienna. At the age of 11, she fled from her home while hiding her childhood treasures in a hole in an old tree. (When she died) she still had shrapnel in her body from a grenade explosion."
As a child during the war, Anna would wait in bread lines all day to get food for her family, Patrick Doherty said. She recalled finally getting to the front of the line only to be told there was no food left, he said.
"When you go through the war, food is worth more than diamonds," said Patrick Doherty.
After the war, Mrs. Doherty left Austria for Goose Bay, Newfoundland, and Labrador, Canada, where she worked in a steakhouse that was managed by Joseph Doherty, who would later become her husband.
She returned to Vienna after earning enough money to buy her mother an apartment in downtown Vienna. Meanwhile Joseph's steakhouse was declining in popularity, and he begged her to return. They were married on Sept. 4, 1965, and adopted their son Patrick while living in Michigan.  
When Joseph served as a civilian employee of the military in Vietnam, his wife and son moved to Vienna to live with her mother. Later, the family lived in Hawaii and eventually settled in Clarksville in 1972 where Joseph worked as a civilian employee at Fort Campbell.
Mrs. Doherty became a U.S. citizen and became active at Immaculate Conception and Clarksville Academy, where her son attended school.
"Then she discovered her true passion, volunteering for the Loaves and Fishes Soup Kitchen" in Clarksville, Patrick Doherty said. She was the volunteer manager of the soup kitchen for 38 years and was honored as a volunteer of the year for the State of Tennessee.
"She loved it," Patrick Doherty, a teacher in Murfreesboro, said of his mother's volunteer work. "I like to think I teach people with words. My mother taught everybody by her actions. She inspired more than one person to volunteer. … You would see that and think, 'Why can't I give back too?'"
One of those she inspired was Mary Fisher, a fellow parishioner at Immaculate Conception. Fisher heard a homily by Immaculate Conception's former pastor, Father Eric Fowlkes, encouraging people to give back. He pointed to Mrs. Doherty as an example of a good Catholic who gave to others, Fisher recalled.
"That stuck with me," she said. So, Fisher called Mrs. Doherty to ask if she could volunteer at Loaves and Fishes, and ended up working side by side with Mrs. Doherty for 20 years.
"She was a very sweet, sweet woman," Fisher said of Mrs. Doherty. "Her main thing in life was to give back. It's hard to believe she's gone."
"Her final passion in life was spending time with her beloved grandson, Joey Doherty," her family remembered. "He quickly became the source of her joy and happiness. She supported him in everything he did and attended as many of his events as possible. They loved playing and laughing together. Anna Doherty will be truly and deeply missed by everyone who was fortunate to have their lives touched by her."
Mrs. Doherty was preceded in death by her husband of 45 years, Joseph; her sister Hilde Stary of Vienna; her sister Hermine Etschmayer of Vienna; her brother Hans Etschmayer of Switzerland; and her brother Louis Etschmayer of Innsbrook. She is survived by her son Patrick Doherty and her grandson, Joey Doherty, both of Murfreesboro.
Memorial contributions can be made to the Loaves and Fishes Soup Kitchen of Clarksville at loavesandfishestn.org.   
Sykes Funeral Home was in charge of arrangements.