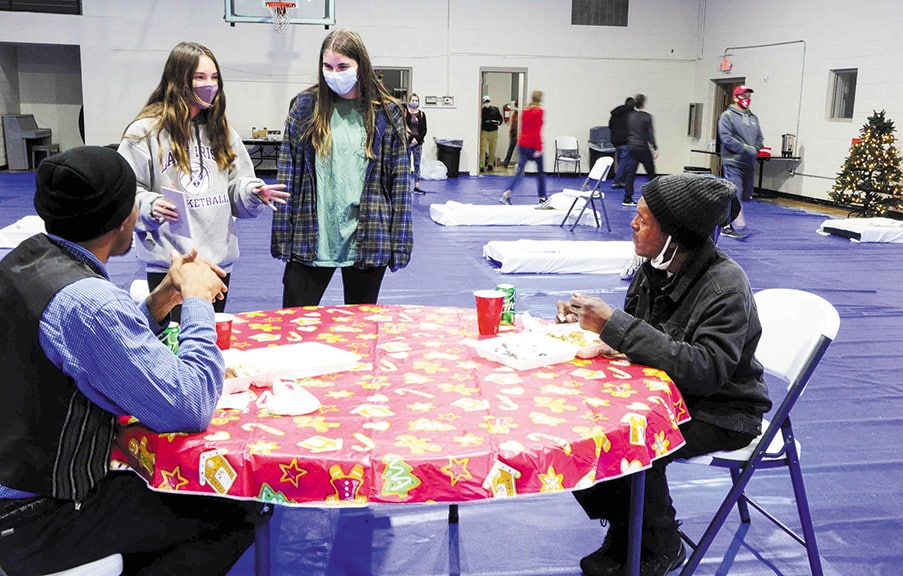 On a recent Wednesday night, volunteers from Christ the King Parish arrived at the gym at St. Vincent de Paul Church and quickly got to work setting up beds for their soon-to-arrive homeless guests.
They set up tables, each one with only two chairs to follow social distancing protocols. Someone started a pot of coffee, other volunteers served up prepared boxed dinners to the guests, followed by chocolate chip cookies. They chatted from a safe distance while wearing masks.
"We're doing as much human interaction as possible," said John Green, a longtime Room In The Inn volunteer from Christ the King. "Is it the interaction we would desire? No, but we got 12 people off the street tonight and that's an accomplishment," he said.
With volunteers "not coming out the woodwork" to serve at Room In The Inn's winter shelter program this year, "we have to do a whole lot more asking," Green said.
But, he said, "we have a committed core group of volunteers, and we're committed to doing this regardless of what's going on."
"People really have to make a conscious effort to serve right now," said Rachel Hester, executive director of Room In The Inn. "We're not off to a running start," with the winter shelter program, she said, and there's been some "tripping along the way."
Room In The Inn began in the winter of 1985, when the organization's Founding Director Father Charles Strobel opened the doors of Holy Name Church to individuals seeking sanctuary in the church parking lot. The program quickly grew, and in recent years nearly 200 congregations from a wide variety of faith traditions were committed to serving the winter shelter program, which runs Nov. 1 through March 31 each season, offering the homeless of Nashville a hot meal, a warm bed, and an evening of hospitality.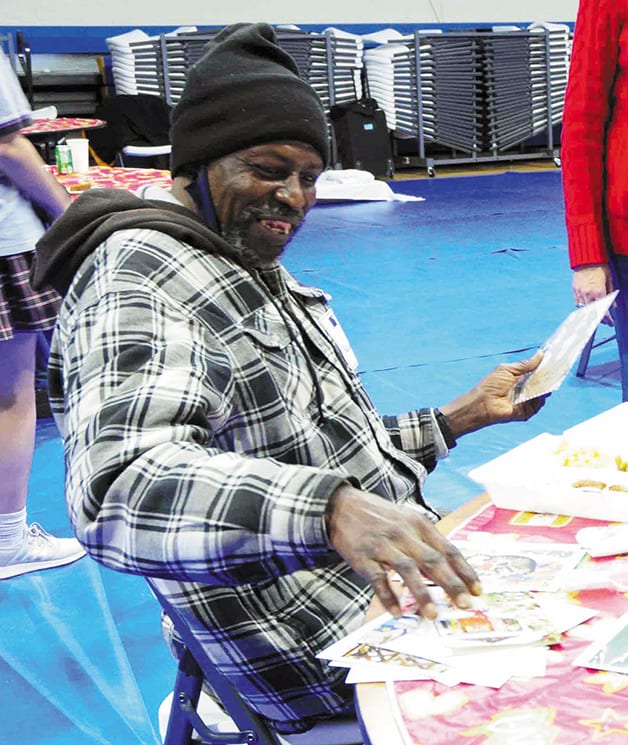 Many of those volunteers have stepped back for this winter because of the COVID-19 pandemic. That means instead of serving 250-300 guests per night, they may only be able to serve 50, Hester said.
Over the summer, she began hearing from more and more congregations who told her they would be unable to host homeless guests in their spaces as they had in the past.
With financial and logistical support from the Diocese of Nashville, Room in the Inn found a solution: utilizing two central sites where volunteers can serve if they are unable to use their own facilities.
So far, Christ the King and Holy Family Parish in Brentwood have committed to volunteering once a week at the St. Vincent site, and St. Ignatius of Antioch is volunteering there once a month. Volunteers from the Cathedral of the Incarnation and St. Edward parishes have volunteered at the other central site, the recently renovated Drexel House, adjacent to Room In The Inn's downtown campus. Father Ryan High School will serve at the Drexel House on Christmas Eve.
The Cathedral has also hosted in its own facility, and Our Lady of the Lake Parish in Hendersonville continues to host in its own facility. Other parishes, including St. Henry and Holy Rosary, as well as congregations around Middle Tennessee, continue to support the program with donations of food and supplies.
Green, of Christ the King, encourages more congregations to volunteer this year, despite the pandemic. "This is as safe as going to the grocery store," he said.
"Our guests are among the most vulnerable people out there, they take precautions," he said. "We all follow the protocols. This is safe to do."
With the coldest winter months still ahead, Hester welcomes more volunteers to host, but knows that not everyone is able to do that right now. For those who are unable to serve in person, there are other ways to help.
"Our number one priority right now is to keep everyone safe and warm," Hester said. Clean and warm men's winter coats are especially needed, as is long underwear, sweatshirts and socks. Those items can be dropped off at Room in the Inn's campus.
"It's not too late to get involved," said Hester. "We're pushing through this together."
---
HOW TO HELP ROOM IN THE INN
In addition to the winter shelter program, Room In The Inn also offers transitional residency programs for veterans, individuals seeking recovery, and the medically fragile. The staff, along with other agencies around Nashville, provide ongoing support with a focus on physical health, employment, education, sobriety, mental health, and permanent housing.
On Christmas morning, they plan to give each of their 50 program guests a gift bag of brand new items including a sweatshirt, thermal underwear set, socks, underwear, and hygiene items. Most of the guests wear men's large or x-large.
Room In The Inn staff greatly appreciates help purchasing items from their online wish lists or by purchasing and dropping items off at their campus at 705 Drexel Street, Nashville, TN 37203.
More information is available at www.roomintheinn.org.