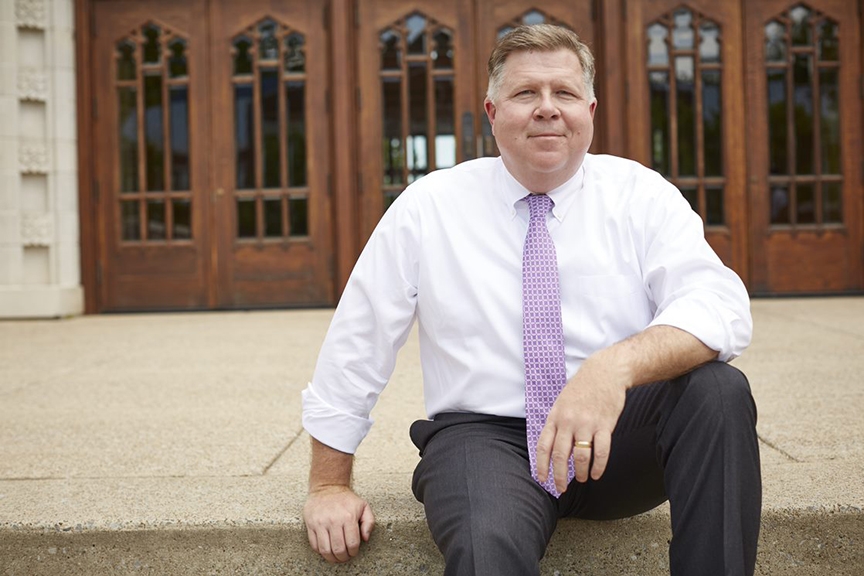 After 17 years at the helm of Father Ryan High School, Jim McIntyre can claim a host of accomplishments: improved academic rigor, financial stability, improvements to the facilities.
But those aren't the things that define Father Ryan for him.
"I always felt like we have a beautiful campus, but that's not Father Ryan," McIntyre said. "The community is rooted in relationships. …
"Father Ryan is a tangible expression of our relationship to God, which is we all want to be known and loved by God," he said. "Our interaction is the way God expresses that. Knowing and loving each other is a faith experience. That's the secret sauce if you will.
"It comes from an inner experience. The experience of knowing and loving each other becomes more than a (motto)," McIntyre said. "It's a challenge as much as it is a phrase.
"Knowing and loving them is a real way to build stability for young people and for parents and for teachers," he said.
McIntyre's tenure at Father Ryan came to an end with this school year. He and his wife Amy are headed to Orlando, Florida, where he will become the president of Lake Highland Prep, the largest private school in the city and the fourth largest in the state.
"My hope is Amy and I can take our gifts to serve a new community," McIntyre said.
"Like the students who just graduated, Father Ryan's prepared me to go out into the world to know and love a new community," he said.
"Mr. McIntyre achieved great success by carefully balancing relationships, results and processes, never allowing the pursuit of one to expand at the expense of the other two," said Bill Stejskal, chairman of the Father Ryan Board of Trustees. "Only the most skilled leaders are able to do this.
"We were blessed to have him at the helm," Stejskal said.
"I feel confident relationships with each other are at the core of education and human development," McIntyre said. "I've learned over the years as a husband, as a parent, as an educator and here at Father Ryan that relationship is the key to trust, which is the key to a successful educational experience.
"Being authentically committed to young people and their achievements and success is one of the great gifts I will bring from Father Ryan to a new community," he added.
Academic improvements
McIntyre credited the improvements in academics at Father Ryan to the work of the school's academic deans, including the late Sara Hayes and the current dean Jennifer Anton, and their teams.
"My role was to support, care for and let the academic team do what they're best at, which is academics, and let the teachers do what they're good at, which is teaching," McIntyre said.
Among the changes the school has implemented was a conversion to block scheduling. "Block scheduling was pivotal," he said, because it mirrors the college experience Father Ryan students will have in their futures.
The school has added Advanced Placement courses and learning specialists to support students. "At a diocesan school you have to be all things to all people," McIntyre said. "As we added rigor, we also added support."
The school has four levels of academics. "The ability to personalize somebody's high school curriculum so they can excel where they are strong and get support where they need it leads to success, and success breeds success," McIntyre said.
Recently, the school has added STEAM (Science, Technology, Engineering, Arts, Mathematics) courses, "which are going exceedingly well," McIntyre said.
Father Ryan has also increased the students' use of technology, but they've done it in a careful manner, McIntyre said. "We made sure it was a means to an end, not an end to itself."
The experience at Father Ryan is about more than learning subject matter, McIntyre said. "The word formation is a word underutilized. Academics is something schools do but formation is what we do," he said.
An important feature in the formation of Father Ryan students, has been the establishment of a house system in the 2020-21 school year, McIntyre said. Students, faculty and staff are assigned to one of six houses, and each house, a smaller community within the school, has a faculty Head of House, a Personal Counselor and a College Counselor. Within each house are smaller mentor groups that allow the students to develop a relationship during their four years at the school with a faculty or staff mentor that will foster social and emotional intelligence.
The mentoring of students by teachers at Father Ryan is one of the school's successes, McIntyre said.
The system has provided more leadership opportunities for students and allowed students of different grade levels to connect with each other, McIntyre said.
"We doubled down on our identity" through the system, he said. Each house has a patron saint connected to a specific social justice teaching of the Church, McIntyre explained. For example, the Immaculata House is named for Immaculate Mother Academy, the school founded in Nashville to serve African Americans by St. Katharine Drexel, who is the house's saint.
The house system "feeds into the idea of identity and the sense I'm part of something bigger than myself here," McIntyre said.
Facility improvements
During the last 17 years, Father Ryan has either built or renovated every building on the campus, McIntyre said. The campus is 30 years old, so some of those improvements are to be expected, McIntyre said. But he led efforts that resulted in the construction of the Jim Carell Fitness Center, Jim Carell Alumni Athletic Complex, and Giacosa Stadium.
"None of that would have been possible without Father (Charles) Giacosa and Mr. Carell," McIntyre said.
But the facilities are more than a place for athletic contests, he said. "It's a place for us to gather in community."
The school has hosted Relay for Life, Special Olympics, parochial league games, and Atlantic Coast Conference football teams practicing for the Music City Bowl at Giacosa Stadium, McIntyre noted. "It's a real gathering place. … A place for connection and legacy and traditions and hope for the future."
It offers students and alumni "a place to always call home," McIntyre said.
The facilities help build a sense of community. The athletic complex provides a "visual of something that already existed" and allowed it to expand exponentially, he added.
"When hard times hit, the natural reaction of the Father Ryan community is to serve. That's a result of our mission," he said.
"No one is alone here," McIntyre said. "Loving each other, that can be messy. Life is difficult, but you're not alone."
McIntyre was pleased that his friend and colleague, Paul Davis, who has served as Father Ryan's principal since 2007, will succeed him as president of the school.
"The continuity of leaders, while bringing a fresh vision, will serve the faculty and students and the community as a whole," McIntyre said. "The school is at a great point, and I feel good I can leave it in Paul's hands and the leadership team's hands to take it to a new level."