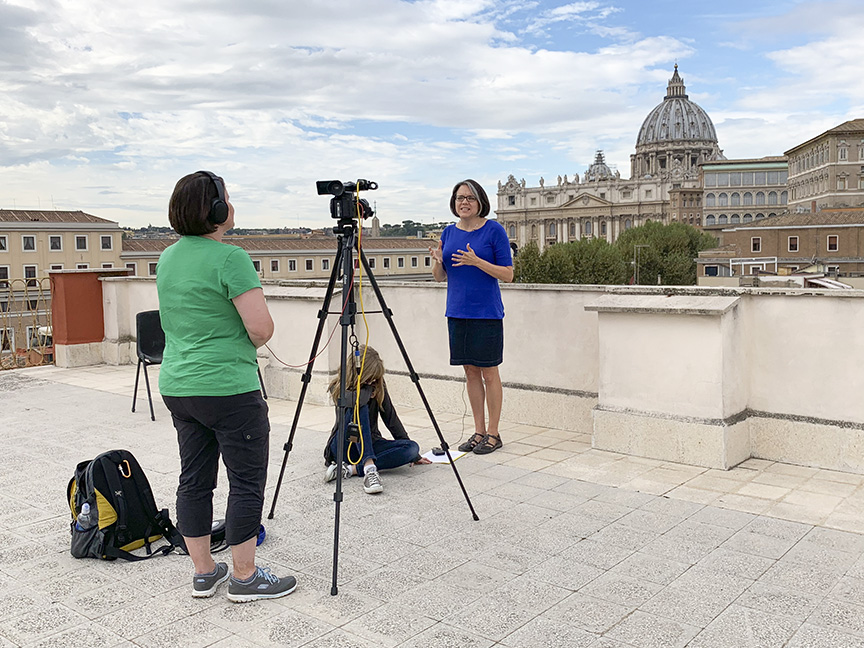 After six years with the Diocese of Nashville's Office of Faith Formation, Joan Watson is leaving to "pursue the speaking and writing that I've been wanting to do for many years," she said.
With her writing and speaking engagements, she wants to continue "helping people live the Catholic life in a practical way," she said. She wants to help people answer the questions, "How do I become a saint in ordinary time?" and "How do we live lives for Christ?"
In a letter to diocesan staff announcing Watson's departure, Father John Hammond, Vicar General of diocese, praised her contributions. "Her outstanding leadership, inspiring content, and effective ministry to the people of our diocese have enriched the faith of so many," he wrote. "We fully support her and wish her all the best as she enters this new season in her professional life."
Watson joined the diocese as the director of Adult Formation in 2014, before becoming director of the Office of Faith Formation. Previously, she worked at Aquinas College and with Scott Hahn at the St. Paul Center for Biblical Theology.
Watson said she is "really proud" of the way the diocese's Office of Faith Formation has grown during her time with the diocese. "We've become better equipped to help our parishes in their mission," she said. "We've really tried to listen to the needs of the parishes."
That translated to Watson producing content that was easy to digest and share, including Bible study programs and the popular Three Minute Theology video series.
"I love helping Catholics know how to approach Scripture," she said. "It's not just for theologians or people with doctorates."
Watson already recorded and released her final hosting of Three Minute Theology video on Tuesday, April 27, her last day with the diocese. "I hope it continues," she said. "The diocese has worked hard to build that brand and people really like it."
In his letter, Father Hammond noted that, "ongoing initiatives of the Office of Faith Formation such as Three Minute Theology will continue under the auspices of the diocese, after an understandable hiatus as necessary."
Father Hammond, in collaboration with Chancellor Brian Cooper, Vice Chancellor and Chief Mission Integration Officer Julie Perrey, and Father Austin Gilstrap, who oversees the Office of Faith Formation and the Vocations Office, will lead a search for the next director of faith formation.
Watson's successor will also oversee the departments and ministries recently consolidated under that organizational umbrella, which includes the diocese's youth ministry and the family and marriage ministry.
As Watson moves forward to pursue her own writing and speaking engagements, she will continue as the associate editor of "The Integrated Life," a blog site "helping Catholics integrate faith, family and work." She will also continue to collaborate with a friend to produce "The Catholic Traveler" podcast.
Follow Watson and subscribe for updates here: https://joanmwatson.substack.com/p/coming-soon.