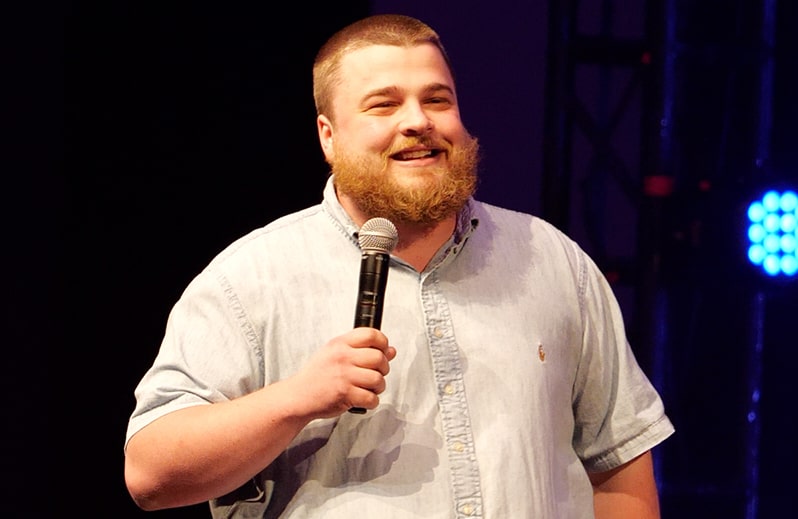 College students across the country use their time in school to figure out where they are heading in life. Aaron Weber, a 2010 graduate of Pope John Paul II High School in Hendersonville, has landed on a stage, holding a microphone, making people laugh.
Weber, who first tried stand-up comedy at the University of Notre Dame when he was a student there, has spent the past five years building a career in comedy. On Wednesday, Sept. 30, he will be the headliner at Zanies Comedy Club in Nashville and the show will be recorded for his first comedy album.
"It's a culmination of a little over five years of taking stand-up pretty seriously," said Weber, whose father, Faustin Weber, is the former headmaster at JPII High School. "It's a big milestone for sure."
The album of the show will be produced by 800 Pound Gorilla Records, a Nashville-based company that specializes in comedy recordings. Weber's album will be available on Amazon and other outlets and he hopes will get some airplay on XM Sirius's comedy channel and other similar platforms.
"It's exciting to have stuff out there," Weber said.
Zanies, which can hold 310-315 people in normal times, is limited to half its capacity because of COVID-19 restrictions, Weber said. There are still some tickets available for his show. They can be purchased online at Nashville.zanies.com, at Weber's webpage, aaronwebercomedy.com, or through his social media platforms, realaaronweber.
Weber is hoping his classmates and friends from JPII will be able to get to the show, despite the coronavirus. "I'm still am pretty close with a lot of my classmates," he said. "Hopefully some of them can come out."
He did have a big turnout of JPII people at his previous opportunity to headline at Zanies, including classmates, teachers and staff. "That was a cool show of support," he said.
Weber described his style of comedy as "clean," which for some people has connotations of being for children or corny, "which my show is not," he said.
"There's no politics. There's nothing serious. It's just silly stories about me and things I've observed," he said. "It's just a silly night. You're not going to learn anything. … you'll just have fun and then you'll leave."
When he was younger, Weber considered a future in music. He plays the guitar, piano and drums, and in JPII's Jazz Band, played the xylophone.
"I think that's all I wanted to do when I was younger," Weber said of his musical aspirations. "Probably if you would have asked me 10 years ago, comedy wouldn't have even been in the cards. It's been a hard pivot in the last several years."
His classmates recognized him as funny, but "I never thought of myself as a class clown," Weber said. "I always liked making people laugh. I always loved public speaking. Looking back all the pieces were there."
Weber grew up in Montgomery, Alabama, where his father, now the principal at St. Michael High School in Fairhope, Alabama, was president of Montgomery Catholic High School. In 2008, when Weber was a junior in high school, his family moved to Hendersonville so his father could take the job at JPII.
He enjoyed his experience at JPII, Weber said. "I remember people being really nice," he said. "The school got me into a good college. I wouldn't have gotten into Notre Dame without JPII, for sure."
The school "had all these extracurriculars I did that probably led me to stand up," including Youth in Government, Mock Trial and debate, Weber said.
It was at Notre Dame, where he graduated in 2014 with a degree in marketing, that Weber first tried stand-up comedy.
"In college, we had a stand-up group on campus where I dipped my toes in," Weber said. "I loved it right away and thought I could be good at it right away."
"I'd always been a fan of stand-up," Weber said. "I just decided to start doing it. There's no barrier to entry. You just decide one day I'm going to show up and do it."
After graduating, Weber returned to Nashville and started pursuing a career in comedy, performing at open mikes at venues around town. "You get four minutes in front of a group of strangers," Weber said. "Four minutes can be an eternity. You just try to make people laugh in four minutes. Then you do shows of 10 minutes, which is quite a leap." The show for his comedy album will be an hour long, he noted.
It didn't take long for Weber to decide to try to make comedy a career. "That was the goal pretty quickly. I realized if I could only do this, that would be pretty amazing."
He spent nearly five years performing around the country every chance he had. Young comedians are told to never turn down a chance to perform, Weber said. "You're told to do everything. That puts you in some weird worlds."
He's performed in prisons, people's back yards, and Protestant Churches, he said. "It's opened a lot of doors in that way."
Weber has been able to tour with established comedians such as Nate Bargatze and Henry Cho as their opening act. He's also a regular on the Nateland Podcast with Bargatze, a Nashville based comedian who has had several specials on Comedy Central and has performed on the Tonight Show.
"Nate's been a mentor," Weber said. "He's been a I guy I've been a fan of for years. To go from being a fan to a friend to being on a podcast with him is pretty surreal."
Comedy can be a small world, Weber said. "You get a chance to work with some of the big headliners right away," he said. "That's one of the cool things about stand up versus something like music."
After working day jobs for several years, Weber was able to make the jump to full-time comedy a year ago. "Little did I know a few months later the world would end."
Weber plans on staying in Nashville as he continues to build his comedy career, rather than moving to Los Angeles or New York. "I think that's less important now than it used to be," Weber said.
Nashville has several advantages for comedians, including Zanies, "an A-list, world class comedy club," Weber said. "Zanies has been a great friend to me since I started," said Weber, who has performed at the club in a variety of roles, including hosting the show, being a warm-up act, and as a headliner.
It's easy to go on the road from Nashville, Weber added. Several top comedians live in Nashville, he said. "Seeing those guys do it out of Nashville made me feel better about staying here."
Weber's goal is to continue his comedy career, "make a living this way, and gradually start to headline more places."