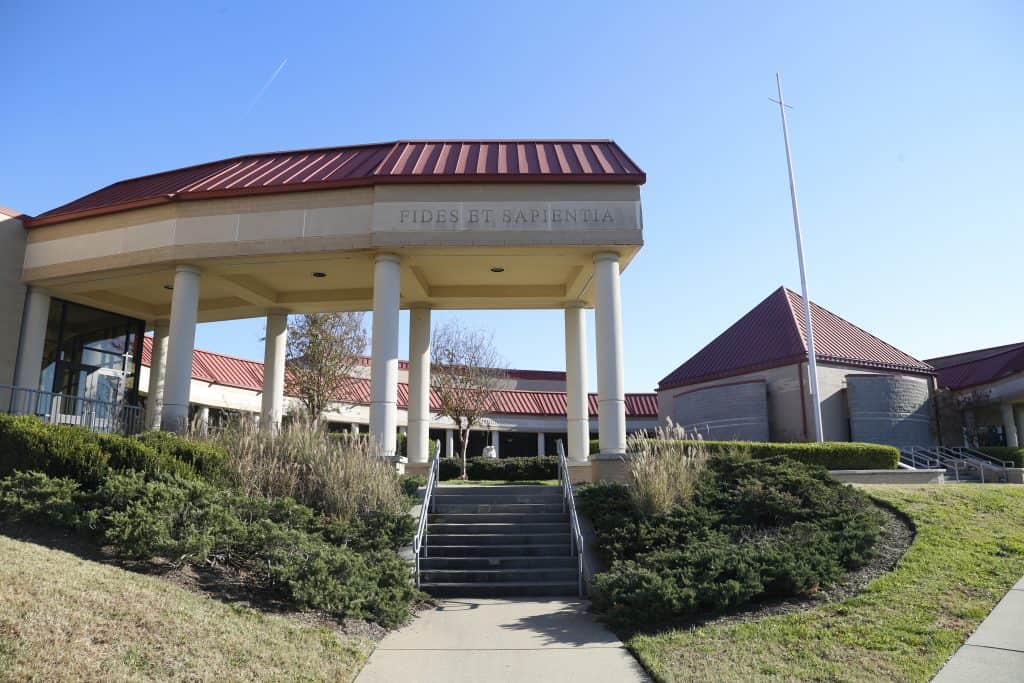 After a lengthy evaluation, including surveys, focus groups and demographic studies, a nearly 20-year dream will become a reality next school year when Pope John Paul II High School will expand its grade offerings to include middle school students in grades six through eight, providing new Catholic school opportunities in the northern part of the Diocese of Nashville.
Studies of the feasibility of adding middle school grades at JPII found that a majority of students would come from area public schools and other private schools, rather than Catholic elementary schools.
"A good number of families with children in public schools and other private schools in this area … would prefer a Catholic school option," said Rebecca Hammel, superintendent of schools for the diocese. "We hope to offer those families this option."
"The program is designed to provide the middle schoolers a full and rich experience taking advantage of all the features a high school campus can provide," Hammel said.
"Students who attend middle school on the JPII campus will have access to many of the programs offered at the high school level – arts, band, athletics," Hammel said. "They'll also have access to high school level courses for which the student may qualify."
JPII officials have discussed the possibility of including the middle school grades since near the opening of the school in August of 2002, said Head of School Michael Deely.
The discussions became more serious in recent years, and the school hired the Meitler consulting firm of Milwaukee to determine interest in a middle school at JPII.
The firm distributed a survey and received 465 responses from families representing 598 children 1 to 12 years of age. Approximately 35 percent of the respondents have students currently attending JPII High School.
The Meitler survey identified 106 students from outside the Catholic school system currently attending public schools, other private schools, or homeschooled who would be interested in attending middle school at JPII.
The study indicated that 62 percent of likely enrollees would come from public schools.
"The demand for Catholic education was most evident to us through the Meitler study," Hammel said.
The Meitler study also indicated that a large majority of families with children enrolled in Catholic elementary schools would keep their children where they are, Deely said.
"We realize some parochial school families may opt for the middle school for a number of reasons: location, siblings at JPII, the draw that this structure has," Hammel said. "But others prefer the K-8 parochial schools."
"This is a different option," Hammel added. "This option will fit some families. It will not be the option preferred by others. We as the diocese are happy to offer families a choice."
Opening a middle school at JPII will strengthen the Catholic school system overall, Deely said. "It's an opportunity to attract more people into Catholic schools," he said. "It gives a lot of options to Catholic and non-Catholic families that we know through our Meitler study that they've been seeking."
JPII posted an announcement on its website in mid-December about opening the middle school and already has received 124 applications before beginning its marketing campaign, which will be launched this month, Deely said.
School officials are hoping to open the middle school grades with 150 to 160 students.
"We're just keeping it to a few sections at each grade level, two, maybe three, averaging 20 students per section," Deely said.
"We're starting off small so it limits the impact both at JPII and the other schools," Deely said.
Opening a middle school will help stabilize JPII's feeder system, Hammel said.
"Currently, JPII has three parochial schools that predominantly feed into them, St. Joseph in Madison, St. John Vianney in Gallatin and Holy Rosary Academy in Donelson, which tends to split its students between JPII and Father Ryan High School," she said. "They also get a few each year from Immaculate Conception in Clarksville and St. Pius X Classical Academy.
"Even with that many feeders, it's not enough students to sustain JPII," Hammel said. "Currently, they draw more students from area public schools than they do the parochial schools."
"We're trying to draw kids we know we can get," Deely said. "We just have to get to them sooner."
Families are attracted by JPII's academic program, Deely said.
"We already have the course catalogue done" for the middle school grades, Deely said. "We can offer a very advanced academic program for qualified students," as well as offering academic support for students who need it, Deely said. "It's something for everybody."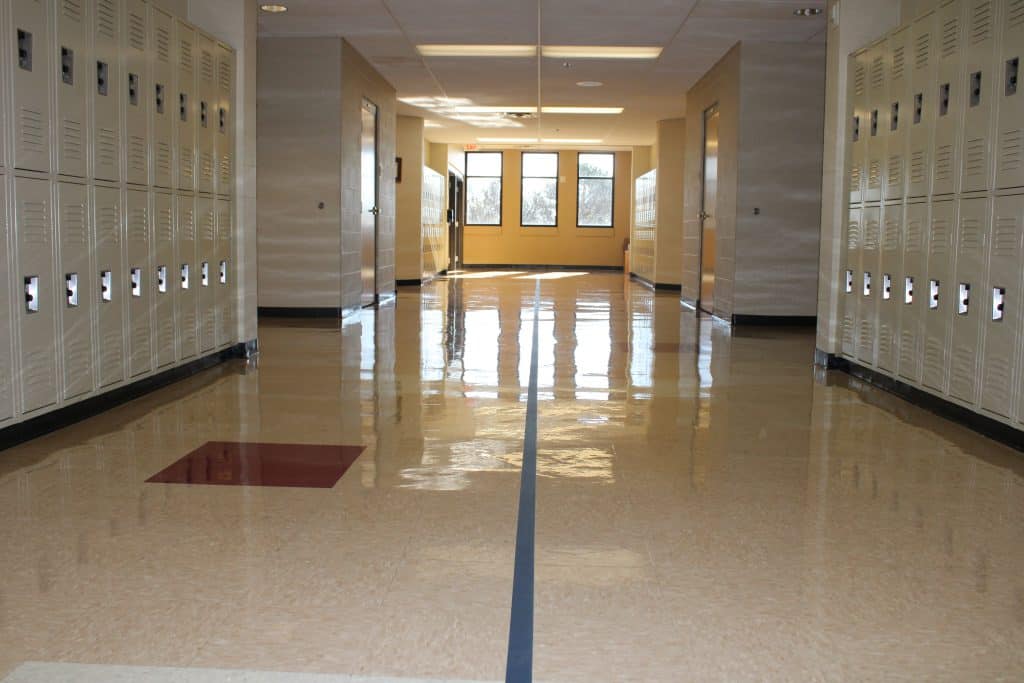 "Athletically too, it allows them access to more sports," Deely added.
"Our idea is to have a middle school athletic program," which will participate in the Harpeth Valley Athletic Conference with other private schools, he said. "We'll be able to offer most of our sports to middle school kids."
"In the arts, it allows them access to band and choir," Deely said of the middle school students.
A key to the success of the middle school program is the ability to use "the high school facility and all that it offers," he said.
The middle school classes will be housed on the bottom floor of JPII's academic wing.
"They have room in the school," Hammel said. "They also will use some of the common areas of the school such as the theater, the cafeteria, athletic fields, when the high school students are not using them."
"There's very few renovations that have to occur" to house the middle school in the same building as the high school, Deely said. "We basically have the facilities to use the entire campus with this addition and do it well."
"Scheduling is something they've carefully planned so there's as little interaction as possible between the high school and middle school students," Hammel said. There will be separate lunch periods for the high school and middle school students, and the middle school students will attend Mass separately from the high school students, she said.
High school students will not have access to the middle school floor, and the middle school will have a separate entrance, Hammel said.
Currently, there are no plans to build a separate building for the middle school grades, Deely said. "We're waiting to see the impact of an additional program to tell us where to go next."
Although JPII is adding a middle school, there are no plans for a similar move at the diocese's other high school, Father Ryan, Hammel said.
"At present that's not what the community needs reflect," Hammel said. "They have a stronger feeder system," and the school's location is more accessible to the other parochial schools, she added.
JPII will add nine new teachers for the middle school, Hammel said, but no new administrators.
"We're going to keep the current administration since it's so small," Deely said. "That's a way we're keeping the cost down."
Middle school tuition and fees for Catholic families who qualify for a parish subsidy will be $10,725 per year, and other families will pay $12,725 a year in tuition and fees, according to the JPII website.
At the same time, there will be no increase in the high school tuition for JPII next year. "With the addition of more students, they are able to do that," Hammel said.
When JPII becomes a grade 6-12 school, it will change its name to Pope John Paul II Preparatory School, Deely said.
Although nearly all of the middle school students are expected to continue at JPII for high school, there will still be room in the high school for students who attend their middle school years at a different school, Deely said. "The size of the middle school won't limit people who want to enter in ninth grade," he said. "You can wait." For more information about JPII's middle school program, visit www.jp2hs.org.