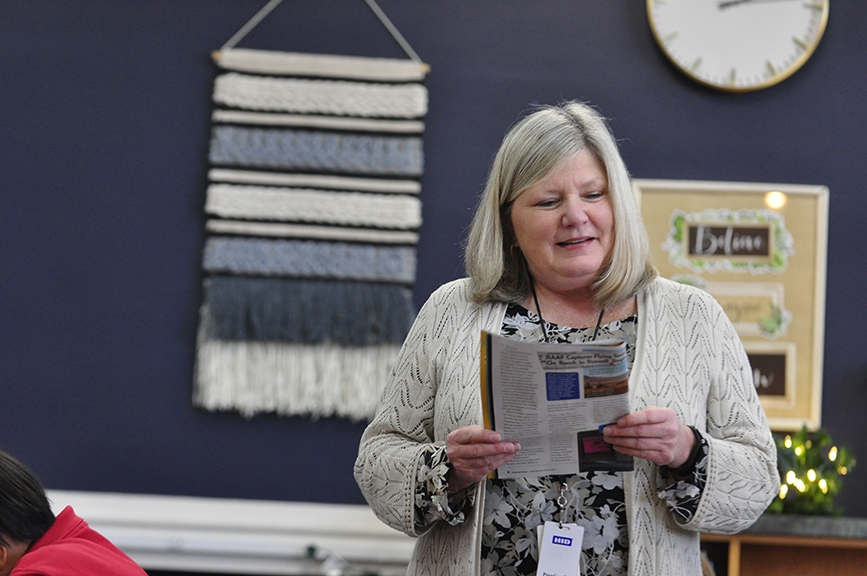 Judy Graham has lived nearly her entire life within the warm embrace of St. Ann School.
Like her father before her and her sons after her, Graham was a student at St. Ann as a child. In adulthood, she returned to St. Ann to pursue a career as a teacher and school librarian.
In those roles, for more than 30 years, Graham has been "a beacon of light to the school as she leads by example," said Anna Rumfola, principal of St. Ann School, in her nomination of Graham for the Christ the Teacher Award. 
Graham was presented the award, which is given by the Diocese of Nashville's Catholic Schools Office each year to recognize a teacher at a diocesan school, during the recent Advancement of Catholic Education Awards Event.
"In her eyes (St. Ann School) is a family, and we all pitch in to help whenever there is a need," Rumfola said in her nomination of Graham. "She truly wants the best for her students and goes over and beyond her daily responsibilities to ensure each students' needs are met."
The award was a complete surprise for Graham. When Rumfola announced at a faculty meeting that a St. Ann teacher had won the award this year, Graham said, "I was getting ready to congratulate somebody else."
Graham grew up as a St. Ann parishioner and graduated from the school before going on to St. Bernard Academy for high school. She was taught by the Sisters of Mercy at both St. Ann and St. Bernard.
Her aunt, Sister Jeannine Curley, also is a Sister of Mercy. "I've been influenced by the Mercies since birth," Graham said.
As teachers, the Mercy sisters influenced her "in all the good ways," Graham said. "They were such a picture of selfless giving and devoted to their students and of course their faith."
It's what she has tried to do in her own career as a teacher. Working in a Catholic school allows her to integrate the faith into every aspect of the school day. "The prayer before every class begins. Stopping at noon to say the Angelus. The faculty prayer to get the day started. Praying for each other with intentions," Graham said of the ways the faith is expressed at the school. "It's getting (the students) to step outside themselves and think about what others need. That's the mission of Catholic education.
"As Father Fye said, we're leading them to heaven," Graham said of St. Ann Pastor Father Michael Fye.
Graham's dream wasn't always to teach. "What I really wanted to be was a librarian. I loved the library," Graham said. "I love to read. I love being around books. As a child, I had a book with me wherever I went."
"As I got older," she added, "… I just wanted to work with little kids."
Graham graduated from Tennessee Tech University with a degree in early childhood education. She started at St. Ann teaching first graders. "They're just like little sponges," Graham said. "It's quite literally like a switch when they learn to read."
She took a break from teaching to take care of her sons, Michael and Max, at home, but returned to St. Ann to serve as the part-time school librarian. "The part time turned into full time," said Graham, who took on several new roles, including as assistant principal.
Graham then became the eighth-grade homeroom teacher. "I discovered I loved middle school students," she said. "It is just so rewarding. I just enjoy them so much. It's just a great way to spend the day."
Graham teaches literature to the fifth through eighth grade classes and the seventh-grade global studies class.
As the eighth-grade homeroom teacher, she facilitates the Senior Friends program, which partners the eighth-grade students with elderly members of the parish, visiting them for lunch regularly and helping them with chores around the house and yard.
"They build these incredible relationships," Graham said. "It creates such an empathy. It's good for kids this age to be around the elderly, to have conversations with someone besides their grandparents who are elderly. It builds character.
"It's a beautiful thing to see," she added.
Graham is also active at St. Ann as a parishioner, serving as president of the Ladies Guild. 
During the Advancement of Catholic Education Awards Event, Father Fye said, "It's been a joy to work with her not just in her professional capacity as a teacher … but also somebody who understands and appreciates the vision and the beauty of being a disciple of Jesus.
"Many people look up to her, not just students, even other teachers," Father Fye said. "I certainly do."
"I would say one of Judy's strengths is her Christ-like leadership," Rumfola wrote in her nomination of Graham for the Christ the Teacher Award. "Judy knows the school and uses her experience to make sure everyone is supported; she is a pillar at St. Ann School."