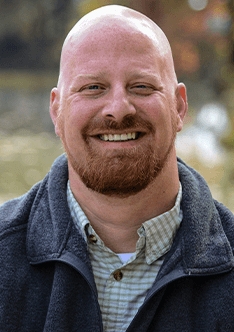 Catholic speaker and podcaster John Edwards has gone through a lot of ups and downs in his faith life.
Being raised in a devout Baptist household, Edwards converted to Catholicism when he married his wife. But running with a bad crowd in college and losing his mother to terminal breast cancer had him turning to drinking, drugs and pornography to escape from his problems.
Eventually his raging battles with alcohol and cocaine addiction landed him in jail and rehab. In the midst of his pain and regret, he had a powerful encounter with Jesus that changed his life. Edwards now travels the country sharing his testimony and is bringing his story to Holy Family Church in Brentwood on Aug. 5 and 6.
Holy Family parishioner Jeremy Bisceglia spearheaded Edwards' visit to his church. He had first heard him speak at a meeting for Legatus, a national organization for Catholic business leaders to share faith and fellowship.
"The meeting was this past May, and they had John as their guest speaker. We were all blown away by his conversion story," Bisceglia said. "I found out he lived in Memphis, and we arranged a lunch meeting to get to know each other a little better. I invited John to speak to our church, our pastor Father Joe McMahon agreed that it was a good idea, and he's coming in August."
Edwards will be speaking three times during the weekend and each presentation is centered on a different theme, Bisceglia said.
"The first talk is titled 'From Addict to Evangelist,' and that's where John shares his conversion story. The second one is titled 'Restoring Identity,' where he'll discuss who we are to God and why we're here. The third part is the most important, and it's all about our personal relationship with Jesus."
Although the talks are open to everyone in the diocese, Bisceglia hopes they will be especially inspiring to the men who go.
"To be clear, John's conversion story is for everyone. But his ministry is largely geared towards Catholic men," Bisceglia said. "I've been a part of the Men's Club here at Holy Family for some time now," and Bisceglia wants the organization to live up to its full potential by "making an effort to enrich our faith and share it with others. I'm hoping John's talks will revitalize and re-energize us," he said.
Bisceglia strongly encourages all who are interested to attend. "If you're looking for something to inspire you and help reignite your faith life, please consider coming," he said. "You won't regret it."
The first presentation will be Friday, Aug. 5, at 7 p.m. The other two will be Saturday, Aug. 6, at 9 and 10:30 a.m. There is no ticket requirement for this event, but donations will be taken up at each talk.
Those wanting to learn more about Edwards or hear more from him can visit his website justaguyinthepew.com or listen to his Just a Guy in the Pew podcast on Apple, Stitcher, Google, Spotify, Castbox and iHeartRadio.