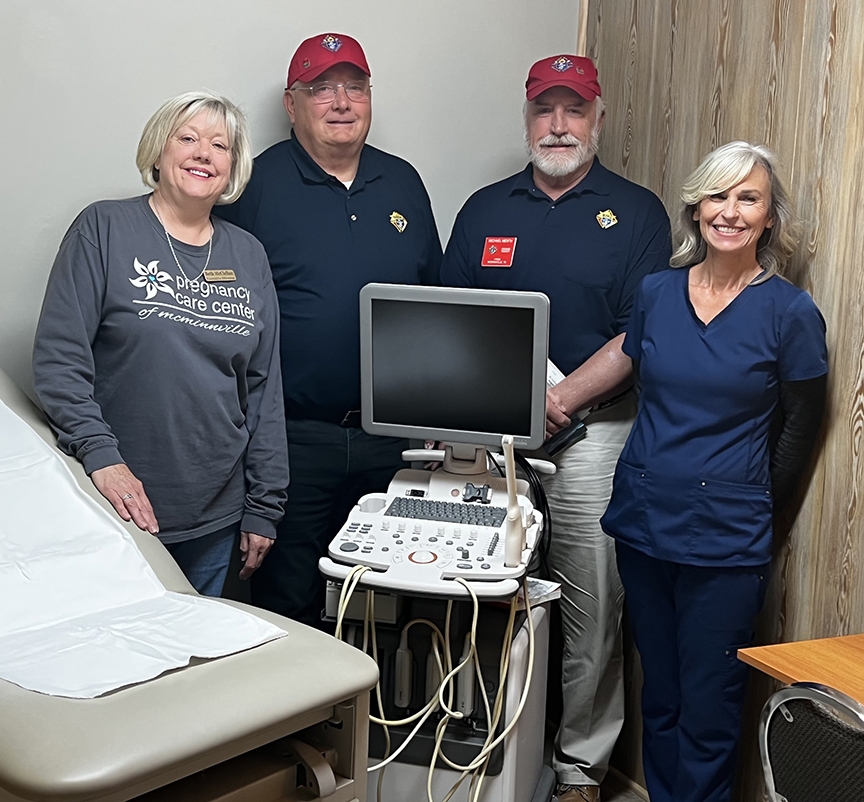 Knights of Columbus councils in McMinnville and Kentucky worked together to give new life to an ultrasound machine in an effort to save new lives.
"This is a story of the Holy Spirit reaching out through so many people to make this project happen," said Tex Shellhart, a Knights of Columbus District Deputy who works with the council in McMinnville. "There were too many coincidences, the timing of things just too perfect to have happened by luck, or just coincidental.
"Our Lord wanted this machine in McMinnville, and I am glad to do my little part," he said.
Council 17622 at St. Catherine of Alexandria Church in McMinnville was founded only three years ago. "We're really getting out in the community, and we're trying to do what Blessed Father Michael Mcgivney started," Mike Menth, the council's Grand Knight, said of the founder of the Knights of Columbus.
Rick Codden is the council's pro-life chairman, and at a meeting earlier this year was talking about plans to help the Pregnancy Care Center of McMinnville, which provides services to women experiencing an unexpected or crisis pregnancy.
The Knights of Columbus has a program to raise funds to buy ultrasound machines for crisis pregnancy centers like the one in McMinnville. But the center there had not yet made plans to acquire one, explained Beth McClellan, the center's director.
"Tex Shellhart said, 'I might be able to help you out. I know where an ultrasound machine would be available,'" Menth recalled.
The story then shifted to Paducah, Kentucky, where three Knights of Columbus councils – Holy Rosary Council 1055, Divine Mercy Council 11591 and Monsignor Anthony G. Higdon Council 10962 – had raised funds to buy ultrasound machines for Hope Unlimited, which operates crisis pregnancy centers in Paducah and across the Ohio River in Metropolis, Illinois.
Over the years, as Hope Unlimited replaced the machines with new upgraded machines, the Knights would try to find new homes for the old machines, which were still in good operating condition, explained Dennis Herricks, the District Deputy for the Paducah area.
With the latest upgrade, the director of Hope Unlimited contacted the Knights to offer the old machines for someone else to use, Herricks said. "Let's put them to good use somewhere else," he said.
Herricks passed the message about the availability of an ultrasound machine to the Kentucky state officers and the Knights of Columbus insurance agency, which also covers Tennessee.
"I learned about the availability of a used ultrasound machine looking for a new home through Knights of Columbus Insurance Agent Alec Medlin," Shellhart explained. After learning of the need for a machine in McMinnville, "I reached back out to Alec to get contact information to see if the ultrasound machine was still available."
Medlin put Shellhart in touch with another Knights insurance agent, Tony Carmona, who put him in touch with Herricks. "As it turns out, he had relocated a previous ultrasound machine years before and was very well informed about how to do it."
Herricks started working with Codden to make arrangements for moving the machine to McMinnville. He wanted to make sure the Tennessee center and the Knights in McMinnville had everything in place to put the ultrasound machine to use, including a trained operator and a plan to pay for ongoing maintenance, Herricks said.
On the McMinnville end, the center needed to find a medical director and a sonographer and the money to build a room for the machine. All of that happened in recent months, McLellan said. "It was phenomenal. Everything fell into place because of God."
Codden traveled to Paducah to pick up the machine and bring it back to McMinnville. "They were happy to put it to use. They were feeling bad that it was sitting in a corner," he said.
"This is a huge thing for us," Menth said. "It's a huge thing for Warren County."
The Pregnancy Care Center, located at 308 N. Spring St. in McMinnville, used the ultrasound machine for the first time on Oct. 21, McLellan said.
"We're super excited," she said. "Usually, 60 or 70 percent of women who see an ultrasound will choose to parent. … This makes a huge, huge difference for us saving babies' lives."
The center has only been in existence for three years, and the ultrasound machine is an important addition to the services provided.
"I just love the Knights of Columbus," McLellan said. "They're just fabulous."