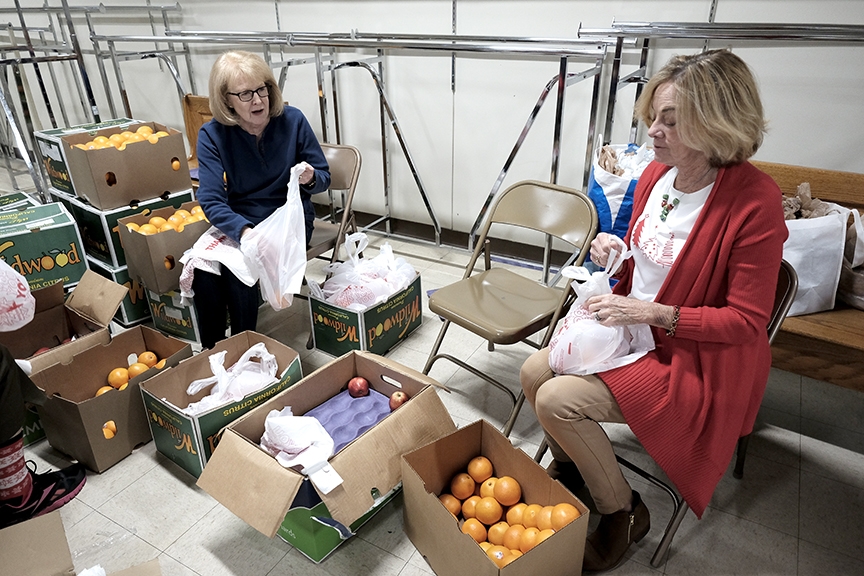 The Ladies of Charity filled 785 boxes with food for families in need this year as part of its annual Christmas Basket program.
Members of the organization and volunteers gathered at the Ladies of Charity Thrift Store in Nashville on Friday, Dec. 16, to fill boxes with bread, ham, eggs, produce, fresh fruit, spaghetti, tomato sauce, rice, crackers, peanut butter, jelly, beans, hot chocolate, sugar and other items.
Some of the food was donated, including by the area Catholic schools that held food drives, and some was purchased, said Sally Holzapfel, who co-chaired the project this year with Kathleen Polis. Both women are parishioners at Christ the King Church in Nashville.
On Saturday, Dec. 17, representatives from parishes picked up their allotment of boxes to distribute to families in need before Christmas, explained Holzapfel.
The Ladies of Charity is an organization dedicated to serving all residents of Davidson County experiencing hardship in their lives with food or financial help. The organization, which is more than 110 years old, is open to all Catholic women.
For more information about the Ladies of Charity, visit ladiesofcharitynashville.org.