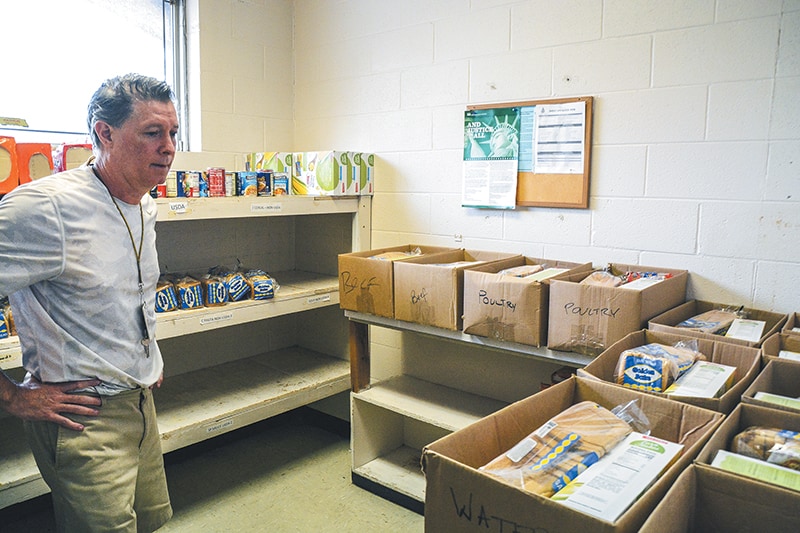 The Ladies of Charity Emergency Assistance Department is partnering with Catholic Charities of Tennessee's Loaves and Fishes program to distribute boxes of food to those in need.
Fewer Ladies of Charity clients have been able to pick up food boxes due to the COVID-19 pandemic, so the Ladies started donating 20 boxes every other week to Loaves and Fishes, according to Barry McCord, welfare administrator for Ladies of Charity.
Before the pandemic, Ladies of Charity was handing out about 150 food boxes a month from its offices at 2212 State St. in Nashville. That number has dropped to about 80 per month because many of the clients don't have the transportation they need to get to the office, McCord explained.
"I deliver when I can," he said, and he encourages clients to have friends pick up the food boxes if they can't get to the office themselves. "You've got to be very creative."
Although the number of clients picking up food boxes has gone down, McCord said, "The demand for food has not gone down."
The food boxes the Ladies of Charity prepare are designed to feed a family of four for a week, McCord said, and clients are eligible to pick up five boxes a year.
The boxes include staples, such as canned vegetables, canned meat, canned soup, peanut butter, frozen meat, milk, bread, cereal and pasta, McCord said.
Most of the food comes from Second Harvest Food Bank; some of it the Ladies of Charity buy from Second Harvest at reduced prices, and some of it is free through the U.S. Department of Agriculture.
Ladies of Charity also receives donations from parochial schools and parishes that hold food drives throughout the year.
The Loaves and Fishes distribution site for the food boxes is located at the Parish Center at Holy Name Church in East Nashville, where the program also provides hot meals to the homeless and needy three days a week.
For information about receiving assistance from the Ladies of Charity, email McCord at barry.loc@bellsouth.net.
Gifts for schools
The Ladies of Charity recently made donations to five Catholic schools.
"We were fortunate enough to have a little extra money," said Joann Satterfield, treasurer for the Emergency Assistance Department.
The organization sent $3,000 each to St. Patrick School in McEwen, Immaculate Conception School in Clarksville, St. John Vianney School in Gallatin, Sacred Heart School in Loretto and Sacred Heart School in Lawrenceburg.
"They could use it for school lunches, tuition assistance or technology," Satterfield said.
The Ladies of Charity wanted to help some of the smaller schools in the diocese that are located in the outlying areas, she said. "We were so excited to give the money to the schools."