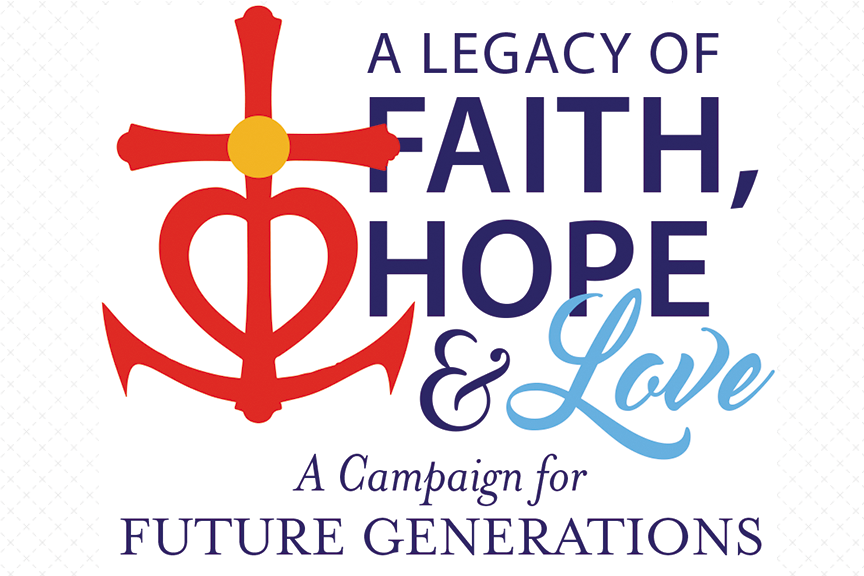 On July 17, Catholic Charities, Diocese of Nashville will mark the 60th anniversary of its founding.
This article is one in a series published by the Tennessee Register exploring Catholic Charities' past, present and future.
View the entire series here.
Love, hope, healing.
That is what Catholic Charities, Diocese of Nashville provides to its tens of thousands of clients every year through its core services of emergency assistance, emotional support and job training.
And it will continue to be able to do so as community support of the A Legacy of Faith, Hope and Love Campaign will double its contributions from the diocese, said Judy Orr, Catholic Charities executive director.
"It's impactful," Orr said. "That additional money doubles the annual commitment from the diocese."
The $50 million A Legacy of Faith, Hope and Love Campaign is a diocesan-wide fundraising initiative to build up endowments to support in perpetuity parishes, schools, ministries and agencies of the diocese.
The historic campaign, with the assistance of Steier Group, is raising money to create new endowments or enhance existing endowments to provide future revenue for five key priorities: individual parish needs; Catholic education; vocations; parish growth and expansion; and outreach to those in need. The money raised will be divided among each of the key priorities.
Catholic Charities is set to receive 10 percent of campaign funds under the Helping Our Neighbors in Need endowment.
"The endowment money really needs to go into our area of greatest need, which can change on a dime depending on what's happening in our communities or if unexpected events happen, like natural and unnatural disasters," Orr said. "We do get specific funding from funders like United Way for specific programs or events, but they don't cover everything that we do. That's why it's important to have this unrestricted money coming in from the endowments.
"It is really reassuring to know that we are going to have permanent funding in this way," she said. "We will always have to raise money to supplement these more constant sources of revenue, but it really does take a little bit of pressure off that there will be this perpetual fund, and I do think about those who will come after me.
"I'm not going to be here forever, and I'm trying to build an agency that really will be effective, that will be a great engine in our community for helping people," Orr said. "And it's so reassuring to know that while I'm doing that, the diocese is working so hard to be sure that there is perpetual funding."
As of mid-June, the campaign has surpassed $35 million raised.
"I am, of course, delighted and thrilled that the community has embraced the diocese and the work that it's doing, which will, of course, trickle down to the work that we do, and am very, very appreciative of the vote of confidence," Orr said.
Back in 2018, "I was at the schools' dinner over at Fleming Center when (Bishop J. Mark Spalding), I think, first publicly said that there should be an endowment, and I think he rattled off the $50 million number," Orr recalled. "People just shook their heads, and said, 'he's dreaming.'
"But you could sense his resolve. He wasn't daunted by the skeptics, and I guess I felt that, at the time, he was going to make something happen," she said. "So, in many ways, I'm not surprised (at the successful support of the campaign) because he's a force of nature and his energy is contagious, and his passion and spirituality are so genuine that I think people just are responding to that."
And Orr is grateful that Catholic Charities was included in the effort.
"That's really a great source of inspiration — the unqualified support. I never have the sense that the diocese or the leadership is not 100 percent supportive of what we are doing and that's a great place to be when you're working so hard to help people," Orr said. "That's hard work, it's taxing on morale, but to have that unqualified support from the bishop and the senior leadership of the diocese is a great thing."
The campaign is being rolled out at churches across the diocese in three waves, with a different group of churches in each wave. Wave One is complete, and Wave Two kicked off in late March. Wave Three of the campaign will begin kickin off in late summer.
Steier Group, a capital campaign fundraising firm out of Omaha, Nebraska, has assisted dioceses in similar campaigns all around the country. Corporate donations have covered the fees for Steier Group to assist the diocese in managing the campaign.
For more information, visit dioceseofnashville.com/legacy.