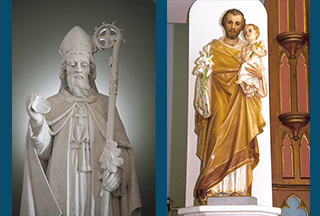 In March, the Church celebrates the feast days of two of her most popular and revered saints: St. Patrick on March 17 and St. Joseph on March 19.
Look in any direction and we find reminders in the Church of the holy example of these two saints who heard God's call and followed it unfailingly and courageously, enduring trials and difficulties along the way. We pray for their intercession, we gaze upon statues and paintings looking for inspiration, we worship in churches named after them, and we live in cities, dioceses and countries entrusted to their care.
Most importantly, we look to St. Patrick and St. Joseph as inspirations to live a life with God at its center.
St. Patrick was born in Britain, captured by Irish raiders, and taken to Ireland to live as a slave, looking after animals. It was during his time as a slave that St. Patrick strengthened his relationship with God through prayer and eventually converted to Christianity.
After six years, following the voice of God, he escaped from Ireland and became a priest. He followed God's voice once again, this time to return to Ireland to minister to God's people there, converting many. Through his tireless evangelization, the words Irish and Catholic very nearly became synonymous.
His complete devotion to Christ is captured in the words from the prayer "St. Patrick's Breastplate": "Christ with me, Christ before me, Christ behind me, Christ in me, Christ beneath me, Christ above me, Christ on my right, Christ on my left, Christ when I lie down, Christ when I sit down, Christ when I arise, Christ in the heart of every man who thinks of me, Christ in the mouth of everyone who speaks of me, Christ in every eye that sees me, Christ in every ear that hears me."
Just as complete, was St. Joseph's devotion to Jesus and Mary. He was their protector in dangerous times.
What we know of St. Joseph comes from Scripture. There was no indication to those in his community that St. Joseph was anything special. He was a normal guy, a regular Joe so to speak. Just like us. But God chose him, and he responded.
In his apostolic letter "Patris Corde," Pope Francis wrote: "St. Joseph reminds us that those who appear hidden or in the shadows can play an incomparable role in the history of salvation."
Although no words of St. Joseph were ever recorded, we know him through his actions. When he found out Mary was pregnant, he could have condemned her. Instead, he showed her mercy by planning to quietly divorce her. And when an angel appears to him in a dream to tell him not to be afraid to take her into his home, he obeys. When Herod threatens to kill Jesus, God tells Joseph to take his family and flee to Egypt, he obeys. When God tells him it's safe for his family to return to Israel, he obeys. When God tells him not to go back to Judea but to Nazareth instead, he obeys.
Time after time, when God speaks to Joseph in his dreams, he obeys. He puts his faith in God.
"Even through Joseph's fears, God's will, his history and his plan were at work," Pope Francis writes in "Patris Corde." "Joseph, then, teaches us that faith in God includes believing that he can work even through our fears, our frailties and our weaknesses. He also teaches us that amid the tempests of life, we must never be afraid to let the Lord steer our course. At times, we want to be in complete control, yet God always sees the bigger picture."
It is easy to see saints like Patrick and Joseph as hazy images from times long past with little in common with our lives today. It is easy to convince ourselves that we could never match their devotion to God, that we could never be a saint. But the lesson of their lives is just the opposite. Patrick was a slave who God called to bring Christ's message of salvation to a nation. Joseph was a carpenter who God tasked with protecting Christ and Mary in service of God's will.
Both St. Patrick and St. Joseph answered every trial in their lives by placing their trust in God. And God asks us to do the same. When we do that, we will make the words of St. Patrick's prayer our own: "Christ in the heart of every man who thinks of me, Christ in the mouth of everyone who speaks of me, Christ in every eye that sees me, Christ in every ear that hears me."