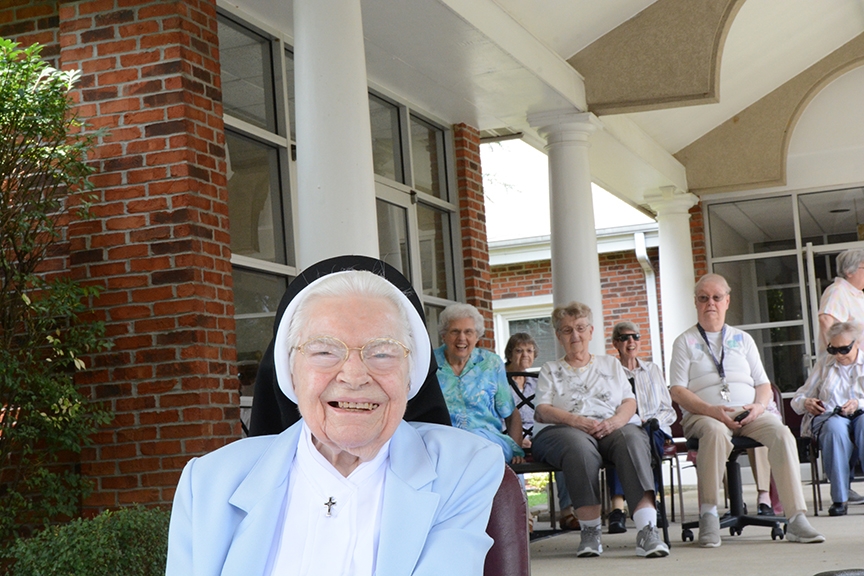 Mercy Sister Mary Ann Francis Henkel, who celebrated her 100th birthday on Aug. 21, 2021, died peacefully at Mercy Convent in Nashville on Tuesday, May 24, 2022.
She was remembered by her family for her love and caring for everyone, always putting others before herself.
Sister Mary Ann Francis was born on Aug. 21, 1921, in Loretto, Tennessee, the fourth of the eight children born to Herman Frank and Ann Hemmen Henkel. Her family were among the first German Catholics who settled in Lawrence County in the early 1870s and established several parishes that are still there.
At the time of her 100th birthday, Sister Mary Ann Francis told the Tennessee Register, "I can't believe that I'm 100 years old. My mind is clear. I can recall things. It's a gift that God has given me."
Her family moved to Nashville when she was 4 years old, and they were parishioners at St. Ann Church, which was established the same year Sister Mary Ann Francis was born.
"We became very involved right away because our family was very church oriented," Sister Mary Ann Francis told the Tennessee Register. "It was always, 'What are we doing at church?'"
She attended St. Ann School through the eighth grade and then graduated high school from St. Bernard Academy. It was at St. Ann and St. Bernard that Sister Mary Ann Francis first met, and fell in love with, the Sisters of Mercy, who were her teachers.
"I loved them," Sister Ann Francis said of the sisters. "They were kind, thoughtful, prayerful, understanding."
After graduating from St. Bernard, she entered the order at 18 years old. She made her first profession of vows in 1940 and her final profession of vows in 1945.
"I have really enjoyed it," Sister Ann Francis said of her 82 years as a Mercy Sister. "I enjoy the connection with the sisters. I love to be at all the community Masses. I want that connection."
The Mercy Sisters also gave Sister Ann Francis the opportunity to pursue another passion of hers, teaching.
"Ever since I was a child, I wanted to be a teacher," she told the Tennessee Register. "When we played school in the summer, I was always the teacher."
And it was the Mercy Sisters who provided her with a model of the ideal teacher. "Along with wanting to be a teacher, I have always seen the teacher as a kind sister."
Sister Mary Ann Francis was a teacher, librarian and principal for nearly 50 years at Catholic schools from one end of Tennessee to the other, including in Memphis, Johnson City, Alcoa, Kingsport, Springfield and Knoxville, and in Nashville in the former St. Patrick and Cathedral schools and St. Edward School. She was the principal of Christ the King School from 1973 to 1979.
She finished her ministry in education at St. Ann School where she was a teacher 1978-87 followed by three years as the school librarian before retiring in 1991.
"I loved teaching," she told the Tennessee Register.
Sister Ann Francis was educated at Our Lady of Cincinnati College, Athenaeum of Ohio in Cincinnati, Siena College in Memphis, and Xavier University in Cincinnati, where she earned both a bachelor's and master's degree.
Besides teaching, Sister Ann Francis was devoted to visitation in hospitals and nursing homes and taught religious education courses. After retiring from her ministry in education, she took up the roles of sacristan and librarian and contributed to the many needs of the Sisters of Mercy at St. Bernard and Mercy Convents.
"The Sisters are wonderful to me," she said at the time of her 100th birthday. "I feel part of the community. They're kind, they're watching for my wants. I think that is beautiful."
Sister Ann Francis came from a family with several religious vocations, including her older brother Father Albert Henkel, who was a priest for the Diocese of Nashville. At the time, the diocese covered the entire state of Tennessee and Father Henkel was pastor of Holy Ghost Church in Knoxville for 38 years, the longest serving pastor in that historic church's history.
On her 100th birthday, COVID restrictions made it impossible for her family to enter the Mercy Convent to celebrate with her. Instead, she sat outside the front doors of the convent, surrounded by her Mercy Sisters, as 85 of her relatives drove by, waved signs and balloons and wished her a happy birthday.
"She is amazing," Vickie Catignani, one of Sister Ann Francis' many nieces, said at the time. "I tell her when I grow up, I want to be just like her."
Sister Ann Francis' commitment to Jesus Christ was expressed by the quote in her ring, "Thy will be done," recalled the Mercy Sisters in her community.
Sister Ann Francis was preceded in death by her parents, Herman and Ann Henkel; her brothers Father Albert, Gus and Sylvester; and her sisters, Agnes Frey, Josephine Hildebrand, Angela Bricks, and Margaret Catignani.
Survivors include many loving nieces and nephews, great nieces and nephews, and great-great nieces and nephews, as well as by her Mercy Community.
A private funeral was held at Mercy Convent in Nashville, with burial at Calvary Cemetery.