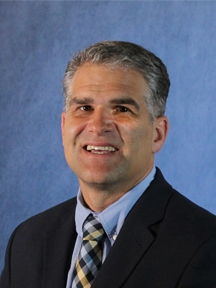 Erick Chittle, Ph.D., has been appointed as the next leader of Pope John Paul II Preparatory School, serving as its first president.
"I am humbled and honored to accept the position as the first president of Pope John Paul II Preparatory School," Dr. Chittle said. "What I found at Pope Prep during my visit was a joyful community grounded in faith. There is a genuine caring of teachers towards students that is clearly reciprocated by the students," continued Chittle.
In August 2022, Bishop J. Mark Spalding, approved the recommendation to change the leadership structure of Pope Prep to a president/principal model. The bishop's approval launched a nationwide search for the school's first president.
During a lengthy and exhaustive search, a Pope Prep advisory team, comprised of current and past board trustees, worked closely with Diocese of Nashville leadership to select and recommend Dr. Chittle for this important newly created role.
"Among his many impressive competencies and his experience, what stands out is his overall love for Catholic education," said Russell Marino Jr., president of the Pope Prep Board of Trustees. "This informs who he is and what he does. He is sincerely Christ-centered.
"Throughout Dr. Chittle's professional journey, he's been an impactful educator and leader," Marino added. "He sees where Pope Prep is positioned today and where it can go tomorrow; it's exciting."
Brian L. Cooper, Chancellor and chief operating officer of the Diocese of Nashville, expressed his enthusiasm for Dr. Chittle. "The diocese and our Catholic community continue to be blessed by the Holy Spirit who provides outstanding people to fill key roles," he said. "Dr. Chittle's Christ-centered leadership, devotion to the Church, and impressive ability to improve academic performance have prepared him well for this critical role.
"Just as important," Cooper continued, "is Dr. Chittle's commitment to uplift the community in the spirit of Christ and to provide guidance and innovative solutions for moving Catholic education forward for the benefit of all."
"Leadership, experience, and a passion for the Catholic community are integral components of a school's success. This is especially true when taking the reins of an outstanding school such as Pope Prep," said Dr. Rebecca Hammel, superintendent of schools for the diocese. "I have full confidence that Dr. Erick Chittle will work closely with parents, students, faculty, and staff to enrich and elevate the already exceptional environment at Pope Prep."
"I have strong ties to the Pope Prep community," stated Father Austin R. Gilstrap, Episcopal Vicar for Education and Formation for the diocese. "As a former chaplain and theology teacher at Pope Prep, I have been wholly committed to finding the right candidate. … I prayed for the Holy Spirit to deliver the best possible candidate for our students, parents, and community. He delivered that candidate in Dr. Chittle."
Dr. Chittle will assume his new position on July 3, 2023.
He has been an educator since 1997 and since 2008 has served as principal of St. Francis High School in Traverse City, Michigan.
St. Francis' faculty includes two sisters from the Dominican Sisters of St. Cecilia Congregation of Nashville.
Dr. Chittle has also served as interim superintendent of Catholic schools for the Diocese of Gaylord in Michigan, an elementary school principal, dean of students, and high school English teacher.
Dr. Chittle and his wife Kim have been married for 25 years and have nine children ages 5 to 21 all of whom attend Catholic schools.
"Kim and I can attest first-hand to the power of a Catholic education and how that experience leads young men and women toward a joyful and purposeful life in Christ," Dr. Chittle said.
Pope Prep opened its doors in August 2002 as Pope John Paul II High School and quickly became one of the best private academic institutions in the region. In fall 2021, it incorporated a middle school, adding grades six to eight. With more than 750 students, Pope Prep offers a range of innovative programs that are setting a vision for the future of Catholic college preparatory schools in Middle Tennessee.