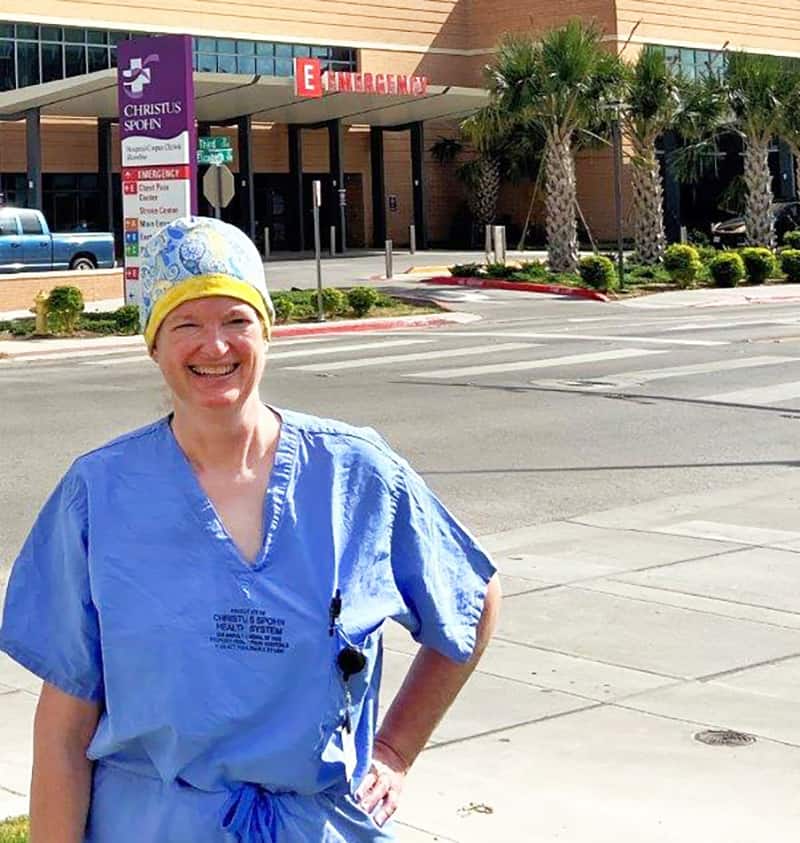 Like any good soldier, when Dr. Rachel Kaiser, a colonel in the U.S. Army Reserve, was called up to the front lines in the battle against the COVID-19 virus, she was quick to go.
For the last month, she's been working with an Army Reserve task force at Christus Spohn Hospital in Corpus Christi, Texas, as a doctor in the intensive care unit working with COVID patients and others with serious medical conditions.
"Corpus Christi and the whole south Texas coast has been hit really hard by the COVID virus," said Kaiser, whose regular job is as an emergency room doctor at Ascension Saint Thomas West Hospital in Nashville.
The hospitals in Corpus Christi, one of the hardest hit areas of one of the hardest hit states, have been overwhelmed. The ICU unit at Christus Spohn normally treats about 50 patients at a time, but during the pandemic, the patient count has increased to as many as 150, said Kaiser, a past president of the Nashville Guild of the Catholic Medical Association and the current Tennessee State Director for the CMA.
"It's very challenging. At Saint Thomas we were prepared for a big surge of COVID-19 patients and it never happened," she said. "Here we're seeing a hospital totally overwhelmed."
Officials in Texas turned to the Federal Emergency Management Agency for help, which in turn requested that the Army Reserve send an Urban Augmentation Medical Task Force, made of doctors, nurses, physician assistants, pharmacists, respiratory therapists, and other medical professionals, to help relieve overworked health care workers. When Kaiser and the other Reservists arrived at Christus Spohn Hospital, most of the doctors on staff in the ICU had worked without a day off for upwards of 50 days, she said.
Kaiser is the Chief of Professional Services for the U.S. Army Reserve's 332nd Medical Brigade, supervising about 140 medical professionals throughout the Southeast.
She got a call from the Reserve asking if she could leave for Corpus Christi in 48 hours. "I had been anticipating that, so I was to ready to go," she said.
"They got my credentials with lightning speed," and two days after arriving, Kaiser started seeing patients.
The hospital in Corpus Christi didn't need ER doctors but instead critical care doctors to work in the ICU, Kaiser explained. "That was where I was needed, so that's where I'm practicing.
"This mission is very unusual. Most of the time we are training to offer medical care to troops on the battlefield," Kaiser said. "At the same time, it's the perfect opportunity to start practicing the medicine we know."
About half of Kaiser's patients have the COVID-19 virus, and many of them also suffer from chronic medical conditions, like diabetes. "You put COVID-19 on top of that and the patients really struggle," she said. "There's a very high mortality rate."
Even though many of Kaiser's COVID patients are fairly young, "they're not very healthy to begin with," she said. "My youngest COVID patient is 40," Kaiser said. "She's been on a ventilator for about a month."
Kaiser and the rest of the staff are also seeing a high number of patients who are homeless.
"It reminds me a little bit of Mother Teresa and her interaction with the poor," she said. "You at least have a chance to smile and say a kind word to them and remind them that they're not forgotten."
The precautions that health care providers must take to protect themselves and their other patients when treating COVID patients can erect barriers, Kaiser said.
"It's a challenge because you're wearing a respirator mask that muffles your voice, a face shield and two pairs of gloves," she said. "The patient interaction is really hard to maintain."
But wearing such personal protective equipment "is absolutely necessary right now," Kaiser said.
She also is relying on her Catholic faith to help her complete her mission. "I'm glad it's a Catholic hospital," Kaiser said. "They have a nice chapel. I try to go in there every day for a few minutes for my daily prayers."
The hotel where she is staying is a short walk from Corpus Christi Cathedral and she tries to go there for daily Mass on her off days.
Kaiser is part of a team of eight doctors and physician assistants with the military task force working in the ICU. The task force has a total of about 85 people working at Christus Spohn Hospital.
"We're working long hours. We've seen a lot of people die, but I think we're turning a corner," Kaiser said. The number of patients in the ICU has dropped to about 100, she said, although that is still about twice the normal number.
Kaiser is hopeful that the numbers will continue to trend downward and she will be able to return home to Nashville in about a month.
"It's really gratifying. I'm really enjoying this mission," she said. "We want to make a difference, and I think that's what we're doing."