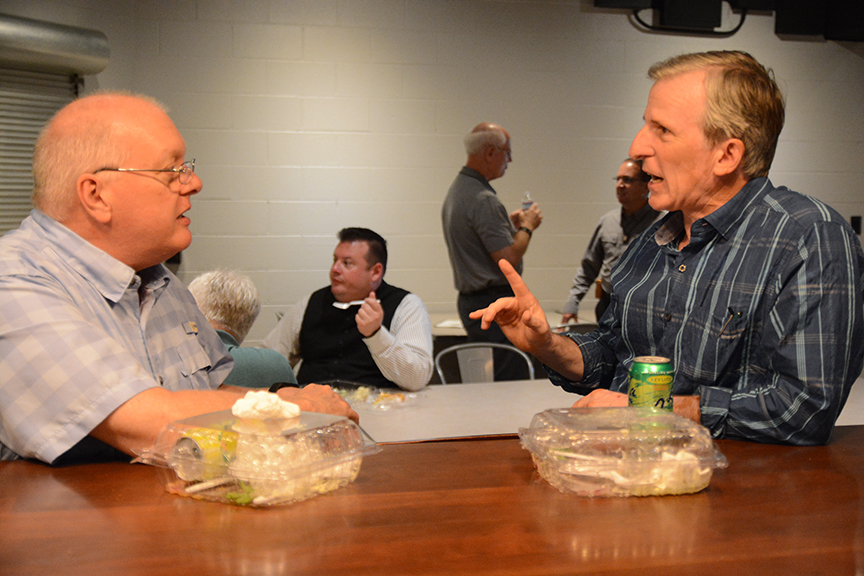 Fourteen men have begun a four-year journey that will lead to their ordination as permanent deacons in the Diocese of Nashville.
There is a need for permanent deacons in the Church today, said Father Austin Gilstrap, director of vocations for the diocese and pastor of Our Lady of the Lake Church in Hendersonville.
As a pastor of a parish with three active permanent deacons and one retired, Father Gilstrap said, he has seen the important role they play.
"I believe in the current environment in the United States, God is calling a good number of men to be deacons not because we have a priest shortage, but because of the specific role of a deacon: a man radically available for the corporal and spiritual works of mercy," Father Gilstrap said. "That need is so real in our world today that God is calling men to the permanent diaconate to serve … in that special way."
Permanent deacons are members of the clergy as ordained ministers. They have the authority to baptize, witness marriages, perform funeral and burial services outside of Mass, distribute Holy Communion, assist the priest at Mass, and preach the homily.
But their roles and ministries can be as varied as the deacons themselves. They can be teachers, counselors, spiritual directors, visit the sick, hold administrative positions in the diocese, or be involved in ministries of charity.
Deacons can be married, and many hold a full-time job in the secular world besides their ministry.
Two years ago, the diocese adopted a different model for diaconate formation. In the past, a large class of about 30 men aspiring to be permanent deacons was formed every six years or so. But beginning in 2019, the diocese decided to have smaller classes that would start every two years.
The first class of men under this model began their four-year formation in 2019. They meet one weekend a month during the school year at the Catholic Pastoral Center in Nashville for instruction and formation. They are scheduled to be ordained in 2023.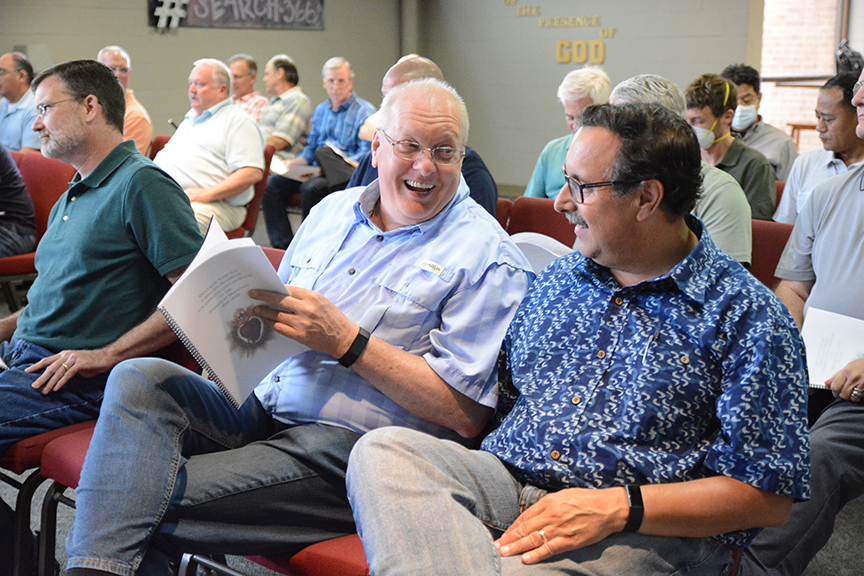 The new class of men began their formation on the weekend of Aug. 27-29 and are scheduled to be ordained in 2025.
The two groups of aspirants will meet on the same weekend each month, said Father Gilstrap, who as Vocations Director for the diocese oversees the deacon formation program. The format will give the first group an opportunity to exercise leadership, setting an example for the second group, he explained. The second group will have the same opportunity with the group that will follow them beginning in 2023, Father Gilstrap added.
"There are a lot of questions that only a man going through this formation program can answer for another man going through the formation," Father Gilstrap said, such as questions about how to balance the demands of the formation program with family and work obligations.
The support of a man's family is crucial, Father Gilstrap said.
During the selection process, members of the vocation office visit with each applicant's family, Father Gilstrap said, "to help the man's family, and particularly his wife, understand what he is trying to ask of the Church."
Without the family's support, particularly the wife of the married men applying, the diocese won't accept them into the program, Father Gilstrap said.
In other ways, the selection process, which takes about a year to complete, mirrors that for seminarian candidates, Father Gilstrap said.
The first point of contact is a man's pastor, who recommends him to the Vocations Office, he said.
Once selected, the aspirants attend classes one weekend a month. During each weekend, there are 12 hours of classroom instruction besides Mass, prayer time, a Holy Hour, and two hours of formation, which can cover one of four areas: intellectual, spiritual, pastoral and human, Father Gilstrap explained.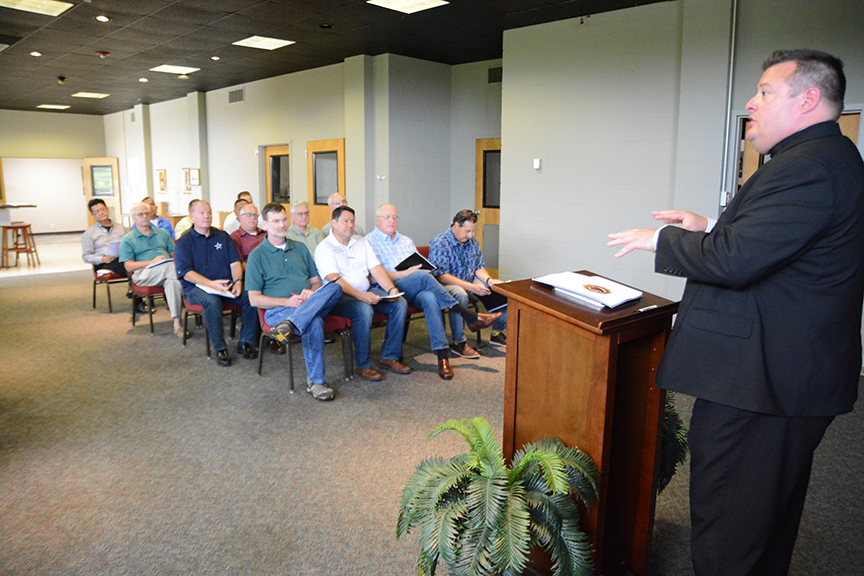 At the Catholic Pastoral Center, a chapel and two classrooms have been set aside for the diaconate formation program.
"The CPC has carved out a great space for them," Father Gilstrap said. "It's just wonderful to have that dedicated space for this formation program."
The men in the deacon formation program come from parishes throughout the diocese. Members of the class that are scheduled to be ordained in 2023 and their parishes are:
Martin Alegria, Sagrado Corazon, Nashville. 
Joseph Augustine, St. Mary's of the Seven Sorrows, Nashville. 
David Gilles, St. Henry, Nashville. 
Mario Guzman-Cornejo, St. Luke, Smyrna. 
Christopher Hoover, St. Stephen, Old Hickory. 
Francis Kham, St. Edward, Nashville. 
Collen Mayer, St. Henry, Nashville. 
Shawn Phillips, St. Edward, Nashville. 
Carlos Salvatierra, Immaculate Conception, Clarksville 
Christopher Simpson, St. Luke, Smyrna. 
Salvador Soto, Our Lady of Lourdes, Springfield. 
Craig Thomas, Our Lady of the Lake, Hendersonville. 
Martin Torres, Sagrado Corazon, Nashville. 
Michael Wiedemer, Good Shepherd, Decherd. 
The new class that is scheduled to be ordained in 2025 includes:
Kenny Davis, St. Thomas Aquinas, Cookeville.
Ricky DeBusk, St. Henry, Nashville.
Albert Domm, St. Catherine, Columbia.
Glenn Hutchens, Holy Name, Nashville.
David Johnson, Our Lady of Lourdes, Springfield.
Manuel Lazo, St. Mark, Manchester.
Carlos Lopez, St. Philip, Franklin.
Daniel Ott, St. Matthew, Franklin.
Patrick Owings, Cathedral of the Incarnation, Nashville.
James Quinby, St. Rose of Lima, Murfreesboro.
Hector Ramirez, Our Lady of Guadalupe, Nashville.
Ricardo Rego, St. Frances Cabrini, Lebanon.
James Rose, St. Rose of Lima, Murfreesboro.
Donald Weller, St. Philip, Franklin.