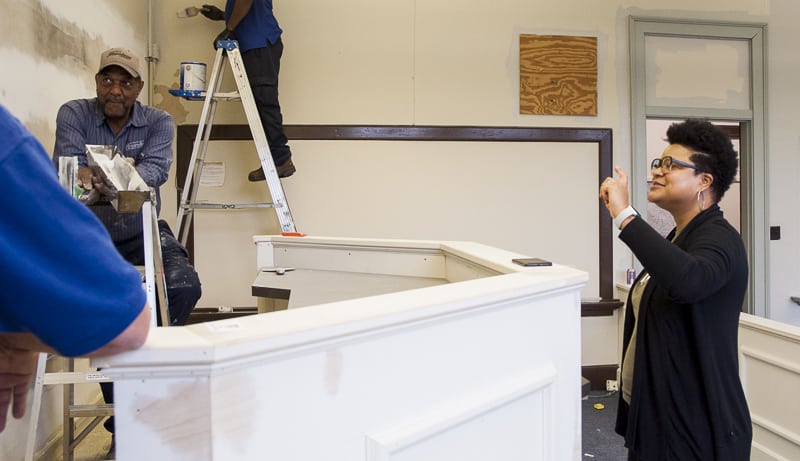 As workers inside Room 23 at the McGruder Family Resource Center painted and hammered their way to completing the new Bordeaux-North Community Justice Center, Judge Rachel Bell surveyed the progress, reflecting on the years of hard work it's taken to make this a reality.

Since 2012, she's set up temporary community courtrooms in borrowed spaces including schools, churches and community centers, but "this is our permanent space," she said. "It's better to have court in the community."

In her courtroom here, a new approach to criminal justice will emphasize rehabilitation, with reconciliation, community service and job training prioritized over jail time for low-level offenders.

"This court will look at the whole person," said Alisha Haddock, director of the McGruder Center and an employee of Catholic Charities of Tennessee, which manages services and programming at McGruder. "One thing Catholic Charities does well is walk alongside people when they need the most help," she said.

As the new Bordeaux-North Community Justice Center gets off the ground – the official grand opening is Jan. 20, 2020, Martin Luther King, Jr. Day – Catholic Charities caseworkers will be walking alongside even more people who need help.

Catholic Charities will be a critical partner with the Justice Center, allowing it to get off the ground with wrap-around services already in place.

Community courts around the country are often established as a courtroom first, then have to add the necessary services for participants to be successful.

By securing space at the McGruder Center, where services like a food pantry, financial literacy, workforce development and entrepreneurial classes were already in place through Catholic Charities, "this is a win-win for everyone," Bell said. "This is an amazing opportunity that God has presented us with to help a community in need."

Neighborhood roots

Bell knows the streets and the people of North Nashville well. She grew up in the Bordeaux neighborhood and attended St. Pius X school until the sixth grade; she played basketball at the McGruder Center playground.

Raised in a family with deep roots in Nashville, a family that valued education and hard work, Bell excelled in the classroom and on the basketball court.

She was aware from a young age that not everyone around her had the same opportunities and family support that she did. "My parents made sure I knew all of humanity. … We learned to just be human and understand the needs that people have."

Since she was first elected a General Sessions Court judge in 2012, Bell has placed a strong emphasis on preventative, restorative and diversionary justice practices, both in and out of the courtroom.

"I want to swim upstream and see what the issues are," she said, explaining the importance of addressing the underlying factors that fuel criminal behavior, and digging a little deeper with the men and women that pass through her courtroom.


Restoring justice

With support from the Tennessee Supreme Court Administrative Office, the U.S. Department of Justice and the nonprofit Center for Court Innovation, Bell has now created the Bordeaux-North Community Justice Center. The Center, located at McGruder, is designed "to help people find justice in their community," Bell said.

The C.A.R.E (Creating Avenues for Restoration and Empowerment) Diversionary Court for ages 18-30 will have a special emphasis on serving the demographic most likely to be incarcerated.

"We are holding offenders accountable," Bell said, in new and different ways.

She foresees working with community partners like Gideon's Army and the Oasis Center to effectively employ restorative justice methods such as letters of apology and peace circles, where offenders and victims come together in a moderated space to meet and find reconciliation.

"The community needs to feel restored," Bell said, and "the individual who caused harm needs to not feel ostracized."

It's estimated that 95 percent of people arrested for committing crimes in their community will return to those communities.

By offering expungement clinics, driver's license and voting rights reinstatements, community courts like the Bordeaux-North Community Justice Center can also help those who served time get back on their feet.

'Can't turn a blind eye'

North Nashville's 37208 neighborhood, where the McGruder Center is located, was identified by a Brookings Institute study last year as the zip code with the highest incarceration rate in the country for men and women in their 30s. Expressing her astonishment at that data, Bell said, "We can't turn a blind eye to that."

That same study confirmed that the poorer one's parents are, the more likely one is to be incarcerated. According to the report, "Boys who grew up in families in the bottom 10 percent of the income distribution are 20 times more likely to be in prison on a given day in their early 30s than children born to the wealthiest families."

"People who are pushed to the margins, often due to the circumstances of their birth, they have no access to resources or training," said Haddock, who, like Bell, grew up in North Nashville. "We do not want to penalize people for being poor."

"Folks caught in poverty and the criminal justice system are in a sticky web that's hard to get out of," Haddock said.

'Path to economic mobility'

Connecting offenders with wrap-around services like a food pantry and job training can give them just the boost they need to see another path forward. "It's not a hand out, it's a leg up," said Bell.

"It's harder to steal when you know there's a food pantry a block away," she said. "It's harder for an individual to be marginalized when they have appropriate shelter and a job with a livable wage."

In the future, the new court also plans to offer mediation between landlords and tenants, with a goal of preventing unnecessary evictions and keeping people from spiraling into homelessness. "As many issues as we can solve through community court, we're going to tackle them," said Haddock. "This community court will eliminate so many barriers."

By housing the new Bordeaux-North Community Justice Center at McGruder and offering offenders access to Catholic Charities' range of services there, "We want to provide the skills to help people out of poverty and on the path to economic mobility," Haddock said.