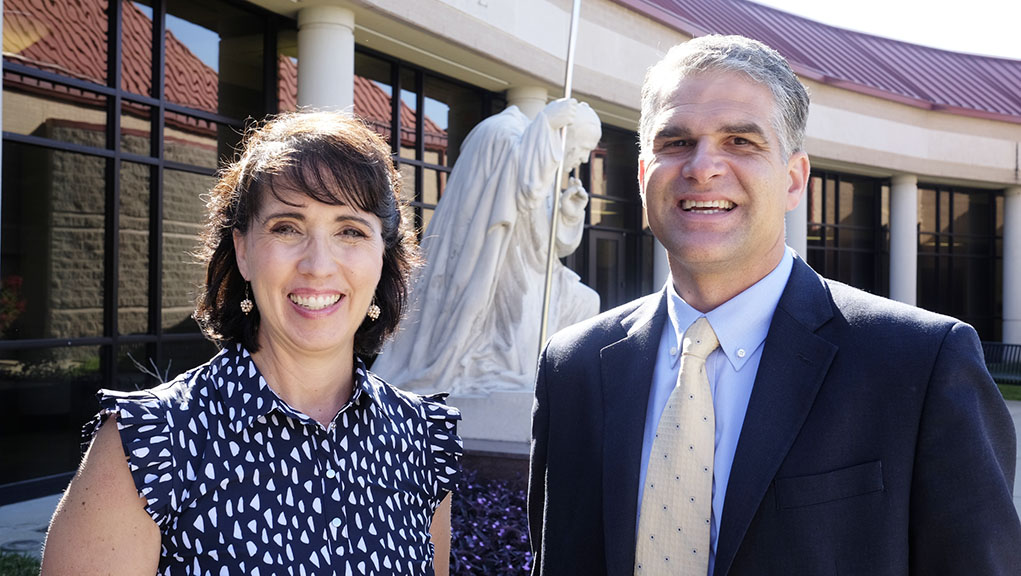 Pope John Paul II Preparatory School in Hendersonville opens the new academic year with a new leadership structure and a new leadership team.
After adopting the president/principal model of leadership, Pope Prep has welcomed Dr. Erick Chittle from Michigan to serve as the school's first president. Meanwhile, the school has turned to Jennifer Dye, who has been a key member of the faculty and staff since the school opened in the fall of 2002, to serve as the interim principal.
"The president looks outward … very clearly setting the mission and the vision for the future of the school," Chittle explained.
"The president focuses more on exterior relationships, joyfully partnering with the diocese," he added. "A president also works to form strong relationships with parochial schools, donors, and the community while developing the broader mission of the school.
"The principal's focus is concentrated inside the building, ensuring quality instruction, meaningful student life opportunities, and supporting the mission-based growth of students and teachers.
"Someone on our leadership team said it this way: Jennifer and I are standing back-to-back. My view is outward, and her view is inward, giving us a 360-degree focus on growing our mission."
'Formed in Christ'
Chittle comes to Pope Prep after a long career as an educator in Michigan, most recently serving as the principal of St. Francis High School in Traverse City.
"The good thing is I have taught everywhere from fourth to 12th grade, and I've been a principal of an elementary and a high school. And I've helped the diocese look over 16 different schools," Chittle said. "My focus has been broad."
As Pope Prep's president, Chittle is reaching out to establish new relationships with key stakeholders. "I have it on my calendar to meet with every priest in every feeder parish, every principal of every feeder school," he said. "You need to get to know the key stakeholders, who helped build this place and who love JPII. In the next three months, I hope to meet with every single one of them."
Part of his charge as the school's president to make sure the mission is reflected in every aspect of Pope Prep, Chittle said.
"What was JPII created for? To help students deepen their relationship with Christ while discovering their unique gifts that can be used to change the world," he said. "We want to make sure the faculty and the students are formed in Christ. So that's job one, to make sure everybody knows what our mission is."
"We'll be working to enhance our students' spiritual experiences," Chittle said. One practice he's bringing from his previous school is to have eucharistic adoration available every Friday. "I found that to be a great blessing," he said. It provides students, in the midst of their very busy lives, an opportunity to spend time with Christ. "They didn't have to do anything; they could just go and be in His presence."
Another part of the mission is to maintain the school's strong academics, Chittle said. "This is a strong academic school, it has a great reputation, but we'll be working on making that even better," he said.
"And then there's the great facilities question. We have a beautiful school, but with the growth of our student body and increased programming, we have additional facility needs," Chittle said. "We are currently evaluating priorities for the future growth of our facilities to support the mission and needs of our students."
Chittle will also be examining whether the school has the financial resources to support families as they take on the cost of tuition.
"If we have the students and the faculty formed well in Christ, an academic program to challenge the growth of all students, facilities to support our current and future programs, and financial support for families who need it, we will be in a good place," Chittle said.
'Forming them into better people'
Dye has been a part of Pope Prep since its founding, serving as the school's first chair of the science department. After 15 years in that role, she next served as director of the Innovation and Entrepreneurship Program for seven years, and last year served as Dean of Faculty and Instruction.
In her new role as interim principal, Dye said, "The focus is making sure our community first stays focused on Christ and second maintains our academic standards," she said, "that we're supporting students in athletics, academics, service."
"I think having Christ present first and foremost at your school provides us an opportunity," Dye said. "The way I've been thinking about it most recently is it fills us with His light. The analogy I used with our faculty the other day was it's impossible for us to be the light. We're more like the moon. Where the moon can reflect light, it doesn't actually emanate light. … When our light comes from Christ, we can reflect that unceasingly.
"So our Catholic identity here is the ways in which we allow ourselves to be that reflection of Christ, and helping our students see the ways in which they can be that way," Dye said. "We're unashamed of the ways we are letting Christ's light shine in what can be a really dark world. Even if there are dark moments and dark days, that light isn't dimmed. It is very bright and very strong. And it's not us. It's only through Christ that that light is very bright."
The school has a bit different perspective on academics since adding middle school grades in the 2021-22 school year, Dye said. "How do we look at academics from the lens of what is developmentally appropriate for a middle school student, and yet how can we begin to move them forward."
"It's forming them into better people, it's forming them into better Christians, it's forming them into academics and scholars as well," Dye said. "It's the ways in which they're thinking, problem solving, working within groups. So the ways in which we learn and experience learning at that high school level, we're beginning that in the middle grades."
'A world of difference'
Catholic schools offer an unparalleled advantage," Chittle said. "It doesn't matter what study you look at, Catholic school graduates and Catholic schools outperform public schools. They do it academically, but they also do it in many other ways.
"Studies show that they have longer and healthier marriages, that they give more money to charity, that they attend church more regularly," he said. "And all that comes back to what we're founded on.
"When kids are developing they're made to develop holistically," Chittle said. "To have an education that doesn't deal with the spiritual aspect is not education. An education has to be for the whole child. So as children are developing academically, they are also developing their faith; both work together in the formation of the human person.
"God is the source of all knowledge, is the source of all truth," Chittle said. "So when you invite Him into your educational experience, you grow in a more complete way."
That advantage can have a lasting impact for students, Chittle said. "When they're in a school where teachers are witnesses to that faith, then Christ is living through them. It makes a culture that can create and does create a joyful Christian, a joyful Catholic at graduation. And then all the benefits go thereafter. It's a world of difference."