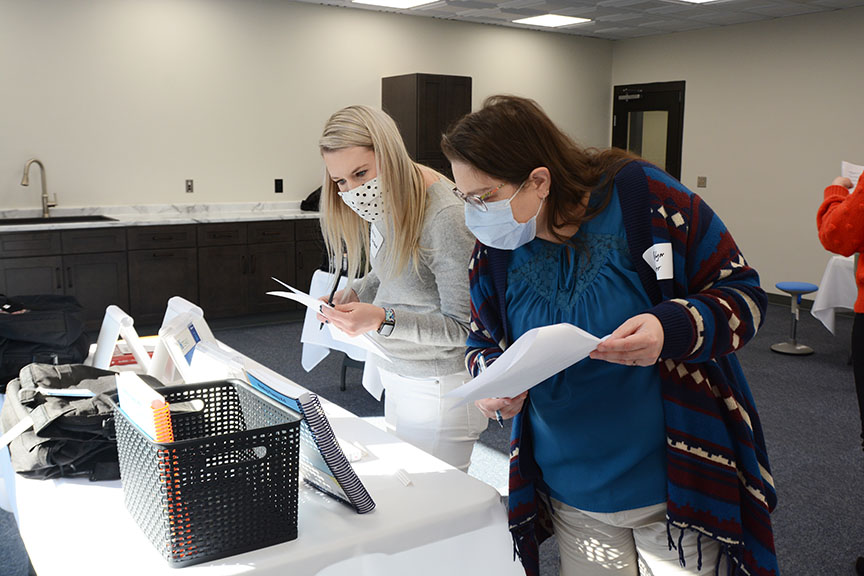 The Catholic Schools Office has launched its new resource library featuring books, adaptive religious education materials, and a host of other items that can help the diocese's learning specialists and teachers who work with students needing support. 
"The resource library will benefit many students and teachers," said Kathy Boles, director of exceptional learners for the diocesan Schools Office.
Teachers will be able to borrow any of the materials to try them out before purchasing them for their school, Boles said.
"Some things we read about in our research, but we can't always access it," said Lauren Arnold, the intervention specialist at St. Matthew School in Franklin. "It's nice to maybe try something before committing to it."
The resource library was established with a $10,000 grant from the Nashville Predators Foundation. "We're really excited," Boles said. "We're so thankful to the Predators Foundation for selecting us."
In selecting items for the resource library, the Schools Office staff asked for suggestions from the learning specialists and counselors based on the needs of their students, Boles explained.
The materials selected are evidence-based, Boles said, and are designed to help teachers with the many aspects of teaching students with learning differences as well as intellectual and developmental disabilities.
The resource library includes "books and programs to enhance and supplement what students are getting in the classroom," Boles said.
There are multiple copies of the items school officials expect to be the most popular so that teachers in more than one school at a time can check them out, Boles said.
Learning specialists and counselors from Catholic schools in the diocese got their first look at the resource library during a meeting on Tuesday, Jan. 11, at the Catholic Pastoral Center. The library is located in the Catholic Schools Office in the Catholic Pastoral Center.
Many used the opportunity to begin checking items out of the library, Boles noted.
Heather Maguire, the director of student support at St. Matthew, and Arnold used the opportunity to look over the adaptive religious education programs available in the resource library. "It's hard to find sacrament preparation programs for students with learning differences," Maguire said.
Besides working with the students in the Hand In Hand Options program at St. Matthew, Maguire and Arnold work with about 30 students at St. Matthew with a variety of learning differences who need varying levels of support.
The Catholic Schools Office is working to expand the collection of materials in the resource library, Boles said. For more information about the library or to make a donation to expand the collection, e-mail Boles at kathy.boles@dioceseofnashville.com.