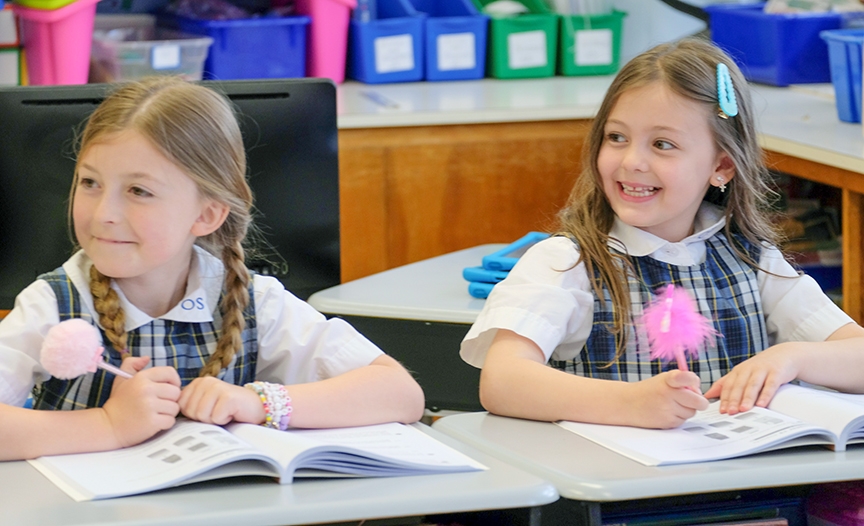 Two second-grade students at Overbrook Catholic School have been "busy bees" the last month, making 2,500 beaded bracelets, and it's for one very special reason – to raise $17,000 to purchase a therapy dog for the students of The Covenant School, where an assailant killed six people including three 9-year-old students.
"We knew they've been through a lot and thought it would just be nice to do something for them," said Evelyn Thallemer.
Thallemer and her best friend since kindergarten, Matilda Crosswy, have been making beaded bracelets together for many years with the help of their moms.
"She came to my house one time, and we figured out that we both loved to bead, so we both made friendship bracelets," Crosswy explained of how they originally started making bracelets together. "We've been making them ever since."
"We both like crafty things," Thallemer added.
Upon realizing the shared love, they always talked about starting a business to make extra money. But when the tragic shooting at The Covenant School happened, they knew they needed to use their talents for something greater, and they called it "Nashville Busy Beads."
Knowing how much therapy dogs have helped at their own school, the girls thought it'd be a great addition for the students at Covenant.
"I think it's important that they get that extra love and attention when they need it" from a therapy dog, Thallemer said.
"I like when therapy dogs come to our school because they just make you happy," Crosswy added. "They're trained to protect us, so with the things that happened at Covenant, we thought it'd be nice for them to have."
Anh Kohls, Overbrook Catholic school counselor, also thought the therapy dog was an excellent idea, noting how much the program has benefited students at Overbrook as well.
"Therapy dogs bring so much joy and laughter to our students. Furthermore, they have a way of making a space feel safe, allowing our students to process and cope with their feelings in a healthy way," Kohls explained. "A therapy dog will serve as a wonderful companion to the students at The Covenant School. As it has for our school, it will offer unconditional love and non-judgmental support to the students.
"The simple presence of a therapy dog will remind them they are loved, cared for, and never alone," she concluded, "something that is so crucial during this season of healing."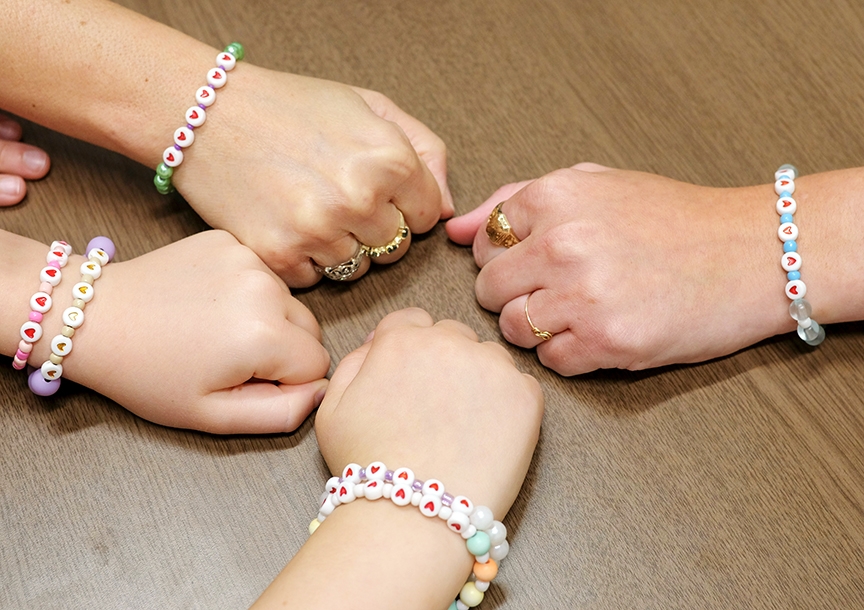 After it was confirmed that The Covenant School liked the idea, too, the girls set to work, making approximately 2,500 beaded bracelets with the help of their friends. Each bracelet, which came in adult and children's sizes, featured six heart beads in honor of the six lives lost in The Covenant School shooting on March 27.
After creating promotional videos for social media to promote the bracelets, the orders soon came pouring in as the posts began to go viral, and even caught the attention of Good Morning Nashville on WKRN News Channel 2. Within just a few weeks, the girls not only met their $17,000 goal, but nearly doubled it, earning approximately $30,500.
As a result of all their hard work, a golden retriever puppy, provided by Comfort Connections, was delivered to The Covenant School on Tuesday, May 23, and will go through training over the summer months. Comfort Connections has already been providing support to Covenant School by sharing therapy dogs with them. With the $17,000 donation made to Comfort Connections, now they will have one that's all their own. As for the other $13,500, "we'll let Covenant decide what they want to do," Crosswy said, as it is added to the school's growing fund.
Leaders of Overbrook Catholic said they are proud of the girls for taking the initiative to do what they've done.
"It warmed my heart that in the midst of a tragedy, our students were looking for a way to make a difference," said Sister Marie Blanchette, OP, principal of Overbrook Catholic. "They have had a lot of fun making the bracelets and are excited to see the fruits of their labors."
"It was just a really beautiful thing to see that they would do that, and then to see the change in the kids from doing it," added Jennifer Rafoth, the girls' second-grade teacher, noting how much anxiety her class had following the shooting, since several of the students are friends with Covenant students.
"Those two girls in particular had a lot of anxiety and sadness about it, but when they started to do something for Covenant it completely changed their demeanor," Rafoth explained. "They weren't focused anymore so much on their anxieties but turned outward to helping the kids at Covenant."
Social-Emotional Curriculum
Kohls, said the girls' actions were a prime example of the social-emotional curriculum, now formally known as FRIENDZY, that the school has been implementing.
"As a Catholic school, we are concerned with the whole child: body, mind, and emotions. Virtue has always held a primary place in teaching at Overbrook Catholic School, where students learn through study, prayer, community, and service," Kohls explained. "These pillars are deeply intertwined into the culture of the school, where students are continuously searching for ways to be good citizens and give back to their community.
"In a similar way, FRIENDZY also encourages students to reach their fullest potential in a spiritual way. This school-wide social-emotional learning program is intentionally designed to teach students skills through the lens of Scripture," she continued. "Made up of eight units, FRIENDZY teaches students life-long competencies such as self-awareness, self-management, social awareness, responsible decision-making, and relationship skills."
One of the very first lessons in FRIENDZY is about empathy towards others, something Kohls said Thallemer and Crosswy exhibited with their project.
"At this age, children have a natural desire to help others. FRIENDZY's lessons are designed with this in mind, engaging students in deep conversations about compassion, empathy, and perspective," she said. "I believe the girls were eager to do something kind and give back to their community. This initiative is such a powerful example of how even just one act of kindness, no matter how big or small, can create a ripple effect."