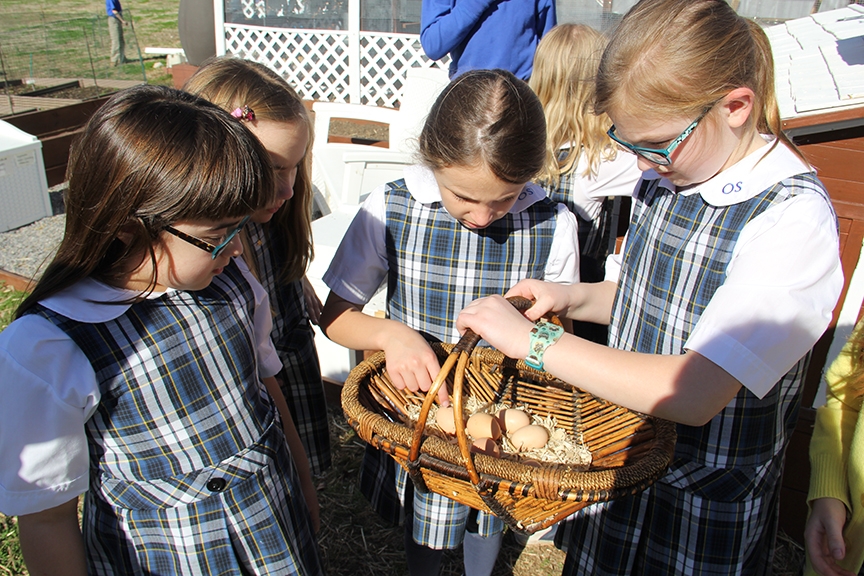 For nearly seven years, Overbrook Catholic School has been blessed with what it calls "quite a lively backyard," a mini-farm with animals, large and small, and garden beds offering hands-on education for its students.
Now, a recent expansion of its barn and a new pavilion at Beyond the Brook Farm will be celebrated with a community event on Sunday, May 7.
The 11 a.m.-2:30 p.m. celebration will include a blessing of the farm by Bishop J. Mark Spalding, along with a formal Mass, complimentary lunch, and inflatables and outdoor games. For Overbrook Catholic, the blessings have been in bloom since the program launched in 2016.
Overbrook Catholic is part of the sprawling, 83-acre Dominican Campus on Harding Pike, owned by the Dominican Sisters of St. Cecilia Congregation, which makes housing a barn, pavilion, and gardens possible. Sister Marie Noelle, O.P., Overbrook Catholic's former teacher and STEM (Science, Technology, Engineering, and Math) coach, planted the seeds for an outdoor education experience.
"Dominicans have a love for nature. They see the world and natural things as good and created by God," said Sister Immaculata Francis, O.P., the school's vice principal of academics. "For a Dominican school to want the children to be exposed to the outdoors and to nature, especially on a campus like we have, it is a very beautiful thing."
While Overbrook Catholic staff is excited to make Beyond the Brook Farm a permanent part of the campus, its origins started simply enough. The program Sister Marie Noelle initiated was based on physical science, force and motion, and simple machines – things you could do outside and build outside – remembered Sister Immaculata.
The program was called STEM and More, and while it included outdoor garden beds, some chickens and rabbits, there were blocks, tools, and other hands-on materials as well. It was designed to play into nature and the physical science of building and engineering challenges, according to Sister Immaculata Francis, and also to align with the social teachings of the Catholic Church, which calls people to be stewards of God's creation.
"What we are trying to do is bring into the educational setting a way to expose children to the natural world, where they see its beauty and its truth, and they want to engage with it more," said Sister Immaculata Francis. "They can study science, but they can also get to know the glory of God and the goodness of creation and have joy in it."
Students in all grades from preschool through sixth take part in planting, harvesting, and observing the care of the animals who call Beyond the Brook home, but the activities advance with their ages and their knowledge, according to Gigi Diffenback, Overbrook Catholic's STEM facilitator.
For example, kindergartners can plant pumpkin seeds, second-graders can care for animals, fourth-graders can tap sugar maple trees, and fifth-graders can construct a hydroponic window farm system.
Diffenback, a science teacher, has embraced Sister Marie Noelle's vision for the program and looks forward to getting out of the classroom with the students and working outside. Students have an extended class time twice a month when they can spend several hours with the gardens or the animals.
When Beyond the Brook Farm becomes fully operational, or "bigger, more official," as Diffenback described it, chickens, sheep, and rabbits will grow along with cucumbers, pumpkins, watermelons, tomatoes, and a variety of spices.
She added that the reopening is going "really well" and seedlings that have been started in the classroom will be transported to the garden beds in the weeks leading up to the May event.
The farm blessing and dedication event is expected to draw 500-600 people, according to Allie Sanford, the community events manager. Sanford encourages everyone interested in attending to please RSVP through a link on the school website, www.overbrook.edu. Not only will this be the first official blessing by Bishop Spalding, it will be his first visit to the farm.
"It should be a good time. We are excited to be able to invite so many people from surrounding schools and communities outside of our Overbrook Catholic families," Sanford said. "All are welcome, and we love making new friends, so please invite your neighbors, friends, and family members, and help us spread the word on social media."
Sister Immaculata Francis, who watched the STEM program hatch, then temporarily shut down because of the COVID pandemic, said that making the farm a permanent part of the Overbrook Catholic campus is reason enough for a celebration. Housing all the physical science aspects of the program will help the school "achieve our goals," she said.
When students returned to campus after months of online learning, the first thing they asked for was the return of the garden and the animals, and to be outside again, she remembered.
"The outdoors is to teach what nature is, the truth about Creation, and education should be filled with joy," said Sister Immaculata. "When they go out there, they experience joy, and they are learning at the same time."
"To educate the children and to let them experience and see the natural world and know it and to physically handle it, to be near it, let's them see the reality of God. Seeing beauty and goodness is always life-giving."