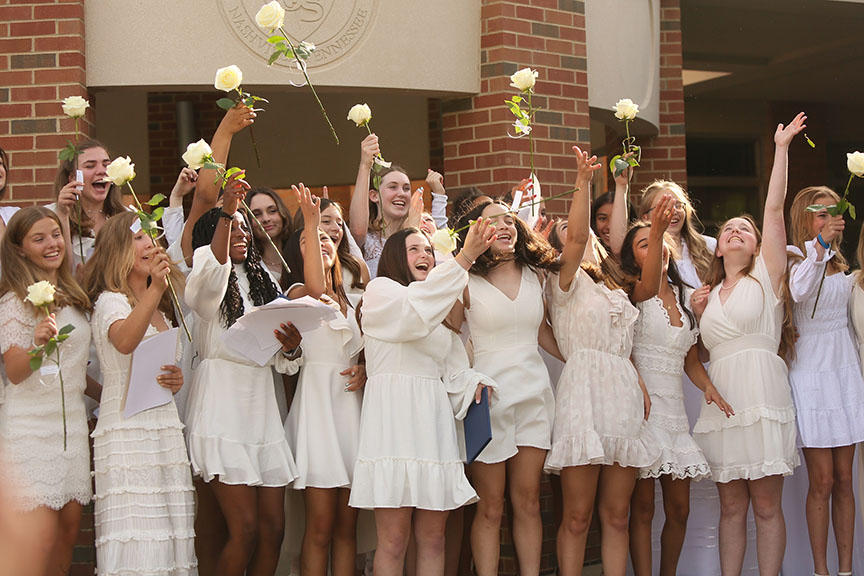 Overbrook School finished out the school year on a historical note as 40 sixth-graders, 11 seventh-graders, and 30 eighth-graders all graduated in three separate ceremonies throughout the month of May.
"This was a historic year for us. Next year, we will become Nashville's only Catholic (pre-kindergarten) through sixth-grade school, so this was our last year to have seventh and eighth grades at Overbrook," explained Dominican Sister Marie Blanchette, Overbrook principal. Beginning in the fall, seventh and eighth grade will shift over to St. Cecilia Academy, another school owned and operated by the Dominican Sisters of St. Cecilia Congregation located next door to Overbrook.
"While the decision was made based on what we believed would be best for the junior high students, change can be hard. All of this happened in one year," Sister Marie continued. "We love each of our students and wanted the sixth through eighth graders to have a wonderful last year at Overbrook.
"We wanted to celebrate the accomplishments of the eighth graders, as we always do, but with sixth and seventh also leaving, we wanted to celebrate their accomplishments as well," she said.
"The majority of these students will have spent more time at Overbrook than any other school they attend," she added. "Each of the … students who graduated this year completed the course of studies for Overbrook. It was important to me to give them a diploma, a milestone signifying the successful completion of their Overbrook School experience.
"Each of these classes is a unique entity. We could have graduated all 81 students in one event, but that would limit our ability to focus on each group and their strengths," Sister Marie said. "We wanted to highlight each group of students and let them know how proud we are of them, how much we love them, and that they will always belong to the Overbrook family."
Ready for high school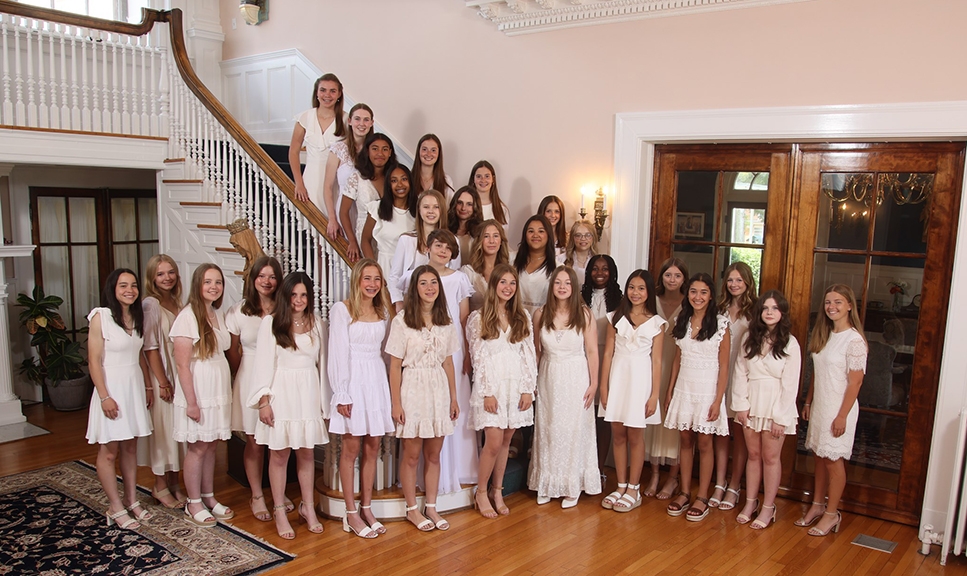 The 30 eighth grade students graduated first on Tuesday, May 17, following a joint, all-school Baccalaureate Mass celebrated by Bishop J. Mark Spalding.
"(They were) the last class of eighth graders to graduate from Overbrook. They were a group of students who earned many accolades," said Sister Marie. "Academically, 83 percent of the class were members of the National Junior Honor Society, they brought home first place in the (Father Ryan High School) Math Day competition, and one student came in the top 10 for the Davidson County Spelling Bee."
The class also earned several athletic achievements including first place in cross country, first place in the league and tournament for volleyball, and first place in girls' basketball, she added.
After awards were presented, three students addressed their classmates.
Mary Braden Weber recalled all the memories made throughout her 10 years at Overbrook, mentioning the Solar Eclipse in fourth grade, literature circles in fifth grade, smelly bunnies in the sixth-grade classroom, the changes and disappointments brought on by the COVID-19 pandemic, and more.
"These memories have helped us to grow closer together, and we have grown to be especially supportive of each other," Weber said. "We are the dustiest class in Nashville, and I could not have asked for more."
Sophie Massaquoi, who started at Overbrook School in sixth grade, also noted several memories of their time at Overbrook including snack trades at lunch, playing card games while traveling on planes, inside jokes, athletic events, songs, laughs and cries.
"Sister John Peter, O.P., (Overbrook religion teacher), had once said, 'It is easy to forget memories.' I hope that the memories we have made together will always be remembered," Massaquoi said. "These memories will last you a lifetime. Although we are going our separate ways, my hope and dream is that we will take our experiences from Overbrook to wherever we go."
Helen Pyburn, who came to Overbrook in the third grade, noted the class's athletic and academic achievements, as well as its perseverance even after years of uncertainty because of COVID-19, and the bonds that resulted from it.
"I am truly lucky and thankful to have grown up with this class, and each one of you has shown me your wisdom and taught me different lessons I will save as a keepsake in my heart," Pyburn said. "I want to end with a quote that I hope my classmates can examine and act upon in the future.
"'Every day above ground is a great day; remember that,'" she said, quoting the lyrics to "Time of Our Lives" by Pitbull and Ne-Yo. "The future is endless for the Overbrook class of 2022, and I cannot wait to see where God takes each one of you. You will undoubtedly do amazing things in high school and beyond."
The first and only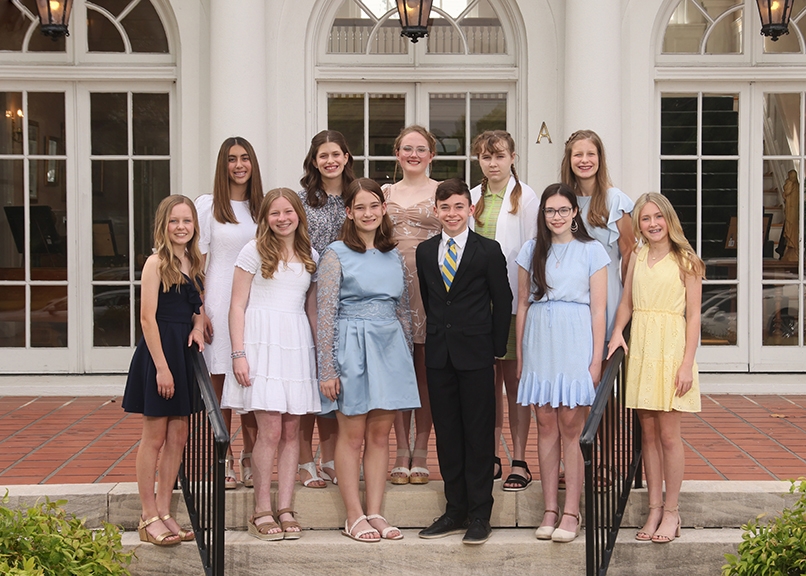 The class of 11 seventh graders graduated in a ceremony Thursday, May 23.
"(They) will always be known as the only class to graduate as seventh graders. They were a very close-knit and small class who was able to run with whatever came their way," Sister Marie said. "There was some sadness that they would not complete their eighth grade year at Overbrook, but this class possesses a lot of maturity, and they didn't let the decision dampen their last year at Overbrook.
"They were grateful for everything that was done for them, for every achievement, and were so supportive of one another," she continued. "We wanted to celebrate their years at Overbrook and their accomplishments this year."
Such accomplishments included 64 percent of the class participating in Forensics, a first place and third place win in an International Math Competition, and a perfect score by one student on the National Latin Exam.
And even though the students could not finish eighth grade at Overbrook together, nine of them will continue together at St. Cecilia.
"They will continue the friendships and desire for excellence instilled by Overbrook School as they move across the sidewalk," Sister Marie said.
Jack Fruin was one of the student representatives for the seventh-grade class who spoke at the graduation. He said over his nine years at Overbrook, he and his classmates have become family.
"By definition, (family) is a group of two or more persons related by birth or marriage, but I don't think this really captures the beauty of a family," Fruin said.
"Family are the people that make you a better person," he said, noting how they persisted in tough times and taught each other life lessons. "What truly connects a family together is love. My love for each of you here today has lasted and will last through all the good and bad times. As we are soon to be joining new families, I will always look back at my time at Overbrook and marvel what we have accomplished here.
"As the last seventh grade class at Overbrook, we have become great people through each other," he said. "As each one of you graduates, please remember this. Families are like branches on a tree. We grow in different directions, yet our roots remain as one."
Guiding light of the future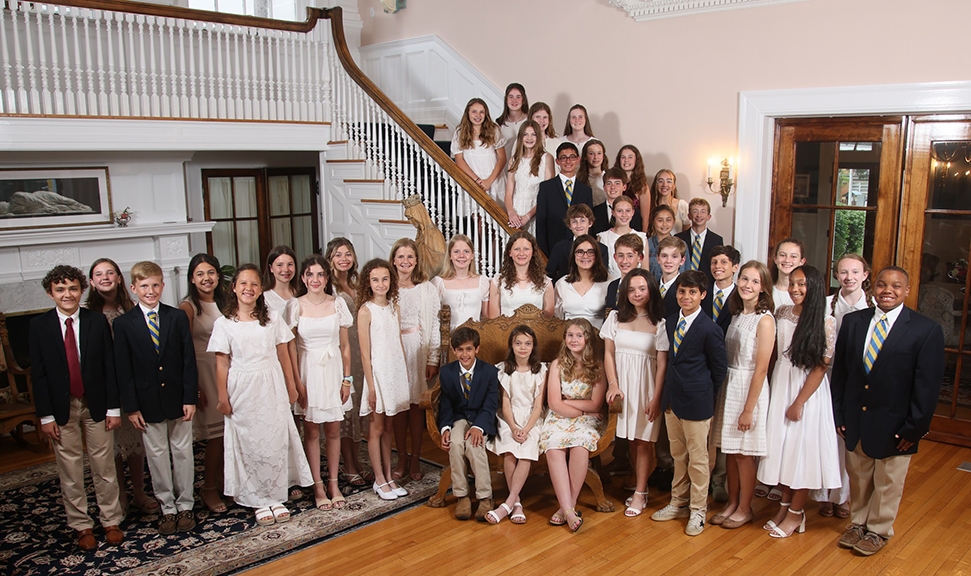 The class of 40 sixth-grade students rounded out the graduation ceremonies on Friday, May 24, as they became the first sixth-grade class to graduate from Overbrook.
"They have set the stage for many sixth-grade graduations to come," said Sister Marie. "We are excited at the possibilities that lie open to them now and in the future."
Like the other graduations, the ceremony highlighted the sixth graders' accomplishments throughout the year including taking first place in Accelerated Reader, 19 students participating in the Catholic Math League, several first, second and fourth place awards both as a group and individually in division and national math competitions, and more, she said.
Park Jones was the first student to speak during the graduation, noting the many lessons learned while at Overbrook including wisdom, how to be leaders and followers of God, to value prayer, lessons in studying, how to enjoy life, and giving them a sense of community. But he said the most important lesson was preaching and being a witness.
"Overbrook has preached to us, and I am grateful for every part of that. Because of Overbrook, we have become witnesses to the world. I hope we continue to carry that with us throughout life," Jones said. "Overbrook has taught us so much. I want to give back by saying thank you for everything you have done for me. I will cherish my time at Overbrook forever."
Ann Curley, who has been at Overbrook since pre-kindergarten, said while they have learned about many things over the years, the most important thing they've learned about is faith.
"I have come to realize that God knows everything that is happening in our lives. Every little thing in our lives and every important thing and even every unimportant thing," Curley said. "He put us here on this earth for a reason and that reason was to spread the goodness of his name and to glorify him.
"We have also learned of the gift of God's grace," she said. "This gift of grace is unending and nothing we ever do can destroy it."
The next phase of the journey
As the graduations marked the end of the journey for the students at Overbrook, Sister Marie said, she simply hopes they are "well prepared for the next phase of their journey."
"The students have a strong foundation academically. They also know and strive to live the reality that every person is made in the image and likeness of God. Therefore, how we treat one another has monumental consequences," Sister Marie said. "Our students have also experienced that learning is fun. They have developed a confidence to try new things and not to be afraid of failure, for we often learn more from our mistakes than from our successes.
"Lastly, we hope that Overbrook will always be a home to them," she continued. "Here they experienced teachers who loved them, and they made friends that in some cases will last for a lifetime. We encourage them to return often to visit, share successes or seek guidance."
And her hopes are strong for the next phase for Overbrook as it becomes the only pre-kindergarten through sixth grade Catholic School in Nashville. It will come with the adding of new programs for sixth graders including a Called to Greatness leadership program, which will also include a course on interviewing and public speaking.
Additionally, more advanced courses will be available through the recently established SOAR program for academically advanced students, Sister Marie explained.
Finally, changes will also come for the youngest students as interest in the pre-kindergarten program led to the adding of a second 3-year-old preschool class starting with the 2022-23 school year.
"This change allows us to focus very intentionally on the academic, moral and spiritual education of younger children and offer a clear educational path for both boys and girls at Overbrook," Sister Marie said. "Our tight-knit community will become even more so."