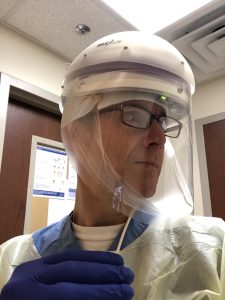 The COVID-19 pandemic is making life more stressful for health care workers and their patients.
Sir William Osler, often called the Father of Modern Medicine, once said, "Humanity has but three great enemies: fever, famine and war; of these by far the greatest, by far the most terrible, is fever."
"Right now, that's what we're experiencing, a pandemic of fever," said Dr. Wes Ely, a parishioner at the Cathedral of the Incarnation and a professor of medicine and critical care at Vanderbilt University School of Medicine.
"Fear is driven by the devil," Ely said, so he is relying on his faith to combat that fear, for himself and his patients.
"My faith is the driving factor of the whole thing," said Ely, president of the Nashville Guild of the Catholic Medical Association. "I am immensely driven to allow God's will to be done."
Throughout the day, he has been repeating several prayers to help, Ely said, including, "He must increase, I must decrease," which is from the Gospel of John 3:30.
Another is a prayer written by St. Teresa of Avila: "Let nothing disturb you. Let nothing frighten you. All things are passing away: God never changes. Patience obtains all things. Whoever has God lacks nothing; God alone suffices."
Besides teaching at Vanderbilt School of Medicine, Ely is the co-director of the Center for Critical Illness, Brain Dysfunction and Survivorship, with the goal of helping people move safely beyond critical care. He also is on the staff treating patients at the Veterans Administration Medical Center in Nashville.
"It's kind of crazy," Ely said of treating patients in a hospital during the COVID-19 pandemic.
The peak of the pandemic is projected to hit in late April and early May, Ely said. The situation in Tennessee is not nearly as dire as it is in the New York City area, he said. "We're not there yet, hopefully we'll never get there."
But hospitals and physician practices are preparing in case things get worse, Ely said.
"The protocols are in place," and the staff is modifying procedures to minimize the spread of the virus, Ely said. "We feel we're doing a good, safe job in a way that's not jeopardizing anyone's safety."
At the Nashville VA Medical Center, all patients being treated for COVID-19 are located in the same area, and the staff is using masks, gloves, gowns and other personal protective equipment, also known as PPE, to protect themselves and the patients, Ely said.
"I'm on the phone all day long" trying to locate more PPE supplies, Ely said.
Prepared for a surge
The Ascension Saint Thomas health system, which includes nine hospitals and a network of medical practices, clinics and rehabilitation facilities in 68 counties in Middle Tennessee and Southern Kentucky, has also increased safety precautions for staff and patients at its facilities.
According to Ascension Saint Thomas, it has established a universal masking policy for its associates and is regularly assessing the need for additional PPE in order to stay aligned with evolving Centers for Disease Control and Prevention recommendations.
Ascension Saint Thomas is working with the Tennessee Department of Health and other area health systems to be ready in case the area experiences a surge in COVID-19 patients.
The health care system has created a staffing pool to be activated if volumes increase as well as reassigning associates from across the system to support the direct caregivers. Leadership has identified spaces and equipment that can be utilized for unprecedented volumes, and is working with vendors, public health authorities, and Ascension ministries in other markets to minimize supply chain disruption.
The system is taking proactive steps with its distributors and suppliers to ensure access to supplies and has arranged expedited shipments directly from manufacturers. Ascension is also assessing alternative products and taking advantage of its ability as a national system to make intra-hospital inventory transfers when appropriate.
Ascension is one of the largest non-profit and Catholic health systems in the country, operating more than 2,600 sites of care in 20 states and the District of Columbia.
Ascension Saint Thomas also has implemented conservation measures in case the pandemic causes disruptions in the supply chain in the coming months. The system is also accepting donations of PPE from local businesses.
Friendship and partnership
Despite the precautions hospitals and health care providers are taking, "It's still extremely stressful," Ely said. "You still have to go home to your family. You don't want to endanger anyone there. You change all your clothes and change your shoes before you go home."
Several caregivers at Saint Thomas West Hospital are staying at the Siena Retreat Center at Aquinas College, which is next door to the hospital. The temporary living arrangements protect both the caregivers and their families from the spread of the virus.
The Dominican Sisters of St. Cecilia, who own and operate Aquinas College, have agreed to allow the staff at Saint Thomas West Hospital to use the Siena Hall retreat center at Aquinas, which can accommodate nearly 100 people.
When Ascension Saint Thomas approached the Dominican Sisters of St. Cecilia, who own and operate Aquinas College, about using Siena Hall if necessary, the sisters quickly agreed.
"Saint Thomas' friendship with the Dominican Sisters spans more than 120 years," said Tim Adams, President and CEO of Ascension Saint Thomas. "For the past 50, our campuses have sat side-by-side. We couldn't ask for better neighbors. We appreciate their support of our health ministry during this most challenging time."
'We're going to do this together'
All the precautions being taken to combat the spread of the COVID-19 virus has changed the way health care providers can relate to their patients, Ely said.
"Normally, I kneel by their bed, take their hand, look in their eyes, and say, 'I'm privileged to treat you. What can I do for you?'" Ely said.
Now, patients are treated by people who look like they are wearing a space suit and who don't have as much time to spend with a patient, he said.
"It's definitely depersonalized," Ely said of his interactions with patients. "It takes away a big chunk of what we try to do vocationally."
For the patients, "It's very scary," he said.
To make it less scary and less depersonalized, "We're putting a picture of our face on the front of the PPE so they can see who it is," Ely said.
Patients appreciate those efforts, Ely said, and the message he tries to send that "we're going to do this together, patient, physician and family, with the patient taking the lead."