by Margaret Sizemore, Tennessee Register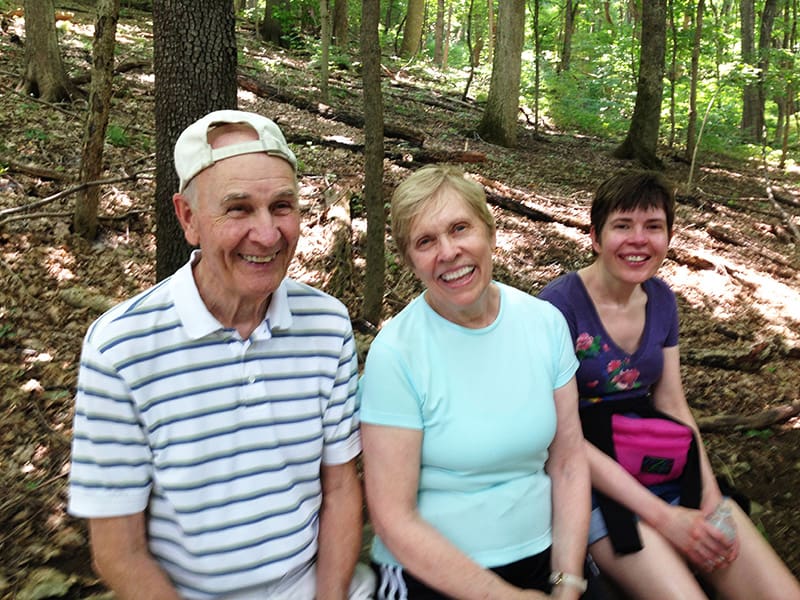 It's been 13 years since four Catholic families joined together with a shared vision of building a community home for their adult children to live in when their parents no longer will be there to care for them.
Charlie and Pat Cooper, longtime parishioners at St. Matthew Church in Franklin, worked hard to keep the vision intact, even as their fellow cofounders had to bow out and those children moved on to different living arrangements.
Now, the nonprofit they formed, Springboard Landings, is at a key moment with the sale last month of 65 acres of donated property in Murfreesboro for $2.1 million. The money gives them the legs to actively shop for a piece of property in the Nashville area with the goal of building the first of several residential complexes where adult children like their own – high functioning adults with mild developmental disabilities – can live independently in a safe, supportive environment close to neighborhood amenities.
As envisioned, the flagship building would have a dozen units, plus another for a live-in manager, with a common area designed to foster interaction and community among the residents. They are eager to find land and break ground.
"I think it was like 2007 when Charlie and I realized, 'Hey, we're not going to be here forever,' and (daughter) Susan was growing up and getting older," Pat Cooper said. "That's when we started looking around for someplace that we would feel comfortable with Susan living the rest of her life without us."
The family researched and visited several residential facilities in different areas of the country but none fit their criteria for a grown child with a mild developmental disability, she said. Older siblings had assured their parents they would take care of their sister, "but it was apparent to us as parents that that was not the best solution for Susan nor was it the best solution for the family member."
"So that's when we started thinking, we've got to come up with a better solution, it's just not the best way. But what we did not envision was how long it would take to make something like this come to fruition," Pat said with a chuckle. "So yeah, it seems like it's taken forever, but for whatever reason we are where we are because it's exactly where He wants us."
'A different set of needs'
Springboard officials, citing a 2007 state developmental disabilities task force report, say that up to 40,000 Tennesseans have developmental disabilities that are not intellectual, and they are capable of greater independence.
"They're employed, a lot of them can drive, they just have a different set of needs," said John Cooper, Springboard's board president who is also Susan's brother. "They just have greater needs and there's some programs in place for them but we're looking at really giving a voice to mild developmental disability that just has never had a voice."
Susan, the Coopers' youngest daughter who is now 46, has always been the inspiration for this goal, according to her parents. Susan was 5 when older brother John found her unresponsive, sitting on a couch at home. The flurry of emergency medical care, which included a dire stretch of surgery with a faint hope
of survival, settled into a diagnosis of viral encephalitis. The swelling of her brain meant numerous grand mal seizures over 30 years and a lifetime of anticonvulsant medications that slowed her thought processes, her mother said.
Despite everything, Susan made it through school surrounded by supportive people, graduating from Father Ryan High School in 1993. But her seizures were still active, which ruled out college. She worked at The Edge, a hair salon in Brentwood for 25 years, washing dishes, sweeping floors, and last year moved into a new job at Smoothie King in Green Hills.
"I'm not looking forward to being without my parents," Susan said. "I'm looking forward to being on my own but at the same time I know I'll have a hard time getting used to being on my own without any help except the manager.
"I'm looking forward to having some more friends … I'm looking forward to coming together with people that are like me, that I'm more acquainted to, that I can relate to."
Moving toward the goal
Springboard's all-volunteer board is comprised of a spectrum of talent that has enabled the organization to move deliberately toward its goal through the years. For example, the Coopers point to one member, an environmental engineer who helped guide them through the process of inspecting the donated property in Murfreesboro to avoid potential liabilities.
Father Mark Hunt has been on the board for about two years, though he has known the Coopers for many years beyond that. The Coopers reached out to him while he was pastor of Holy Rosary Church in Nashville, drawn by his quiet support of Springboard Landings and past experience working with developmentally disabled residents at a L'Arche community in Mobile, Ala.
"I believe in the program and I believe in the need, that we have a lot of special adults that, what's going to happen to them as they get older and their parents get older and their family no longer has a caregiver in the house?" Father Hunt said.
"Through my ministry as a priest, I know families that do have an adult child with special needs and I've worked with them on other things and that's the one thing that they're concerned about," he said. "You'd be surprised how many times I've told people what I'm doing or that I'm on the board of Springboard Landings, and they'll come and they'll say, 'I've got a cousin who's in that exact same situation.'"
Property search top priority
Springboard Landing's Board Treasurer Ward Chaffin, whom John Cooper recalls as a first-grade classmate, tells of the land search in the group's most recent newsletter: "Land – A minimum of two acres in Nashville within a short distance to shopping and jobs. Donated or discounted land is the request. The hunt is on!"
John Cooper elaborated: "We're putting a lot of heavy focus on the Bellevue area but we are open to Nashville, Davidson County, Williamson County. The importance is that it is not isolated," he said. "We want it to be in the community, we want it to be within distance to shopping, entertainment, employment. It doesn't have to be on a bus line but it would be a plus … and a safe environment."
Father Hunt said this as a moment for Springboard to carefully consider the potential long-term effects of the choices being made. "So, I'm excited but I'm also like, OK, now we've got to be even more careful, this is not just some idea on a piece of paper. It's an actual reality and we've been entrusted now."
He hopes that within a couple of years, "we're going to actually have a piece of property and we're going to be in the process of building."
Susan's dad, Charlie Cooper, spoke of many people who encouraged and supported the fledgling project through the years. And despite the difficulties of staying on point in an uncertain year pocked by the COVID pandemic, the possibility that a groundbreaking is in the not-too-distant future is on their minds.
"The sale of the land is a huge development," he said. "That's our next step now, it's to find a location. That's our priority now." For more information, visit www.Springboardlandings.org