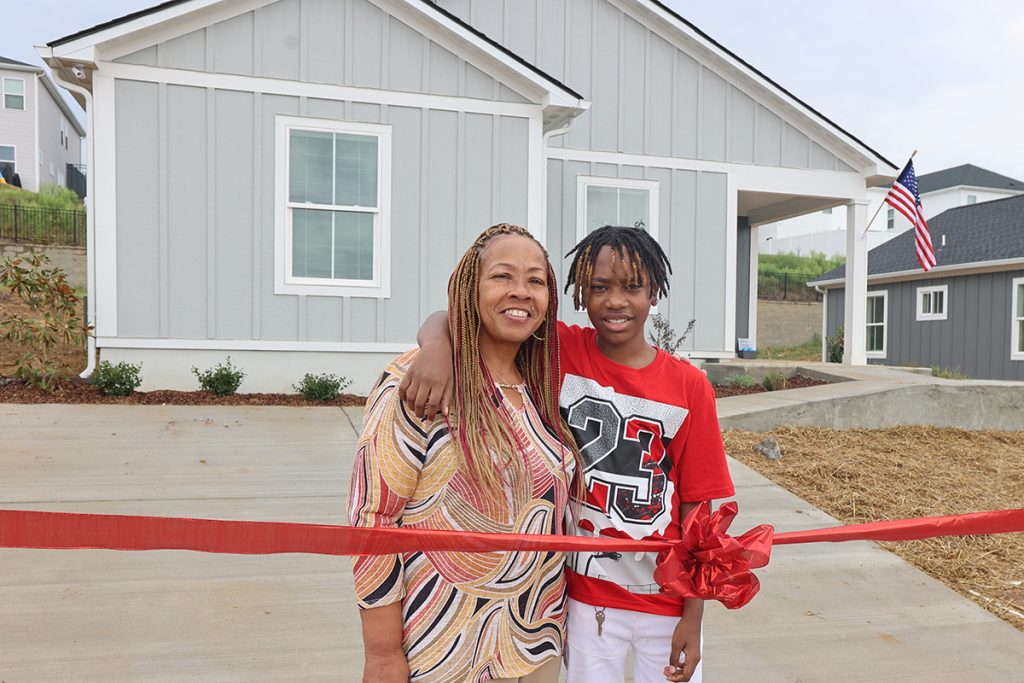 Five Catholic parishes came together to provide a new Habitat for Humanity home for Wanda Howard and her grandson Brandon.
The home is in the Village by the Creek subdivision in North Nashville, Habitat for Humanity of Greater Nashville's newest neighborhood. It and 17 other homes were dedicated on Sunday, Aug. 27.
Bishop J. Mark Spalding gave the Invocation blessing and parishioners who helped organize and work on the home attended to present the homeowners with a housewarming gift to help buy furniture for their new home.
With support from businesses, churches, schools, and other organizations, Habitat for Humanity builds affordable homes for area families. Future Habitat homeowners commit to 100 hours of classroom instruction learning how to budget and maintain their homes, and 70 hours on the build site building their home and their neighbors' homes.
St. Henry Church, Christ the King Church, the Cathedral of the Incarnation, and Holy Rosary Church in Nashville, and St. Matthew Church in Franklin contributed volunteers and funds for this latest Catholic build.
A total of 150 volunteers participated in the build and worked on six different homes in the Village by the Creek neighborhood. The volunteers installed insulation, hung doors, installed baseboards, raised trusses, and painted.
"With median home prices in Nashville close to $500,000 it is important for working Nashvillians to know that homeownership is possible, and one of those pathways is Habitat for Humanity," said Danny Herron, president and chief executive officer of Habitat of Greater Nashville.
With housing prices 164 percent higher and wages only 15 percent higher, there are a lot of working Nashvillians who can no longer afford to live in this city, said Herron. "We are talking about teachers, firefighters, and hospitality workers to name a few, the infrastructure of a balanced and thriving city, who need to be able to live where they work."