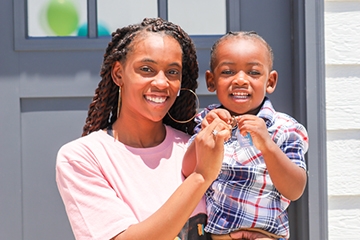 Parishioners from six Catholic parishes came together to help provide a new home for a woman and her son through the Habitat for Humanity program.
St. Stephen Catholic Community in Old Hickory, and St. Henry Church, St. Matthew Church, Christ the King Church, the Cathedral of the Incarnation, and Holy Rosary Church in Nashville, contributed volunteers and/or funds for a Catholic build. A total of 150 volunteers participated in the build.
Habitat for Humanity of Greater Nashville builds new, quality, affordable homes in Davidson, Wilson, Cheatham, Dickson and Robertson counties for families that meet income qualifications, attend education classes and contribute volunteer hours to help build their homes.
Businesses, churches and other organizations serve as sponsors providing volunteers to build the homes as well as funds to finance the construction. The total sponsorship amount was $63,000. The homeowners pay for the home through an affordable mortgage.
The Catholic parishes participating in the most recent Habitat build turned over the keys to the new home they helped build to Dionna Nixon and her son Malachi Ward on June 12. Nashville Mayor John Cooper was on hand for the dedication ceremony.
The home was built in Sherwood Commons, a subdivision being developed by Habitat for Humanity.
Representatives of the parishes involved in the build also presented Dionna with several gifts, including gift cards she could use to purchase needed items.
Parishes have been combining for a Catholic build for Habitat for Humanity since 2013, and some parishes have participated individually for more than two decades.