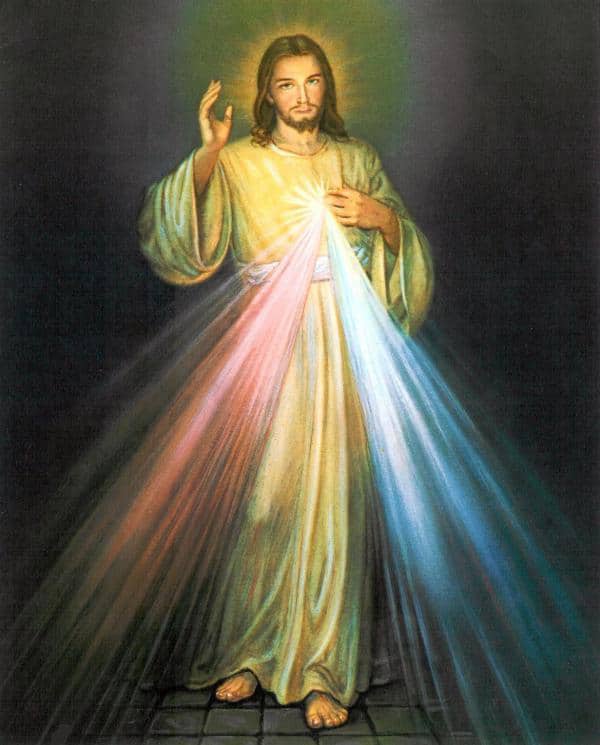 On Sunday, April 11, Catholics in the Diocese of Nashville once again will join others around the world in celebrating Divine Mercy Sunday, asking for God's mercy for themselves and the whole world with special services that will include praying the Divine Mercy chaplet and venerating the Divine Mercy image.
The devotion to Divine Mercy is based on the writings and revelations of St. Faustina Kowalska, a Polish nun in the 1930s. The revelations from Jesus Christ were recorded in notebooks that were compiled as "The Diary of Saint Maria Faustina Kowalska."
In the revelations, Christ asked for acts of mercy arising out of love for him, through deed, word and prayer.
St. Faustina's diary includes a passage in which Christ asked people to say a novena of the Divine Mercy Chaplet in preparation for the Feast of Divine Mercy. The novena is to begin on Good Friday. In one vision, Christ gave St. Faustina the words of the Divine Mercy chaplet and instructions on how it should be prayed, using the beads of a rosary.
According to her diary: "First of all, you will say one 'Our Father' and 'Hail Mary' and the 'I Believe in God' (the Apostles' Creed). Then on the Our Father beads you will say the following words, 'Eternal Father, I offer You the Body and Blood, Soul and Divinity of Your dearly beloved Son, Our Lord Jesus Christ, in atonement for our sins and those of the whole world.' On the Hail Mary beads you will say the following words, 'For the sake of His sorrowful Passion have mercy on us and on the whole world.' In conclusion, three times you will recite these words: 'Holy God, Holy Mighty One, Holy Immortal One, have mercy on us and on the whole world.'"
"By this novena (of Chaplets) I will grant every possible grace to souls," Christ told. St. Faustina.
In another vision, Christ asked St. Faustina to have his image painted as he appeared to her. In the Divine Mercy image, Jesus is shown with his right hand raised in blessing and his left hand touching his chest. Two rays of light emanate from his heart, one red and the other white, representing the blood and water that poured from his side on the Cross. At the bottom of the image are the words, "Jesus, I trust in you."
In 2000, St. John Paul II proclaimed that the Second Sunday of Easter should be celebrated as Divine Mercy Sunday to draw the clear connection between the merciful love of God and the Paschal Mystery.
For more information about the Divine Mercy devotion, visit www.divinemercy.org.
Parishes hosting services on Divine Mercy Sunday include:
Church of the Nativity, 2793 Buckner Lane, Thompsons Station, 3 p.m. 
Immaculate Conception Church, 709 Franklin St., Clarksville, 3 p.m. 
Our Lady of the Lake Church, 1729 Stop 30 Road, Hendersonville, 3 p.m. 
Our Lady of Lourdes Church, 103 Golf Club Lane, Springfield, 3 p.m. 
St. Anthony Church, 1900 Huntsville Hwy., Fayetteville, 3 p.m. 
St. Catherine of Alexandria Church, 1024 Faulkner Springs Road, McMinnville, Scriptural Rosary at 2:30 p.m., Divine Mercy Chaplet at 3 p.m. 
St. Ignatius of Antioch Church, 601 Bell Road, Antioch, 9:15-10:15 a.m. 
St. John Vianney Church, 449 North Water St., Gallatin, after the 10:30 a.m. Mass. 
St. Joseph Church, 1225 Gallatin Pike S., Madison, 3 p.m. 
St. Paul the Apostle Church, 304 W. Grizzard St., Tullahoma, 3:30 p.m. 
St. Philip Church, on the corner of Main Street and First Avenue in Downtown Franklin, 3 p.m. Confession and Eucharistic Adoration will be available during the service. 
St. Pius X Church, 2750 Tucker Road, Nashville, Confessions at 2:30 p.m., Divine Mercy Chaplet at 3 p.m. 
If your parish is not listed, check with the church office.