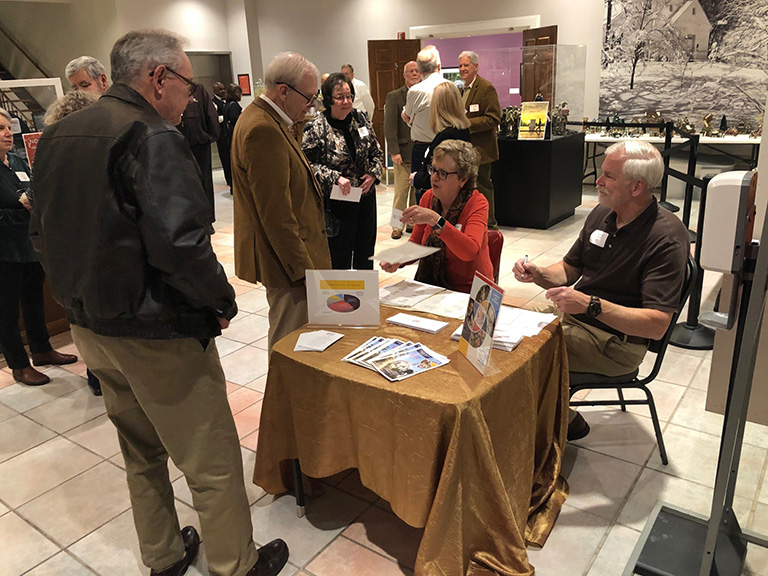 Since the first wave of parishes kicked off the Diocese of Nashville Legacy of Faith, Hope and Love Campaign in October, parish committees have been looking for creative ways to spread the word to parishioners.
The committee at Immaculate Conception Church in Clarksville held a reception for nearly 50 parishioners Thursday, Nov. 18, at the Customs House Museum and Cultural Center.
"We identified a few parishioners who have been generous to the parish and invited them to a dinner to speak to them and give them an explanation about the Legacy Campaign and how important it is, and how it is going to impact the whole diocese, especially with all the endowments," said Father Jacob Dio, pastor of Immaculate Conception. "Funds come from the generosity of the people, and in endowments we are not just working for the present but looking ahead and preparing for the future."
Some of the money raised by the Legacy Campaign will be distributed to parishes to pay for projects they select. At the reception for Immaculate Conception, parish leaders explained how the parish's share will be used to repave the church parking lot as well as to build a large shed for storage, Father Dio said.
The $50 million Legacy of Faith, Hope and Love Campaign is a diocesan-wide fundraising initiative to build up endowments to support in perpetuity parishes, schools, ministries and agencies of the Diocese of Nashville.
The historic campaign, with the assistance of Steier Group, will raise money to create new endowments or enhance existing endowments to provide future revenue for five key priorities: individual parish needs; Catholic education; vocations; parish growth and expansion; and outreach to those in need.
Money raised toward the campaign goal will be split up among the five key priorities as follows: 25 percent for each individual parish; 40 percent for Catholic education; 15 percent for vocations; 10 percent for parish growth and expansion; and 10 percent for outreach to those in need.
The campaign is being rolled out at churches across the diocese in three waves, with a different group of churches in each wave. The first wave, which includes Immaculate Conception, began this fall.
Steier Group, a capital campaign fundraising firm out of Omaha, Nebraska, has assisted dioceses in similar campaigns all around the country. Corporate donations have covered the fees for Steier Group to assist the diocese in managing the campaign.
The reception included light refreshments, opportunities to answer questions, and a short presentation from Lisa Meeks, Legacy Campaign committee chairperson for Immaculate Conception.
"We kept it very simple," Meeks said. "We just wanted to bring together this group of people so that everyone would have the opportunity to share their thoughts, their feelings.
"I just want everyone to be as excited about this campaign as I've become, so that was why we wanted to gather people around so that they can hear and feel the excitement of others," she said. "I'm just sharing with them my personal feelings. As a chairperson, before I could get out and start talking to other parishioners about this campaign, I felt like it was important for me to learn about it, to read about it, to think about it, pray about it, and try and get my excitement up before I could get anyone else excited.
"My excitement is about being involved in the beginning of a legacy for our diocese and the opportunity that we have right now to be a part of that legacy," Meeks said.
The reception is not the only way the Immaculate Conception committee has been spreading the word about the campaign to parishioners. It also has continued to have information tables available after Sunday Masses, made regular presentations to ministry leaders and parish groups, held small gatherings with parishioners and Father Dio at the rectory, personally visited and made follow-up calls to parishioners and had special outreach events such as the reception.
"In so many ways, Father Jacob and his parish chairs, Lisa and Tom Meeks, are going above and beyond to make the Legacy Campaign a meaningful experience for the people of Immaculate Conception," said Dan Queathem, Steier Group campaign manager. "They are deeply invested in the success of this historic effort and have shared their enthusiasm with everyone at the parish. It's exciting to see parishioners there joining together to support the Church in Middle Tennessee."
"Immaculate Conception Clarksville, like so many of our wave one parishes have found creative ways to engage their parishioners and share the story of how the Legacy Campaign will impact not only our current families in sharing the faith, but our children, grandchildren and beyond," added Ashley Linville, diocesan director of the Office of Stewardship and Development. "We are so grateful for the sense of community we are seeing throughout the diocese."
For more information about the Legacy Campaign, visit https://dioceseofnashville.com/legacy/.