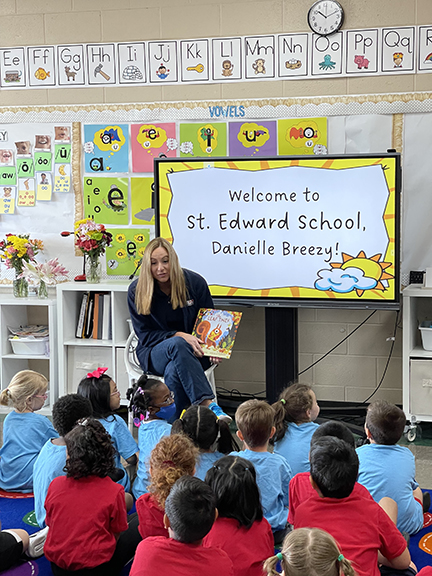 The water cycle, the difference between a tornado watch and a tornado warning, and how to respond to a flash flood are just a few weather-related lessons learned by Catholic school students thanks to the Diocese of Nashville's new Passport Program.
The Passport Program kicked off May 9 with the prekindergarten and kindergarten students at St. Edward School in Nashville when Danielle Breezy, chief meteorologist for WKRN News Channel 2, came to visit. During her visit, she talked to them about the weather and read a book called "The Leaf Thief" by Alice Hemming and illustrated by Nicola Slater, to teach them about the changing of the seasons.
"The book was good and engaged them, but while entertaining them she was able to ask questions about seasons and types of weather that were very age appropriate for the kids," said Susan Blankenship, principal of St. Edward. "They loved it. They had a great time. They were very interactive with her, and she was great with the kids as well. You could tell that she had a real comfort level with being in a classroom and being with the kids.
"I think it's just good, in general, for the kids to be exposed to a variety of careers and be able to know what options are out there as they get older and start to think about what they want to be when they grow up," she said. "There's also the educational aspect of it for kids to be exposed to a career that's focused around a science like meteorology or weather."
The kick-off of the Passport Program came after a lot of time circulating ideas and planning, according to Bill Staley, diocesan director of new media evangelization.
"For years, we've seen different meteorologists visit schools on social media, and they make a post and then they're on the news that night," Staley said. "We were just thinking of ways to get creative and get them into our Catholic schools because we have one of the largest private school systems in the state."
With that in mind, Staley reached out to Breezy, as well as worked with Frederick Strobel, owner and president of Burgundy Group, to create a special "passport" with a logo highlighting Breezy's visits and is stamped with each visit she makes to the schools.
"It's a win-win for both parties, for the news station and for the students," Staley said. "I created the Passport Program as a way to challenge Danielle and get her buy-in to visit all the schools."
So far, the passport has been stamped three times as the visit to St. Edward was followed by a visit to third and fourth grade students at St. Ann School in Nashville on May 10, and fourth through eighth grade students at Christ the King School in Nashville on May 16.
"It was really fascinating for the students to interact with and see someone who they potentially see on TV on a regular basis and make her seem more like a real person to them. That in its sheer form was kind of neat," said Anna Rumfola, principal of St. Ann. "Also, the fact that she is a meteorologist, that's a pretty cool job. It's something that derives directly from the things you study in school. … Her job shows that a lot of the things you learn in school do come back and you use them in your careers later on."
Rumfola said Breezy provided some great, practical things for the students to know, too.
"She talked about things that they would hear in science, but then she also talked about things that are beneficial to know as a person who lives in Tennessee," such as tornados and flash floods, she said. "If there is a tornado, what is your safety plan? What should you do? … It was very educational in the fact of just being prepared as a citizen of Nashville."
It has all brought a highlight to the Catholics Schools, too, since each class is featured on the 5 o'clock news the evening of each of Breezy's visits.
"It has been great exposure, and we appreciate her promoting our schools and showing the great partnership that we have with one of our more recognized newscasters," Staley said. "Danielle Breezy has 80,000 plus followers on social media, so it lets families know, especially folks that are moving to Tennessee, about us.
"They might say, 'Oh, Christ the King, there is a Catholic school right around the corner, or St. Edward or St. Ann, what have you, so it's good to have that exposure and promote Catholic education," he said. "We're doing some great things."
The program is set to continue with more schools with the return of school this fall.