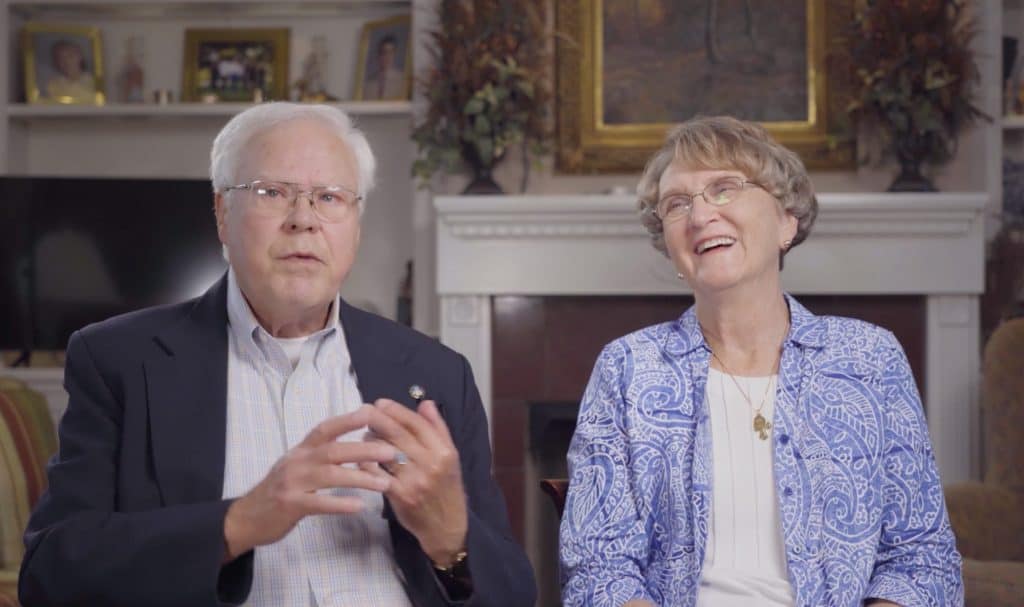 Organizers of the first-ever virtual Seminarian Education Mass, Event and Auction are closing in on their goal of raising $275,000 to help pay for the cost of educating the future priests of the Diocese of Nashville.
"We're just over $240,000 of our $275,000 goal" as of July 31, said Ashley Linville, director of development for the diocese. "Gifts are still coming in."
People can still make a donation online by visiting www.dioceseofnashville.com.
This was the 11th year for the Seminarian Education fundraiser, which normally includes a dinner, live and silent auction, and an opportunity to meet and talk with the diocese's seminarians. It typically draws more than 600 people from across the diocese. The event was moved online this year because of local restrictions to stop the spread of the COVID-19 pandemic.
Although it was moved online, the event, held on Tuesday, July 28, was another success. "It went great," Linville said. "People were just extremely generous. The people who support our seminarians understand that the need is still great."
The diocese will spend about $1.6 million this year to educate its 24 seminarians. The money raised at the Seminarian Education Mass, Event and Auction, as well as funds raised as part of the Bishop's Annual Appeal for Ministries, helps cover that cost.
"It takes a lot of resources, a lot of money for us to educate and form great priests in this great diocese. I ask you to be a part of that," Bishop J. Mark Spalding told those who joined the event online.
"There are many blessings I've seen in this wonderful diocese, in particular the generosity of the people," the bishop said. "We all love our priests. And this very night helps each and every one of us prepare young men to be ordained and serve in our churches."
"The need for priests has never been more important," echoed Father Austin Gilstrap, diocesan Director of Vocations and pastor of Our Lady of the Lake Church in Hendersonville. "Your gift will allow these young men the opportunity to continue their formation and it will help us to provide that same opportunity to those men who will follow in the future."
The online event began with a Mass celebrated by Father Mark Simpson, the chaplain at Father Ryan High School and Camp Marymount, and Father Hung Pham, associate pastor at St. Ann Church, and chaplain to the Vietnamese Catholic Community. Both recently completed their first year as priests.
The Mass was followed by videotaped messages from Bishop Spalding, Father Gilstrap, Father Simpson, Deacon Javier Suarez, who will be ordained as a priest on Saturday, Aug. 15, the diocese's seminarians, and Lloyd and Elizabeth Crockett, who helped start the event 11 years ago.
People could also call the diocesan offices to make their donation directly to one of the diocese's seminarians and talk to them.
"We had a good number of views online," Linville said. As of Aug. 6, 452 people had watched the event online.
The online auction also was a success, Linville said, bringing in about $36,000. "We didn't know actually what to expect from the auction," he said. "I was pleasantly surprised that even though we didn't have the in-person auction, it was still competitive and people took part."
The three items that brought in the highest bids were: a dinner with Bishop Spalding, Tennessee Titans Head Coach Mike Vrabel and his wife Jen, and six guests at the bishop's home; a week's stay at a vacation home in Gulf Shores, Alabama, donated by the Crocketts; and a bourbon and whiskey tasting for eight guests hosted by Father John Hammond, vicar general and judicial vicar of the diocese and pastor of St. Patrick Church in Nashville, and Father Andrew Forsythe, the chaplain at Pope John Paul II High School.
The event was sponsored by the Serra Clubs of Williamson County and Nashville and the Knights of Columbus.
"We're so grateful to the role the Serrans and the Knights of Columbus played," Linville said. "They were so important. They really supported us and found ways to promote the event to their own groups and even beyond.
"It truly wouldn't have been this successful without their hard work," he added. "It's a large team of people who came together to make it happen."
Other sponsors included: Marina Manor East; Mary Queen of Angels Assisted Living Facility; Villa Maria Manor; St. Henry Property Development; Mr. and Mrs. John P. Donnelly; Catholic Community Investment and Loan Inc.; Wood Personnel Service; Taylor, Pigue, Marchetti and Blair Law Firm; Steier Group; Miracle Ford; Miracle Jeep/Eagle; Daniel Schachle Insurance, the general agent of Knights of Columbus insurance in Tennessee, Kentucky, and eastern Arkansas; Athens Distributing; Prenger Solutions; Father Ryan High School; Pope John Paul II High School; and WBOU Radio.
During his homily at the Mass for the event, Father Simpson talked about the support and prayers he received from members of the Serra Clubs and others in the diocese during his years as a seminarian.
Attending the seminary in Ohio could sometimes be lonely, he said. "But always I received these letters from one or more of the Serrans … just a prayer card saying that this person in the Serra Club had prayed for me," Father Simpson said.
"I can't tell you how many times I really needed those prayer cards because it kept me grounded with why I wanted to be a priest in the first place," he said. "That connection to the people in this diocese. No matter where I was, they always were calling out, reaching out to me, and I was always able to hear their voices in times I needed them the most, and it brought me great joy and comfort."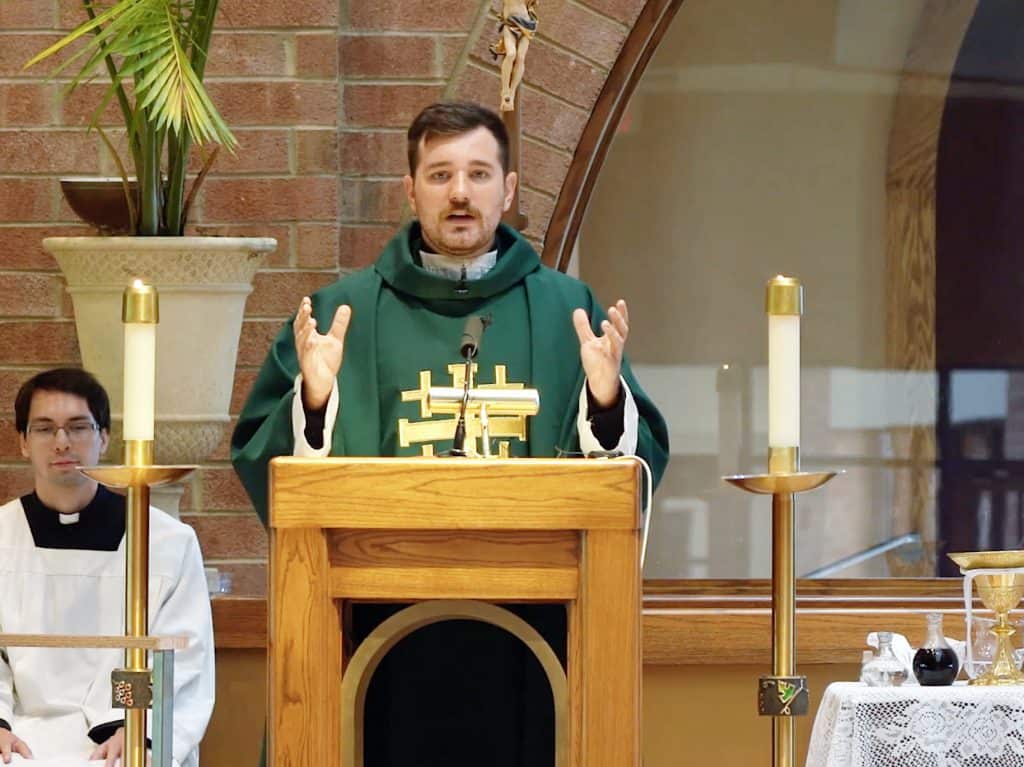 "Thank you again for being a part of my life, for being part of my vocation, for helping me to persevere when I needed it most," he added. "I was able to hear the voice of the Father calling me back to Nashville as a priest because of your prayers and your efforts to reach out to me."
The event also included a videotaped interview with Elizabeth and Lloyd Crockett, who have been involved with organizing the fundraiser from the beginning.
The Crocketts are long-time members of the Serra Club, and Lloyd is a former president of Serra International, which is dedicated to supporting and encouraging vocations to the priesthood and religious life.
Lloyd Crockett came to the late Bishop David Choby with the idea for a seminarian education fundraising dinner and auction after hearing about a similar event that the Serra Club in Dallas, Texas, had organized.
"When we first started, we were flying by the seat of our pants. We really didn't know what we were doing," Mr. Crockett said.
The first year, the Serra Clubs of Williamson County and Nashville sponsored a reception and auction held in the Fleming Center at the Cathedral of the Incarnation. "We had an idea of a large cocktail party. That didn't go over at all. Those people who came wanted to stay … and talk to those young seminarians that were there and get to meet them and to know them."
Organizers raised $6,000 the first year. "We were pleased as punch about that," Mr. Crockett said. Bishop Choby thanked him for the efforts of all the organizers but said "I think we can do better next year."
The event has grown over the years, raising as much as $325,000 to help pay for the seminarians' education.
"The Knights involvement has been a blessing," Mrs. Crockett said. "All their energy, all their excitement."
The Serra Clubs are relatively small, Mr. Crockett noted, and the Knights, with their many members, were able to provide help not only financially, but with the manpower to handle the logistics involved with putting on the event.
The diocese also has taken over many of the preparations, which has helped the event grow, the Crocketts said.
Supporting the diocese's seminarians is important "for our children and grandchildren," Mrs. Crockett said. "We want them to have what we had," and to have priests available to them when they need them.
"What greater gift could we give our own Church," Mr. Crockett said. "Without the priests, we have no Eucharist. And without the Eucharist, we have no Church."
"We're living under strange times but that does not cease the cost of educating our young seminarians," he said. "The need is still there."