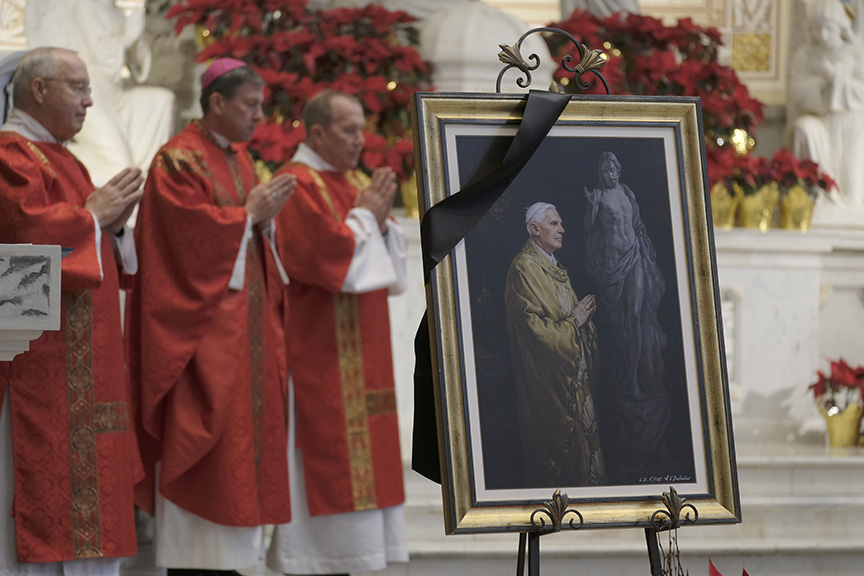 Pope Benedict XVI was "a great servant pointed to Christ in so many ways of his life," Bishop J. Mark Spalding said during a memorial Mass for the pope emeritus, who died on Dec. 31, 2022.
Bishop Spalding celebrated the memorial Mass at the Cathedral of the Incarnation on Thursday, Jan. 5, the same day as Pope Benedict's funeral in St. Peter's Square at the Vatican.
Pope Benedict, who died at his residence at the Vatican, was 95 years old. He served as pope from 2005 to 2013 when he surprised the Church and the world by announcing he was resigning the papacy, the first pope to step down in nearly 600 years.
He was one of the Church's leading theologians, and he left an extensive collection of writings from before, during, and after his papacy. In his homily for the memorial Mass, Bishop Spalding urged the congregation to read Benedict's documents.
"Give yourself a gift and read some of his writings," said Bishop Spalding, who recommended three: "Deus Caritas Est," (God Is Love), his first encyclical; "Sacramentum Caritatis" (Sacrament of Charity), an apostolic exhortation on the Eucharist; and "Verbum Domini" (Word of God), an apostolic exhortation on the Scriptures.
Bishop Spalding asked the congregation to read and ponder "Deus Caritas Est."
"See how love is the essence of God, and He creates out of that love, and He wants us to know that love in so many ways," the bishop said.
"Sacramentum Caritatis," one of Pope Benedict's apostolic exhortations, "talks about the sacramental life of our Church, but especially this sacramental life we find here around the altar, the gift of the Eucharist," Bishop Spalding said. "We come here and celebrate that we are receiving the very body and blood, soul and divinity of Jesus here at the Mass. That wonderful gift of Jesus continually given to us as his people."
In "Verbum Domini," Pope Benedict writes "about how God is in continual dialogue with us and gives an opportunity to enter into that dialogue through our study of Scripture.
"The readings we just heard this day teach us how wonderful it is to know God," Bishop Spalding said. "He wants all of us to be with him in heaven forever. And though the rest of the world might look at us and say only death is the end, we understand that our souls are immortal and God wants us to be with him forever in heaven.
"The way he gets us from here to there is through this, what we celebrate at this table of Christ, and what we celebrate at this table of the word, God wants us to hear, reflect upon and live in our life," the bishop added.
"Keep reading Scripture," Bishop Spalding said. "It is rich and powerful. It will lead you. It will guide you. It will reassure you."
Bishop Spalding reflected on two of Pope Benedict's quotes. The first was: "Each of us is the result of the thought of God. Each of us is willed. Each of us is loved. Each of us is necessary."
"Just ponder that," Bishop Spalding said. "Each of us is the result of the thought of God. He wanted us to be here. He sustains us in love. and He sees in God's mind, and we must make it in our mind, we are necessary."
The second quote was: "What a treasure we have in these two words: thank you."
"God, on this day as we celebrate this memorial Mass, we say thank you," Bishop Spalding said. "Pope Benedict, as we pray for you and have your soul be received into the loving merciful arms of God, we say thank you. And what we celebrate here, the Eucharist, the great feast of thanksgiving, reminds us of all that Jesus has done for us and continues to do, and we say thank you."
"Pope Benedict would be so happy for this celebration," Bishop Spalding said. "First of all we prayed well together. We lifted up our voices and gave thanks to God for the gift of his Son, first and foremost. We lifted up our gifts as we gathered here today, and we placed, at the center of everything, Christ."
"Jesus Christ is the reason we are here, and we keep in mind that we had a great servant pointed to Christ in so many ways of his life," Bishop Spalding said of Pope Benedict. "He would want us to remember, especially on this day, … that it is Jesus Christ that inspires, encourages. It is His memory that we keep in our lives and His presence that we take to others."