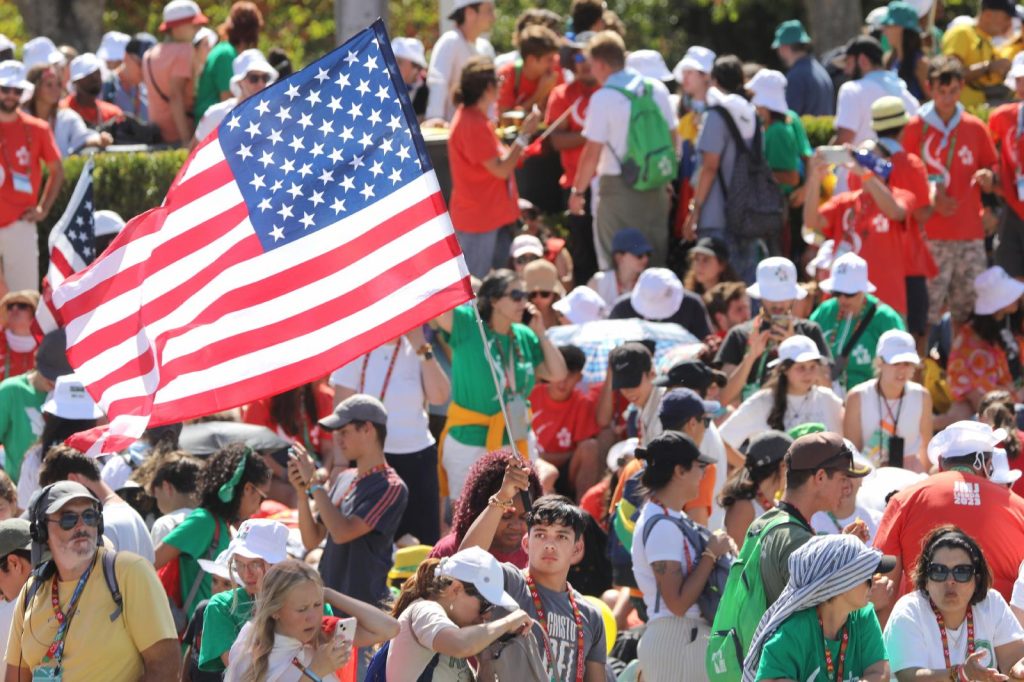 LISBON, Portugal. Rivers of young people flowed through the streets of Lisbon on their way to Eduardo VII Park on Aug. 3 for the World Youth Day welcome ceremony with Pope Francis.
For 34-year-old Ines Niragira, coming to World Youth Day in Lisbon fulfilled a dream.
Originally from Burundi, but now living and working in South Africa, Niragira said she had always wanted to attend World Youth Day, and that she loved listening to Pope Francis' opening remarks with a half-million other pilgrims.
Seated in his popemobile, Pope Francis greeted throngs of cheering youth, many waving flags, signs and rosaries, or snapping photos as the pontiff made his way to the stage to give his address. In his speech, the pope reminded the pilgrims: "God is calling you by name."
"Dear friends, if God calls you by name, it means that for him you are not a number, but a face," Pope Francis said.
As a first-time attendee of World Youth Day , Niragira felt as though the pope was speaking directly to her, and that she was no longer a number in a society defined by algorithms and endless social media feeds.
"In this digital era, we feel like we know everyone from just a search. On our social media we create a 'persona' for ourselves that is led by algorithms," she said. "But, like Pope Francis said, God knows each and every one of us as an individual. We should know each other not from the way we search online, but in the way that God knows each of us."
Even though Divya Mathew, 24, hadn't yet seen Pope Francis in person in Lisbon, she felt a deep sense of "softness and tenderness" from the pope at the welcome event, even from the screen.
A pilgrim from Kuala Lumpur, Malaysia, Mathew said seeing Pope Francis' "efforts to greet the pilgrims" really touched her because he's at an age – 86 – where he could easily stay home in the Vatican.
In Malaysia, the southeast Asian country that is a Muslim-majority, Catholics make up less than 4% of the nation's population. Mathew said that Catholics in Malaysia, especially younger Catholics, don't often get to freely practice their faith.
"But here in Lisbon, being able to celebrate our Catholic faith in Portugal, to see how alive the Catholic Church is, it reminds us that we're not alone, no matter how small our community is in Malaysia," she said.
Father Iván Montelongo, a priest of the Diocese of El Paso, Texas, who was recently named a U.S. synod delegate to the upcoming October Synod of Bishops at the Vatican, is in Lisbon leading a delegation of young Catholics from both sides of the Texas-Mexico border.
Carrying a small guitar, Father Montelongo, along with his fellow pilgrims, cheered as they encountered other Mexico and U.S. flags.
Father Montelongo said he carried a deep sense of pride and faith, especially among a group of pilgrims from both the U.S. and Mexico.
"We represent a church incarnated in reality," he said. "A church that walks on both sides, that is not divided by country borders, but a church that is in communion. We are incarnating that unity of the Church."
The local churches on the Texas-Mexico border know well the reality of immigration, as issues continue to impact the borders.
In his address, Pope Francis repeated the phrase "todos," or "everyone" in English, and said that Catholics, especially the youth, carry the responsibility of ensuring a church that is welcoming to all.
"There is room for everyone in the Church" – the young and old, the healthy and the sick, the righteous and sinners – Pope Francis said. "Everyone, everyone, everyone!"
Looking around as his pilgrim group cheered as another group moved by, Father Montelongo smiled, noting that the young people were a tangible representation of what it means to welcome the "other."
"The Church is open to everyone, and that's what the synod is about, right? It's a church for everyone, and this is what we are celebrating today in World Youth Day — that the Church is open to everyone from all countries, from all states in life," he said.
World Youth Day continues in Lisbon, with several more events scheduled to take place, including an Aug. 4 Way of the Cross, and the Aug. 5 overnight outdoor vigil in the city's Campo da Graça in Tejo Park, which will also host the closing Mass on Sunday, Aug. 6.