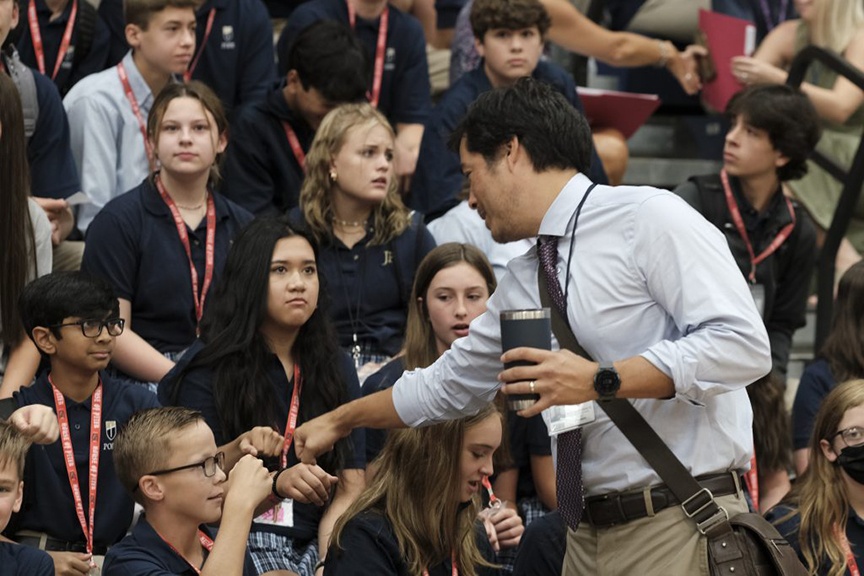 Pope John Paul II Preparatory School stepped into a new era on Thursday, Aug. 5, when it added students in sixth, seventh and eighth grade to its student body for the first time.
"Everything is ready," Head of School Michael Deely said a few days before the first day of classes for the 2021-22 school year.
Pope Prep, as the school is now branding itself, opened the school year with 198 students in the three middle school grades, 66 in each grade. Sixty-four percent of those students are coming to Pope Prep from public and private schools outside the Catholic school system, Deely noted.
"They're coming from schools that don't have all the things that are offered here," Deely said. Pope Prep is offering a wide variety of opportunities in the arts, athletics and extra-curricular activities. Academically, advanced students can take high school courses if they are qualified while support is available for students who need it.
"It was just the breadth and depth of all it" that drew families to the school, quickly filling all the available spots, Deely said.
"I really feel like it is a school that helps the students grow as individuals," said Deirdre Morris, whose daughter Marin is in the seventh grade this year. "They want to bring out each child's unique talents and gifts. I feel like everyone on the faculty sees that as their mission."
Morris was attracted to the school in part because it gives students the opportunity to challenge themselves. "I love that if a child in middle school is ready to take a high school level course, they can do that," she said.
"We feel there are additional opportunities here in terms of extracurriculars and academics," said Morris, whose daughter is moving to Pope Prep from St. Joseph School in Madison. "We live in Hendersonville. That's a bonus too. It's easier for us."
Adding to the convenience for the Morris family is the fact that their daughter Sinclair was already enrolled at Pope Prep and is a sophomore this year. That was a common thread among the families who enrolled their children in the middle school grades, Deely said.
"A lot of families have a middle schooler and a high school student," Deely said. Having them at the same school makes it more convenient for the families, he said.
Pope Prep decided to add the three younger grades in part to stabilize its feeder system for the high school grades.
"We're trying to draw kids we know we can get," Deely said earlier this year when the addition of the middle school grades was announced. "We just have to get to them sooner."
The younger students will be incorporated into the larger school community, Deely said. "We don't talk about ourselves as middle school and high school. We talk about being a six though 12 school."
Pope Prep's older students have been tasked with helping the younger students feel welcome, Deely said.
"I've been impressed with the high schoolers," Deely said. "There's kind of this big brother, little brother aspect" to the interactions.
While all the grades are viewed as one school, Deely said, "at the same time, we've given them their own age-appropriate space."
Most of the sixth, seventh and eighth grade classes have been clustered on the same floor of the school's academic wing. But some of the school's facilities will be shared, such as science labs, the cafeteria, athletic facilities, and the new Puryear Center for Innovation and Entrepreneurship, located in what was the school library. The center will feature space for robotics, a business center, a drone course, maker spaces and a media center.
"We're going to maximize the space" in the school, Deely said.
The younger grades are not the only ones to fill this year. The school, with a total enrollment now of more than 700 students, has a waiting list for all grades, Deely said. "The hard part is I've had to disappoint people who couldn't get their kids in," he said.
Pope Prep will be opening admissions for next year this fall, and the school hopes to see the school fill up quickly, Deely said.
The school is benefiting from the growth in Middle Tennessee. "We're getting swamped with people from out of state," he said.
"It's not hard to convince people to go to a Catholic school," Deely said. "The fact that we didn't raise the high school tuition helped," while the tuition for the middle school grades is lower than other private schools, he added.
To accommodate the school's larger enrollment, Pope Prep added 27 new members of the faculty and staff, Deely said. But the school didn't add any new administrators, such as academic department heads, for the middle school grades, he added.
"We plan to sit on this number and this model for the next three years" before deciding whether to make any changes, Deely said. "So far, it seems to be working fine."