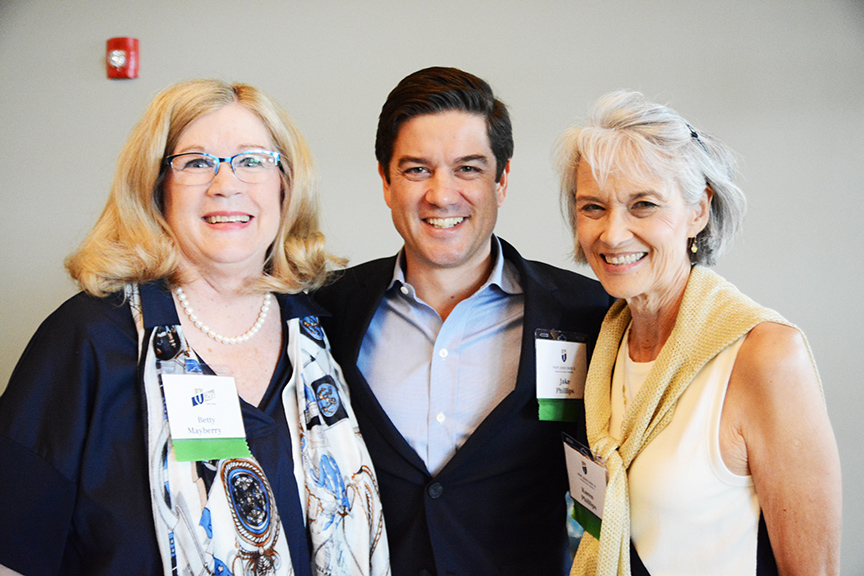 Karen Phillips and Betty Mayberry, two key members of Pope John Paul II Preparatory School's founding faculty that shaped the school's culture from its establishment through its first two decades, were lauded by family, friends, colleagues and students at a dinner held Friday, May 6.
"What a gift these ladies have been to this community," said Faustin Weber, a former headmaster of Pope Prep who is now the principal at St. Michael Catholic High School in Fairhope, Alabama.
"I am so very grateful to this community and to God for providing me an opportunity I could not have imagined," said Phillips, who was the school's first dean of studies. She was planning to retire at the end of this school year but has accepted the position of interim head of school for the next year while the school searches for a new leader.
Phillips and Mayberry have known each other since their teen years when their families lived a few houses apart in Gallatin. Mayberry's first teaching job was filling in for Phillips leading her sixth-grade class for two weeks. Later, they were colleagues at Gallatin High School, where Phillips was the department chair for social studies and Mayberry chair of the math department.
Both were hired by Hans Broekman, Pope Prep's founding headmaster, in 2001 to help open a new diocesan Catholic high school in Hendersonville.
"I am so blessed that God has designed such a wonderful plan for my life," Mayberry told the more than 300 people who attended the dinner at Our Lady of the Lake Church in Hendersonville, hosted by the Pope Prep Board of Trustees.
"Who would have thought that just when I was contemplating retirement from the Sumner County schools and was convinced that God was closing the door on my teaching career, Karen Phillips calls again?" said Mayberry, who retired from Pope Prep at the end of the 2020-21 school year.
"I had no intention of leaving Gallatin, but after spending 30 minutes with Hans and realizing his vision for this school, I knew then that God had a different plan for me," said Mayberry, who was the school's first math department chair.
When Mayberry joined the Pope Prep faculty, she was attracted by the challenge of building a math department from scratch, she said. "It took us all working together: parents, colleagues, students, friends and family to build this shining city on the hill."
Mayberry was already recognized as a leader in mathematics education. She had received the Presidential Award for Excellence in Mathematics Teaching in 1993 and she was part of a cadre of math teachers from across the country assembled by Texas Instruments who would teach other math teachers how to use the company's graphing calculator in their classrooms.
As she was helping to open Pope Prep, Mayberry was also the incoming president of the Council of Presidential Awardees in Mathematics, a national organization, and president of the Tennessee Mathematics Teachers Association.
"As Betty likes to say, since the math department is always in the basement, it has to be the foundation of the school," said Jennifer Dye in introducing her. "And it is.
"Betty invested not only in her students but in her colleagues as well," said Dye, the director of innovation and entrepreneurship at Pope Prep. Like Mayberry and Phillips, Dye came to Pope Prep from Gallatin High and was the school's first science department chair.
"She always encouraged me to push through any challenges in my way," Dye said of Mayberry. "She has the knack to see the potential in others.
"She truly believes every student can be successful … even when the students didn't believe it themselves," Dye said. "She loved them as much as she loved math, and they loved her back."
When Weber was a new headmaster at Pope Prep, he noticed that Mayberry was teaching four of the lowest level math classes, which often include students who lack confidence in their ability to learn math.
"It's hard to teach students who aren't confident," he said. When he asked Mayberry why she took those classes, her response was "because I can have the most impact on those students."
"I say this as the highest possible compliment," Weber said. "THAT'S a teacher."
The praise was just as effusive for Phillips.
"I realize now how lucky I was to hire her" as the school's first academic dean, said Broekman, who traveled from England where he is now the principal of Liverpool College, a school for students ages 4-19.
"Karen's yes (to his job offer) created Pope John Paul II High School," he said. "There's no doubt about that."
"Through her presence, her kindness, her generosity of spirit," Weber said, "she made this place special."
"Karen's vision is woven into the soul of Pope John Paul II," Andrew Griffith, the assistant head of school for academics, said of Phillips in his introduction of her.
"Karen's vision of education was not simply about the head; her students knew she loved and cared about them deeply," Griffith said. "For as passionate as our 2009 Advanced Placement National Teacher of the Year was about history or Youth in Government, her students always knew that she cared more about them as people than their scores on a national exam. She believed that to educate students was to feed the head, the heart and the soul – and she gathered others that shared that vision.
"She modeled and lived the servant-leadership of Christ and in doing so she has touched generations of students and colleagues," Griffith said.
Phillips took a 13-year break in her teaching career to raise her children. Soon after she returned to teaching in 1990 at Gallatin High, "it dawned on me … that I truly loved the way I spent my days," Phillips said. "I enjoyed learning how to develop lessons that would engage students. I reveled in their enjoyment of working with the subject matter.
"But more than this, I loved getting to know them as individuals, having them surprise me with astute observations, seeing the ways that their concern for others guided collaborative group endeavors in the classroom, seeing them outside the classroom where they revealed their talents by performing on the athletic field, stage or debate chambers," she added. "I loved developing a new community of learners each year … these students were my amazing, talented, ambitious, gritty, cheerful, appreciative, challenging community.
"In saying 'yes' to moving back into the classroom, I came to understand teaching as a ministry," Phillips said, "a way of serving others with the talents and skills that I possessed."
At the dinner honoring Phillips and Mayberry, which closed the school's 20th year, the Board of Trustees also introduced the Mike McLaren Financial Aid Fund in honor of the school's former dean of students who died in 2020 from injuries suffered in a motorcycle accident.
"One of the musketeers is missing," Broekman said of McLaren, whom he brought with him to Pope Prep from Subiaco Academy in Arkansas in 2002 to help open the school.
"Anybody who was there at the beginning knows there will never, ever be another Mike McLaren," Broekman said. "He was a force of nature, a friend, a genuinely good man."
McLaren loved his students, Broekman said. "They were all his children."
The Mike McLaren Financial Aid Fund will help children receive a Pope Prep education regardless of their ability to pay, Broekman noted. "Let's share the gift that we were given."
To donate to the fund, visit popeprep.org/support-jpii/give-now and select "The Mike McLaren Financial Aid Fund" in the Designation drop-down menu.