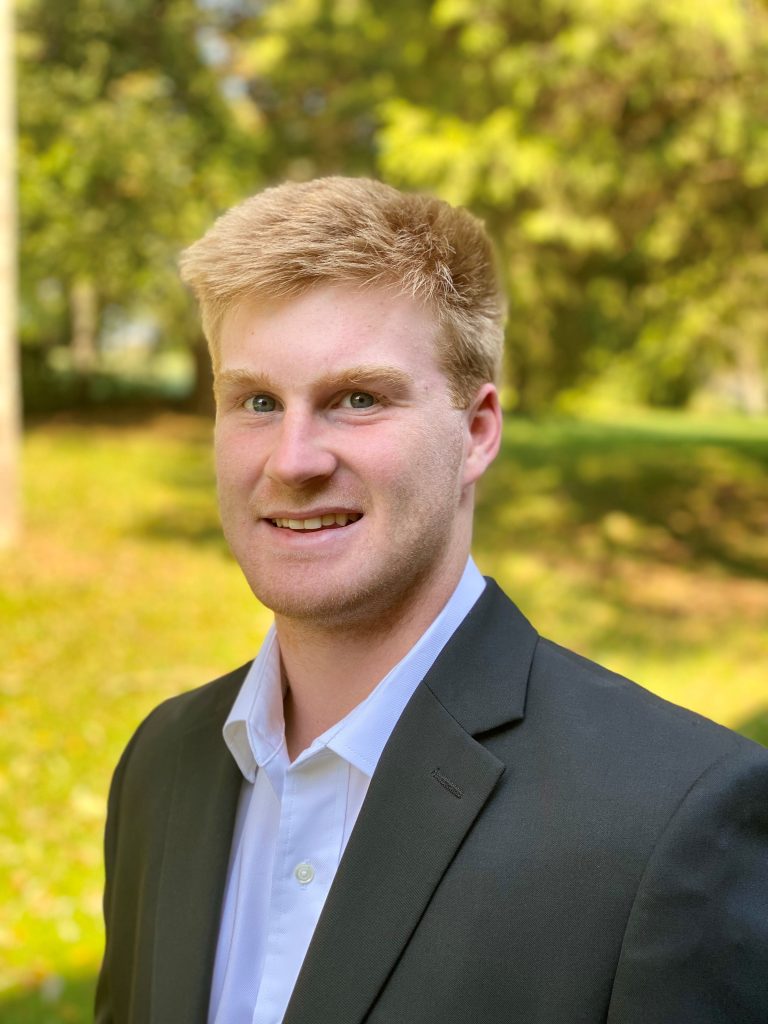 Michael Martini, a 2020 graduate of Pope John Paul II Preparatory School, has turned a family setback into an opportunity to help others.
Through a class at the University of Dayton, Martini used his grandfather's diagnosis of pancreatic cancer as inspiration to donate more than $950 to Purple Pansies, a charity dedicated to fighting pancreatic cancer and helping patients and their families.
Martini's grandfather, Charles Martini, was diagnosed with Stage 4 pancreatic cancer in July 2022, and he continues receiving chemotherapy treatments.
"Catholic education was a big thing for my family," said Martini, a junior at the University of Dayton, a Catholic university founded by the Society of Mary – the Marianists. "I went to St. Joseph's Elementary and Middle School. I always grew up around the faith but I never experienced cancer that would lead to death eventually.
"It is one of those things that will make you realize life is short," he said. "You pray. You ask God for help and clarity. Why is this happening? And you accept that God has a plan for everything. Life is short, but the afterlife is forever."
Martini is majoring in sports management with a minor in business administration. It was his Sales and Fundraising class that gave him an opportunity to join the fight to defeat pancreatic cancer.
"Starting in 2009, my professor started a fund to help students in his management program make an impact through fundraising and sales," said Martini. As part of the class, students participate in a philanthropy contest.
The students select a cause and charity that has impacted them in their life and sets out to meet the goal of raising $1,500 for that charity. The students do a five-minute presentation on their cause and charity as part of a philanthropy tournament, and the students are judged and ranked, and the top four are awarded a cash prize to donate to their chosen charity.
Martini won fourth place with his presentation, promising to donate his prize to the charity Purple Pansies, headquartered in Cumming, Georgia, outside Atlanta, in honor of his grandfather. The other student winners donated to the Cares Foundation, the Center for Adoption Support and Education, and the Turnstone Center for Children and Adults with Disabilities.
"When I was doing my research, I found there were a lot of cancer charities," Martini said. "It is so hard knowing where the money is going and where it will help, so I wanted one that was explicitly for pancreatic cancer. I researched Purple Pansies, and I knew it was the one. It's been a great decision."
Purple Pansies was founded in 2009 by Maria Fundora. It began as a grassroots organization but grew and expanded into a 501c3 organization in 2017. It has raised more than $5 million to date to fund emergency grants, scholarships, and research and clinical trials. The organization started its scholarship program in 2021 and has awarded multiple scholarships since then.
"We're a non-profit, and our mission is to provide immediate support for families across the United States that apply for grants who are facing a diagnosis of pancreatic cancer," said Fundora. "We raise funding for clinical trials, awareness, and research for all sorts of cutting-edge items, and we're growing our ability to give annual scholarships to students whose guardians or parents have been impacted by cancer – alive or deceased."
"Our word is getting out into the regional and national marketplace," Fundora said. "We are spreading awareness and getting more attention from young people. It means a lot that (Martini) chose us, a smaller organization, rather than a larger charity. But he was happy that we could make an immediate impact."
The immediate impact is what sets Purple Pansies apart from other cancer charities. On Thursday, Jan. 26, the organization approved a grant for a cancer patient in Arizona who had only applied the previous week. The board looked at his application and approved it quickly to help him pay for parts of his cancer treatment not covered by his insurance plan.
As Fundora notes, Stage 4 pancreatic cancer is a disease that moves quickly, and the ability to respond quickly means the non-profit can make a radical difference.
Martini returns to Tennessee frequently to visit family and attends Mass at Our Lady of the Lake Church in Hendersonville with them. He also attends a small chapel service on campus regularly.
His grandfather continues to need treatment but remains in good spirits. "He's hanging in there," Martini said. "He knows when you have cancer, you have good days and bad days, but he is holding up strong, taking the future day by day."
For more information about Purple Pansies, visit PurplePansies.org.