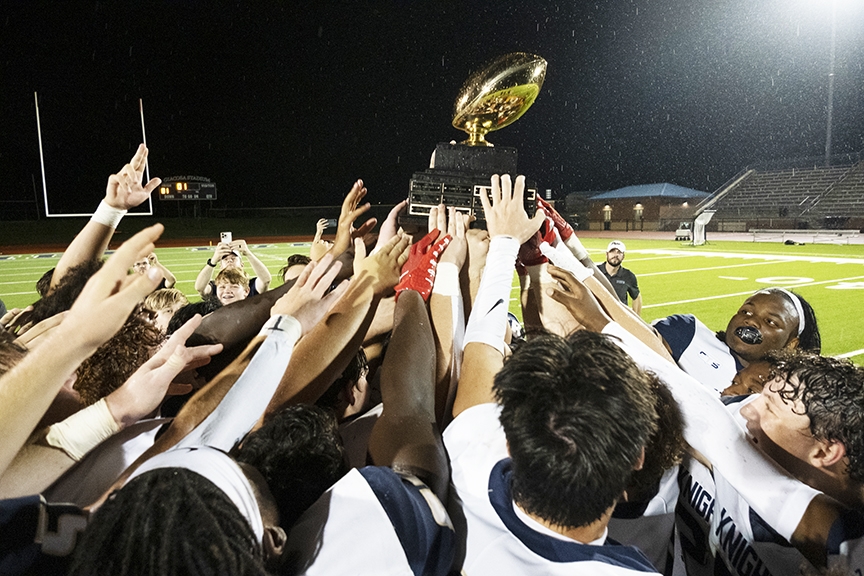 The Pope Prep Knights ran its winning streak to seven in the annual Bishop's Cup battle against rival Father Ryan Irish with a 49-35 victory on Friday, Sept. 2.
Senior quarterback Kenny Minchey, one of the top players in the state, led the Knights, completing 11 of 14 passes with one interception for 297 yards and five touchdowns, including strikes of 37, 57 and 55 yards to senior receiver Josh Mailander, 48 yards to senior receiver Colin Cook, and 29 yards to senior receiver Chet Lax.
Junior running back Elijah Robb added touchdown runs of 18 and 21 yards for the Knights while gaining 145 yards on 24 carries for the game.
Father Ryan quarterback JoJo Crump passed for 266 yards and three touchdowns, including a 55-yard completion to Mason Bryant, and 12- and 3-yard scoring passes to Charlie Becker, who also scored on a 90-yard kickoff return. Bryshon Jackson added a 3-yard touchdown run for the Irish.
The Knights took a 28-7 lead into the locker room at halftime. In the second half, which included an hour and a half lightning delay, the Irish tried to battle their way back into the game. But the Knights were able to hold them off to claim the victory on Father Ryan's field.
The Bishop's Cup series between the two diocesan schools has been one of streaks. Father Ryan won six in a row from 2006 through 2011, and nine in 10 years before Pope Prep started its current winning streak. Each team has won the Bishop's Cup nine times, while the Irish also have a playoff win in 2017 to give them an overall lead of 10-9 in games between the two schools.