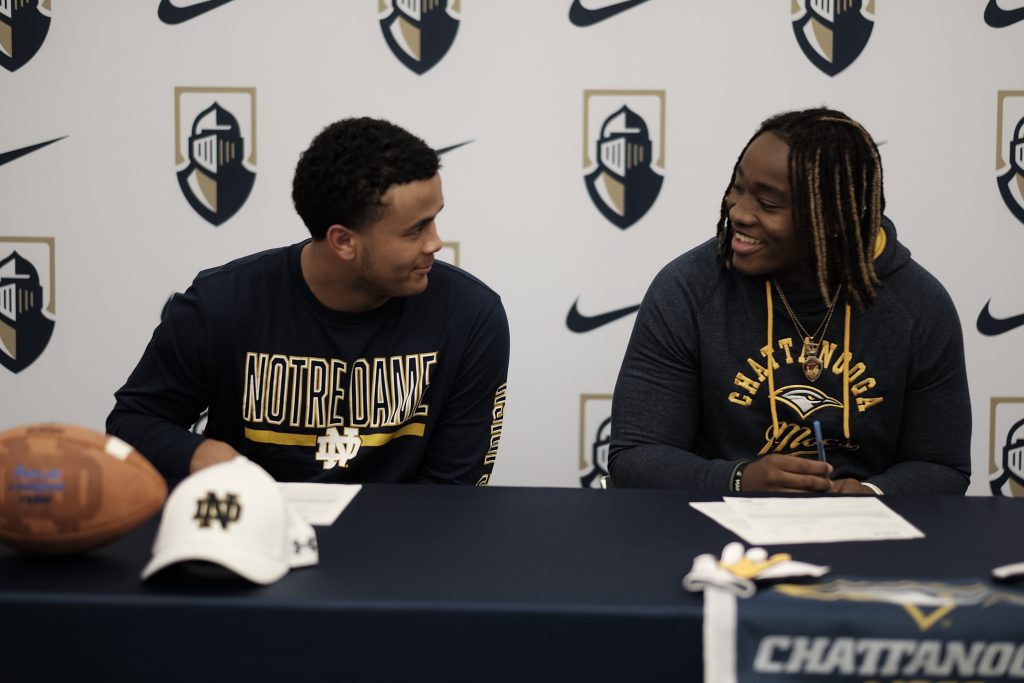 Two seniors at Pope John Paul II Preparatory School recently accepted scholarship offers to play college football for NCAA Division I programs.
Quarterback Kenny Minchey signed to play for the Fighting Irish of the University of Notre Dame, and defensive lineman Jamarr Jones signed to play for the University of Tennessee at Chattanooga Mocs.
"They're part of a historic senior class," said Pope Prep football coach Brian Sneed. "A class that contributed to 30 wins … which is a school record for any class at Pope. They had the most playoff wins in school history. They made the deepest playoff run of any team that's been here with a trip to the semifinals their junior year.
"Not only did Kenny's and Jamarr's on field talent contribute to our program's success but what they did off the field was just as important if not more so," Sneed said. "Both were selected captains by their teammates as they were tasked with leading our program and pursuing our mission of living and competing like Christ. And both bought into building meaningful relationships within the locker room as many of our underclassmen stated to me in our post-season meetings.
"And over their four years at Pope, Jamarr and Kenny changed our program for the better from the inside out and have set the bar high for future Knights," Sneed added. "We're proud to celebrate their hard work and their effort over the past four years, and really over their football career, that they put into earning scholarships to Division I programs."
Minchey is one of the top quarterback prospects in the country. During his high school career, he completed 63 percent of his throws and passed for 5,451 passing yards, 57 touchdowns and just 13 interceptions. As a junior, he was named to the All-State team, as the Division II-AAA East Region Offensive MVP, and as a Division II-AAA Tennessee Titans Mr. Football Award finalist. In the summer of 2022, he was invited to the prestigious Elite 11 quarterback camp, and at the end of his senior year was invited to participate in the Army All-American Bowl all-star game.
Jones was a three-year starter for the Knights on both the defensive and offensive line. But it was on defense that he was most dominating, Sneed said. While playing for Pope Prep, Jones recorded 142 tackles, 16 sacks, 39 tackles for losses, three forced fumbles, and a fumble recovery. He was named honorable mention All-Region as a junior and All-Region as a senior, and was selected to play in the Tennessee East West All Star game.
Minchey is the son of Kennith and Taylor Minchey and attended Ellis Middle School in Hendersonville before enrolling at Pope Prep.
Jones is the son of Greg and Tiffany Jones and attended T.W. Hunter Middle School in Hendersonville before attending Pope Prep.