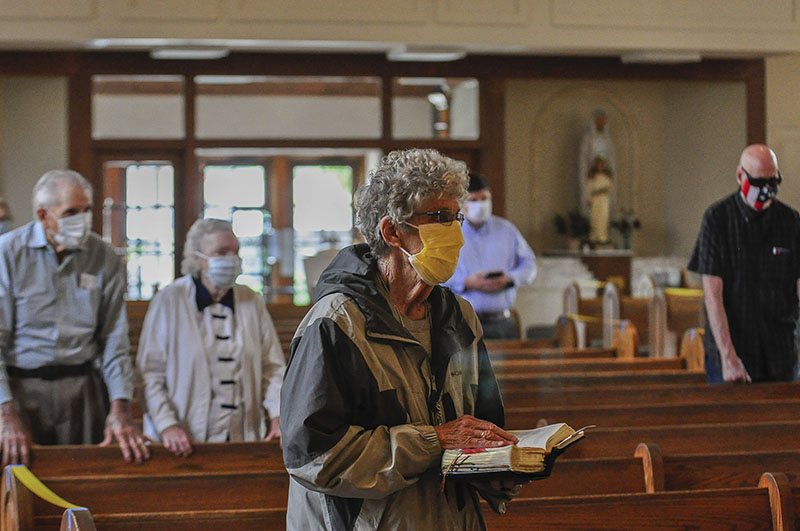 Confining ourselves and our families to our homes during the COVID-19 pandemic, maintaining social distance from friends and family, limiting our forays into public spaces has been wearing us down psychologically.
So it was good news when cities and states started lifting some of the safer-at-home restrictions and allowing more businesses and restaurants to open. And it was even better news when Bishop J. Mark Spalding lifted the suspension on the public celebrations of Mass, welcoming the faithful slowly, cautiously, back into their churches.
It seemed that, just maybe, normal life might be returning.
But we have to recognize that normal life is not here yet. There are still dangers out there putting people's lives at risk.
There have been reports that new daily cases of the COVID-19 virus, which had been falling for weeks across the country, have taken an upward spike. Twenty states reported a rise in new infections for the week that ended May 24. The week before, only 13 states had reported an increase in new cases.
All this was happening as the total number of deaths from the virus in the United States topped 100,000, the most of any country in the world. And it's also happening at the same time people are starting to get out more.
We've seen people ignoring the simple things that can help slow the spread of the virus: wearing a mask in public, washing your hands frequently, staying home as much as possible, and maintaining a proper social distance when they are out in public. A small minority have even become militant about their flouting of the recommendations, and in some extreme cases answering requests that they do follow the guidelines with violence.
Some seem distrustful that the pandemic, although it has claimed the lives of more than 100,000 lives of their fellow Americans, is all that serious. Others see a request to change their lives during the pandemic as an assault on their independence and their rights.
But asking someone to wear a mask when they attend Mass or when they go grocery shopping, or asking them to keep six feet apart when they are standing in line to check out of the store, is not only to protect them but everyone around them. Public health officials tell us someone can have the virus and spread it to others even when they themselves are not showing any symptoms.
Following these simple guidelines is not meant to be an intrusion but an act of love for your neighbor, an act of solidarity with your neighbor, an act to promote the common good. From that perspective, wearing a mask is a most Christian act.
We must remain vigilant. We are not out of danger yet.
St. Ann Church in Nashville held its first publicly celebrated Mass in more than two months on Monday, May 18. That was the first day the 58 churches in the Diocese of Nashville were permitted to begin public celebrations of Mass since they were suspended on March 17 by Bishop J. Mark Spalding to help prevent the spread of the COVID-19 virus. Photo by Andy Telli