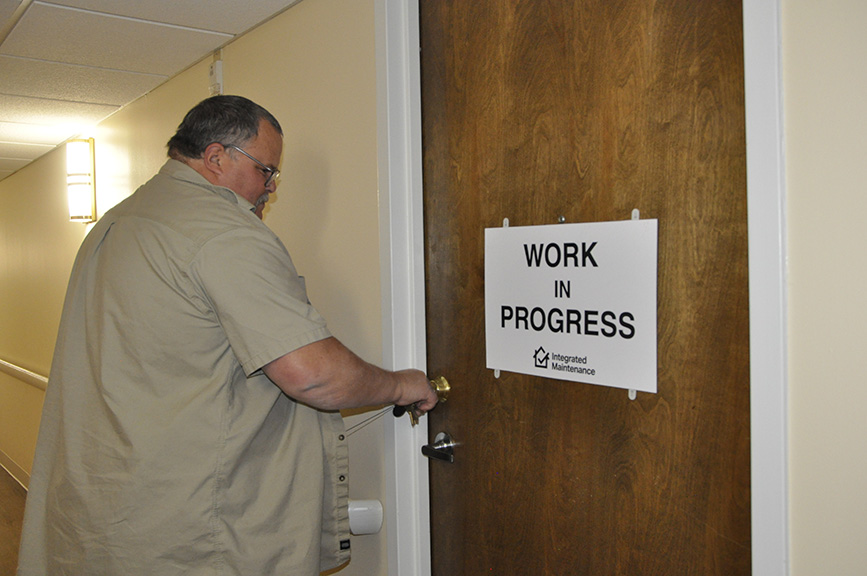 In an effort to continue to serve its residents in the best way possible, Villa Maria Manor has been working to refurbish all 214 of its apartments since March 2014.
"No significant work has been done in the rooms for 35 years, so it was just aging of the physical plans," said Richard Borofski, chief executive officer of Villa Maria Manor and Mary, Queen of Angels Assisted Living Facility. "We wanted to continue to be the flagship in the community of affordable senior housing."  
Restorations, which are being led by Integrated Maintenance out of Hermitage, have included new paint, new floors, all new countertops, appliances and cabinets in the kitchens, new light fixtures and new lining in the showers. As of Tuesday, Nov. 30, 76 percent of the apartments are complete with the rest scheduled to be completed by summer 2022.
"Many of the updates were chosen for their durability and improved maintenance options to help us keep the units looking great for years to come," said Iris Rilea, Villa Maria Manor executive director.
The process has been a puzzle of sorts, too, as Rilea works to make sure that the disruption to the residents is minimal as there are currently 207 apartments that are occupied.
"Our goal is to manage interruptions to the residents by taking into consideration their needs and wishes. We offer them the choice to move to a different unit permanently or temporarily and return to their old unit," Rilea explained. "Wisely, many have chosen to transfer permanently, thus minimizing the disruption to their lives. But we respect that a resident may be better served returning to their previous unit.
"We asked residents about their wishes and needs in this process and created a spreadsheet outlining this information, which we use to determine who might be willing to move into a particular unit," she continued. "We then coordinate with residents, movers, and oftentimes families to assist the resident in making the transition as easy as possible."
All costs associated with moving the resident to and from an apartment are covered by the facility, and Rilea said the response from the residents throughout the process has been positive.
"Moving is stressful, but our residents are great and have been excited to have a freshly remodeled unit. Many have lived in their unit for a number of years, so a refresh was needed," Rilea said. "We encourage residents to prepare by going through their treasures to see if any can be donated or organized in a way to make their apartment the most useful and pleasant to live in.
"Many express gratefulness to have their updated environment," she said, "and I think the process has given them a chance to be intentional about their living space."
Barbara Tittworth, who has been a resident at Villa Maria Manor for 10 years, has been in her newly refurbished apartment for three weeks.
"All the improvements are wonderful," Tittworth said. "The new appliances are great, and I'm really enjoying the ice maker."
Along with the updates to the separate apartments, Borofski said there will also be upgrades made to the exterior of the building as well as the common areas and the lobby, which will include two special pieces. First is a portrait of Robert Fidler, president of the Villa Maria Manor Board of Trustees, which was unveiled during a ceremony in his honor Friday, Nov. 19.
Second, will be a statue of Mother Mary "to continue to recognize our heritage and our association with the Diocese of Nashville," Borofski said.
Villa Maria Manor, which opened in 1980, works to provide affordable, high-quality senior housing to individuals 62 years and older. Refurbishments are also planned for its sister facility, Mary, Queen of Angels Assisted Living Facility, which opened in 2001.
Additionally, plans for another facility to be built on the additional 4.25 acres of open land where the former St. Mary Villa once stood is currently in the works, Borofski said. It will include housing specifically for the retired priest population and a rosary garden.
"We hope to break ground in July 2022."