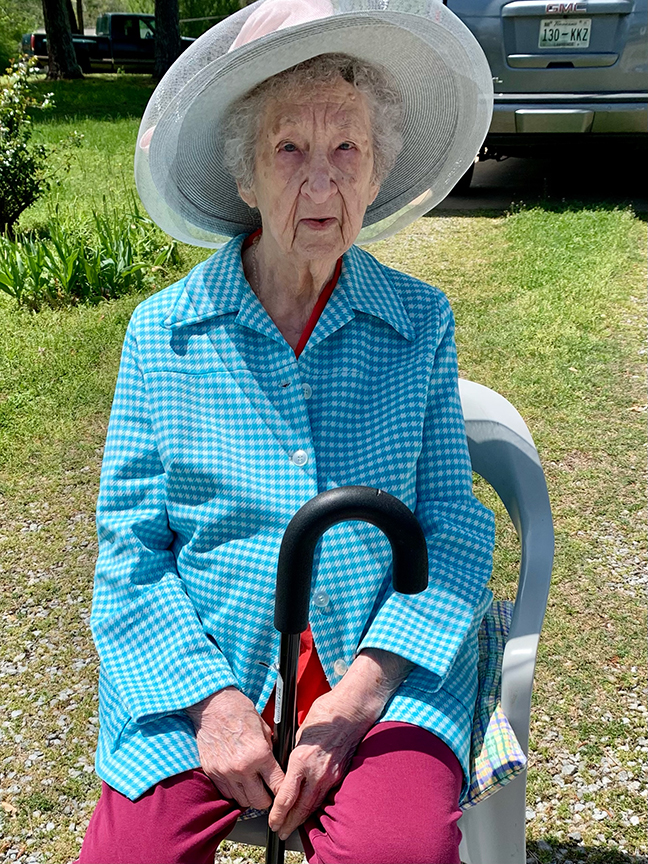 When asked what is the best advice you can share with somebody, Blanche Etienne turns to one of her favorite saints, St. Padre Pio, to answer: "Pray, hope and don't worry."
It's advice that she says has been the secret to celebrating a century of living, as she did on July 4.  
"I'm surprised," said Etienne, a life-long parishioner of Sacred Heart Church in Loretto. "I never thought about living that long, but I'm thankful for being in as good of health as I am and I'm proud of my family." Etienne's family includes 10 children, 16 grandchildren and 40 great-grandchildren.
And it all began on a small farm in Loretto.
Living on a farm
Virginia Blanche Riddle was born to George Adam Riddle and Catherine Beatrice White Riddle on July 4, 1922. She was the sixth of seven children, the two oldest children having passed away in the early 1900s before she was born. She grew up with three older brothers, Royce, Henry and Malcolm, and a younger sister, Louise.
Being only 7 years old when the Great Depression hit, Etienne joined the rest of the Riddle family who all did their part on the farm, which included the boys gathering eggs and milking the cows while the girls helped clean house as well as learned to cook and sew from their mother.
To help make ends meet, Adam Riddle also held down a job at the local lumber mill, Augustine's Lumber Company.
But it wasn't all work.
"We also had a playhouse out in the yard under the tree," Etienne recalled. "I had a happy childhood."
And belief in the Catholic faith was instilled early as they attended Sacred Heart Church and School.
"I was taught from grade school about my religion and to accept it, and I still accept it," Etienne said.
And these two values – a happy childhood and a devotion to the Church – are what she carried into her next phase of life.
Meeting Mr. Right
Etienne was 20 years old when she went to work as a secretary in Sheffield, Alabama. While attending a cookout with some friends at work, she met John Martin Etienne, who was serving in the U.S. Coastguard.
And, because he would be shipping back up north, they were married just a few months later on Nov. 21, 1942. But it wasn't a "sweeping her off her feet" kind of moment.
"He was not romantic," Etienne recalled with a chuckle. "He just came down one time and said, 'We're going to get married' and I said, 'OK.'"
They were married at St. Mary of the Seven Sorrows, in downtown Nashville, and spent their newlywed years in Owensboro, Kentucky, while John Martin completed his time with the Coast Guard before they moved back to Lawrence County.
"Daddy was a family man, he wanted to come back," explained Etienne's daughter, Emily Gillespie. "He loved mother's parents so much."
As the Etiennes settled back into life in Tennessee, they welcomed their children – Theresa Elaine in 1944, David Michael in 1947, Peter Francis in 1949, John Martin Jr. in 1950, Mary Margaret in 1951, Joseph Roger in 1953, Louis Andre' in 1954, Emily Virginia in 1956, Mary Celeste in 1958 and Philip Brian in 1961.
And while John Martin went to work in several capacities to help with money, Etienne was the homemaker taking care of the kids, cleaning the house and cooking the meals.
"Mother, she just took care of everything because dad was at work making the money to buy necessities," Gillespie said.
"My husband still helped with the babies though," Etienne added, noting his help in changing diapers, giving baths and more.
And the Catholic faith was deeply instilled in their home, too, Gillespie recalled, noting how the family always attended daily Mass at Sacred Heart before school.
"Mom and daddy were very, very devout Catholics and taught us children to be the same way," she said.
"Looking back, I remember comfort and a loving home and a Christian home and just all the good feelings," Gillespie said. "There was nothing bad."
It was a home the neighborhood kids loved coming to as well.
"It was one of the craziest, happiest places I've ever been," said Suzanne Cain, a parishioner of St. Joseph Church in St. Joseph, who grew up just two houses down. "Blanche was always so accepting of all the kids in the neighborhood. She made you feel so at home."
A model Catholic
Throughout her life, Gillespie said her mother's devotion to the Catholic faith never wavered, as she became a perfect model of a Catholic woman and Christian mother.
"She's always had a very, very strong prayer life, very devoted to the Blessed Mother and the rosary," Gillespie said. "Even to this day, she still, every morning, sits down and has a group of prayers," including the rosary, the Divine Mercy Chaplet, and more.
She never forgets to pray to her favorite saints either – St. Padre Pio and St. Michael the Archangel, adopting the lesson of 'pray, hope and don't worry' from the former and praying to the latter for protection.
And to this day, even though she is hard of hearing, she never misses Sunday Mass.
"You're supposed to go to Mass every Sunday," Etienne said. "You miss Mass, it is a sin."
And even when she is unable to attend, be it because of weather or health issues, her son Andy, who is a Eucharistic minister, makes sure she receives the Eucharist.
But no matter what the situation has been throughout life, she said those same five words will always ring most true, "pray, hope and don't worry."