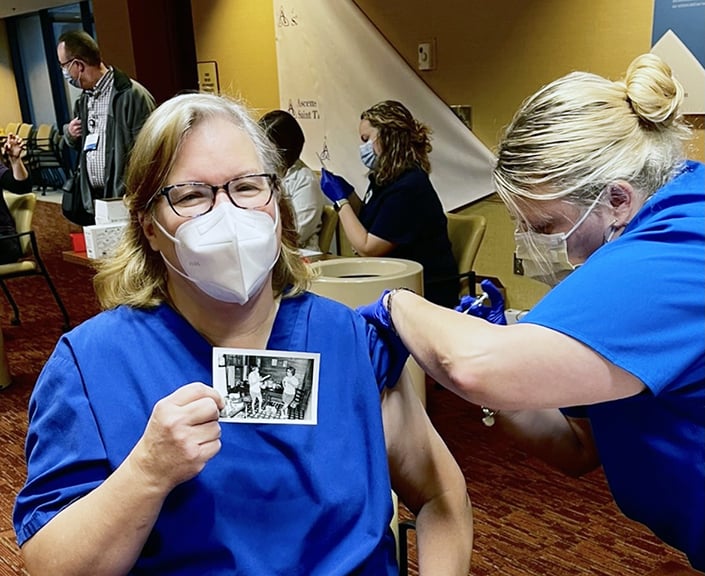 For the last year, the COVID-19 virus has loomed over Therese Miller's life, both professionally and personally.
Miller, a critical care nurse at Saint Thomas West Hospital for 35 years, works as a supervisor of a COVID-19 unit, helping to care for patients in the most dire of circumstances.
While she cares for the loved ones of other families, she also has felt the pain of loss in her own family. Her mother, Terry Schulz, and two aunts, Connie Lusher and Dorothy Schulz, all died from complications related to the virus.
As Miller received the first dose of the vaccine for the COVID-19 virus in December, she held a photo of her mother and Aunt Connie casually talking in the kitchen of a Gatlinburg cabin during a 1974 family vacation.
It was a silent tribute to the two women – sisters-in-law, close friends and important forces in Miller's life.
"It was important for me to hold that photo while I received my first vaccine to remember these two women who gave so much to me and our families, to thank them for who they were in this life, and to let others know that they don't have to lose a mother or an Aunt Connie. They just need to get vaccinated," Miller said.
Miller's mother died in Washington, D.C., on April 6, 2020. She got sick after sitting vigil with a dying patient in her nursing home. In her final days, one of Miller's seven siblings was at their mother's bedside in the nursing home, while two others stood on the lawn looking through the window. Miller and the others were there virtually.
"I was actually at work when this happened and will never forget the respect and loving care my work family extended to me as I said goodbye to my mother," Miller said. "She died the next morning."
Lusher, also a nurse, died in a hospital ICU on July 19, 2020, and Dorothy Schulz, a retired military nurse, died on Sept. 23, 2020.
Miller's mother and Lusher became friends while in school at Presentation Academy in Louisville. Lusher married the brother of Miller's mother.
Lusher "was a true sister to Mom in every way," Miller wrote on Facebook after her aunt's death. "They raised us all together and if one of them was after you, you knew you had to deal with them both."
Her aunt "was a second mother to me," said Miller, who is a parishioner at St. Henry Church in Nashville with her husband, Mike, and daughters Gracie and Dory. "She also leaves behind a host of others who feel certain that we were her favorite people because that was just the way she made us feel," Miller added in her Facebook post.
The pandemic has taken an emotional toll on Miller personally and professionally, and she has persevered with the help of others. "My family has been essential in supporting me so I can support other people," Miller said.
She also is grateful for the support of her colleagues at Saint Thomas West.
"We're used to good outcomes," Miller said of the Saint Thomas critical care staff. "The heavier burden and sadness of more bad outcomes is difficult."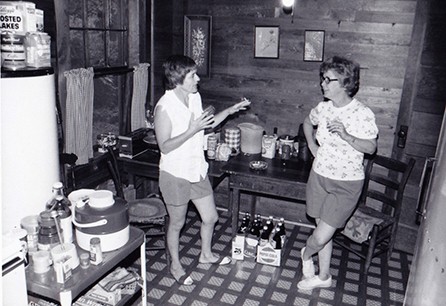 "I think that in the end we support each other as a work family," Miller said. "We talk and listen to each other. We always try to remember we're human beings and we're doing the best we can in a very stressful time. We talk and we validate each other and we pray together. I think that's what's brought us together."
Miller falls back on the frequent advice of her mother to pray like everything depends on God and work like everything depends on you. "She said that all the time," Miller said.
"Every day before I go to work, I pray the litany for me and my family. I ask God to come to work with me. I ask for a blessing on the hospital and everybody in it," she added. "God's on the job and I do the best I can."
Over the months, health care workers have learned more about the virus and how to treat it, Miller said. "You have to be able to adapt or you get left behind," she said.
The doctors and others on the critical care team at Saint Thomas West have worked hard to keep everyone abreast of the latest developments in treating the virus, Miller said. "They have a network that is worldwide," she said. "They are bringing information to us daily."
But the virus remains "insidious," Miller said.
"This virus hits everyone, post-partum mothers, young boys, old men. You can't predict who will come in the door with it," she added.
The development of a vaccine has been a big relief, Miller said. "This vaccine is such a blessing and a sign of hope," she said. "It is a literal and figurative 'shot in the arm' for all of us who for a year have witnessed this virus indiscriminately work its way through our community. We can now see the light at the end of the tunnel."
She wants to make sure the public takes advantage of the vaccine when it is available to them.
"I saw my own mother struggling to breathe and I knew my Aunt Connie spent the last days of her life doing the same," Miller said. "These were two women who helped shape my world as a child and the virus took both of them in this way.
"Because I have experienced it personally and professionally, I know what the virus can do and I am willing to do what it takes to try not to see one more person suffer from its effects," she added. "I wish just sharing that with people would help them understand, but it seems that until it happens to people or someone they know they underestimate its potential."
Ascension Saint Thomas has administered nearly 10,500 doses of the vaccine to associates, providers, community partners and Ascension Medical Group patients 75 years and older.
The Ascension Saint Thomas system is caring for a significant number of COVID positive patients. As of Jan. 20, the system reported having 226 patients, and that its larger facilities are often at capacity with a mix of COVID positive and other types of patients.