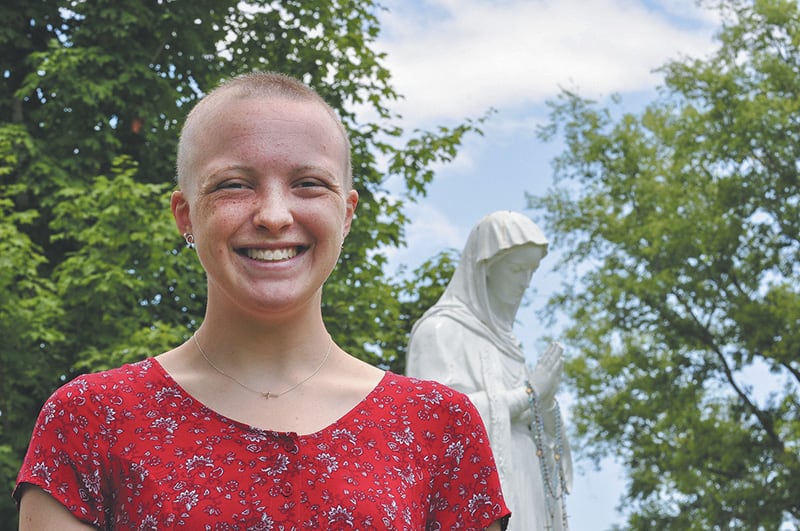 At first, they thought Rosie Robinson's watery eyes and nose and stuffiness were the results of allergies or a sinus infection.
"I took a lot of antibiotics," she said.
When her face started to swell, they thought it might be caused by an abscessed tooth.
Finally, a biopsy revealed the problem. Rosie was diagnosed with rhabdomyosarcoma, a rare form of cancer. The tumor had started in her sinuses and spread to other parts of her body.
"We found out Aug. 9. Six days before senior year started," she said.
On Saturday, July 11, Rosie Robinson's high school career will come to a belated close as she and her 2020 classmates at St. Cecilia Academy finally accept their diplomas in a commencement exercise that was delayed nearly two months by the COVID-19 pandemic.
For Rosie, that short walk across the stage will be a victory lap. After 10 months of grueling chemotherapy, she is now cancer-free.
"I'm cancer free, and that's due to prayer," she said. "It's honestly amazing. I received so many letters from people I knew and people I didn't know. It's so comforting to know people are praying for me. … I think I'm proof that prayers do work."
The prayers not only helped lift Rosie, but her whole family.
"It's been really amazing the tremendous amount of prayer and support all over the place," said her father, Mark Robinson. "I think we've got people praying for her from every continent but Antarctica and Asia."
He and his wife, Jeanne, have even heard from people who said they had fallen away from the Church, "but they're back praying for Rosie."
Sometimes, when people say they are praying for you, it's a throw-away line, Mr. Robinson said. "When you get on the other side, it really means something. It just helps foster your faith. It's a comfort to know. It's huge."
And the Robinson family's faith has been important as they've stood with Rosie in her battle against cancer.
"If you didn't have faith, what would you have?" Mr. Robinson said. "You're out there with nothing. It's the solid foundation we've stood on the whole entire time. That's been our rock. It certainly is our hope." Mr. Robinson said. "If you didn't have faith what would you have. You're out there with nothing. It's the solid foundation we've stood on the whole entire time. That's been our rock. It certainly is our hope."
'It really comes from God'
When Rosie, the youngest of six Robinson children, received her diagnosis, her parents and brothers and sisters rallied to her side.
The next day, her oldest brother Brooks and his wife Lindsey came in from their home in North Carolina and her sister Gracie came in from Chicago to join sister Hayley and her husband Barry Shovlin, and brothers Quinn and Reed.
"The initial shock was as easy as it could be because I had my entire family around me," Rosie said.
"That night, Dad said we'll have to get through this together," Rosie said. "My family's been here every step of the way."
Her siblings would join her and their parents at her chemotherapy sessions at Vanderbilt Children's Hospital, and they posted updates on her progress on their Caring Bridge website. Her sister Gracie moved back to Nashville to be close to her sister. "It meant a lot to say the least," Rosie said.
Rosie's first reaction to the diagnosis was what one might expect. "In the beginning, I thought I was going to be stuck here" as life passed her by and her many friends moved on without her, she said.
"I realized I'm going to be 17 only once. I can still be with my friends," Rosie said.
"Once you start being negative it's just a spiral, everything becomes negative," she posted on the Team Rosie Caring Bridge website. "I really do have a lot to be positive about. … Some kids I see will never have a normal life. I had a childhood and got to grow up normal and a lot of them won't get that opportunity. It helps to put it in perspective."
With her trademark good humor, she dove into her senior year with gusto, balancing chemotherapy treatments with her school work, continuing to be a part of the St. Cecilia cross country, basketball and track and field teams, attending the March for Life in Washington, D.C., with her schoolmates, and scoring the winning touchdown for the seniors in the Powder Puff football game during the school's annual Spirit Week.
"It really comes from God," Rosie said. "I'm sure it was all his graces that allowed me to be that positive."
Her fellow students and teachers noticed and bestowed upon her St. Cecilia's highest honor, being named the Class of 2020's St. Cecilia Girl, an award given to a senior who best exemplifies the ideals of the school.
Rosie was at home with her family watching as St. Cecilia's principal, Sister Anna Laura, O.P., announced the school's valedictorian, salutatorian and St. Cecilia Girl online.
In her introduction to announcing the award, Sister Anna Laura said, "It is rare to ever see our St. Cecilia Girl alone, because she is always surrounded by a bevy of friends and admiring younger girls who are drawn to her exuberant nature and gift for finding the humor in every situation."
She noted that one of Rosie's teachers described her "as one of the most outstanding young women that I have had the privilege to teach and coach in my 30 years of teaching at SCA."
When Rosie had to miss a cross country meet, Sister Anna Laura said, one of her coaches described how she was missed: "This was when I began to realize what she brought to our team. Although we missed her from a performance standpoint, we missed her more from a personality standpoint. She makes everyone around her calmer and happier."
The announcement that she was named this year's St. Cecilia Girl was a surprise, Rosie said. "I was very honored. I was with all my siblings on the couch. They all cried. It was very emotional."
"They have been amazingly supportive," Mr. Robinson said of the St. Cecilia community of students, teachers, administrators and parents. "It was one of those things they were holding us up."
Cancer free
In June, Rosie finished her last chemotherapy treatment. Her family greeted her afterwards with a banner that read, "Go Rosie Go, conquered 40 weeks of chemotherapy, We're so proud of you."
They had another surprise for her. As they neared their house, they put Rosie in her uncle's Mustang convertible like the conquering hero as more than 100 friends and family lined the street to welcome her home.
"She loved it," said her father.
Earlier this month, doctors delivered the news Rosie, her family and all her friends had been waiting for: she was cancer free.
"It was very, very exciting," said Rosie. "That's what we've been hoping for."
But her battle is not yet complete. "My cancer tends to come back a second time," Rosie said. "It isn't over."
She will continue with another round of chemotherapy, but one that will be less intense than before. "My body responds well to chemo," said Rosie, who played on the school basketball team and continued to run to stay in shape for the track season while receiving chemotherapy. "I'm lucky at that."
Her treatments will continue in Chattanooga where she will enroll as a student at the University of Tennessee-Chattanooga in the fall. She plans to major in nursing.
"It had always been an option," Rosie said of her choice of major, noting that her mother was a nurse and she had interned with a nurse through a program at school.
"This year, I spent a lot of time with nurses and that really sealed the deal," she said. She witnessed first-hand how nurses support their patients in so many ways. "They do so much for their patients."
A standout for the St. Cecilia track team for the last four years as a hurdler, sprinter and pentathlon competitor, Rosie qualified for the state meet as a freshman, sophomore and junior and competed in the AAU Junior Olympic Nationals. The state meet was cancelled her senior year because of the COVID-19 pandemic.
She plans to take a year off from track while undergoing the last of her chemotherapy before returning to the sport the following year and reaching her goal of competing in college.
As he prepares to watch his youngest go off to college, Mr. Robinson is keeping in mind the words of Padre Pio: "Pray, hope and don't worry."
"We pray, hope and worry a whole lot," said Mr. Robinson, whose family are parishioners at St. Mary's Church in downtown Nashville. "We're trying to roll positive with it."
If he needs an example of how to stay positive, he just needs to look to Rosie.